Continuing the success of its Priv Series, SMOK has announced the incredibly compact and most luxurious addition to its vibrant arsenal yet, the new SMOK G-Priv Baby Luxe Edition! It's a miniaturized version of the original G-Priv Lux Edition Mod, adopting the same great luxurious design, a plethora of fantastic features, and of course, plenty of power! Does it get any better? On top of the awesome appearance, features, and performance, it's a very convenient starter kit that combines the SMOK G-Priv Baby Mod and the SMOK TFV12 Baby Prince Tank.
The SMOK G-Priv Baby Mod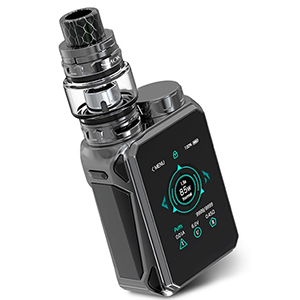 The SMOK G-Priv Baby Mod is a fantastic new addition to the market, as it delivers an incredible design, boasting nice curves, interesting patterns, a luxurious appearance, and capturing that modern appeal that's found in the Priv Series. It all starts with an ergonomic firing mechanism on the side of the device that's comfortable and easy to operate. At the top of its durable zinc alloy frame is a stainless steel 510 threaded connection with a gold plated 510 contact for superior connectivity. In addition to its top side, there is a threaded battery cap that allows you to insert a single 18650 battery. A micro-USB port is present on the device, which allows you to charge the 18650 internally, while the port is also used for future firmware upgrades.
The front side of this stylish mod is where it will really grab your attention since it boasts a large two-inch colorful HD touchscreen accompanied by virtual adjustment buttons.. An independent screen locking button is also present, which allows you to easily lock the screen or lock the entire device. As with any SMOK device, you can expect a great amount of power, despite its small size. Travel upwards of 85W and reach a minimum resistance of 0.1 ohm while in its wattage mode. In its temperature control mode, take advantage of Ni200 Nickel, Titanium, Stainless Steel, adjustable initial resistance, adjustable TCR, preheat, and the ability to fire as low as 0.05 ohm, with the capability of reaching up to 600 degrees Fahrenheit.
The SMOK TFV12 Baby Prince Tank
Its paired SMOK TFV12 Baby Prince Tank is just as pleasing, sporting a stainless steel and glass construction based on a very compact 23mm diameter base (26mm at its widest point). The top offers a wide bore resin drip tip with the same matching color and pattern as the G-Priv Baby Mod. Just below rests a hinge and lock top fill system that swivels open and shut for easily refilling the tank. The tank is made of glass and has a bubble design, allowing it to share a large 4.5ML e-liquid capacity, while a standard glass piece will offer a 2ML e-liquid capacity. For its performance, dual adjustable airflow slots are positioned at the bottom, while internally you'll have the ability to take full advantage of the SMOK V8 Baby Coil Family, which includes the V8 Baby Q4 Coil Head and the V8 Baby Q2 Coil Head. The Q4 Coil comes pre-installed, offers a quadruple coil structure, it's 0.4 ohm, and is rated for up to 65 watts. The Q2 Coil, on the other hand, offers a dual coil structure, it's 0.4 ohms as well but is rated for up to 80W. Each coil option delivers an exceptional performance, sharing both big clouds and delicious flavor with any e-liquid you pair it with!