Make way for the new Innokin Proton Starter Kit, a blistering combination using the Proton 235W TC Mod and the Scion 2 Sub-Ohm Tank. It's all apart of Innokin's big push into the market delivering a streamlined view of high-performance vapor products. The Proton Box Mod is highly advanced, it's very intelligent, boasts a stunning design, and exudes loads of power. The Scion 2 Tank is nearly identical, sharing a matching design that's equally as impressive, and performance that only enhances the entire experience using the Innokin Proton Starter Kit.
Innokin Proton Box Mod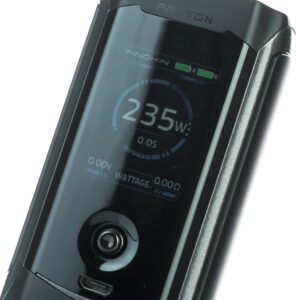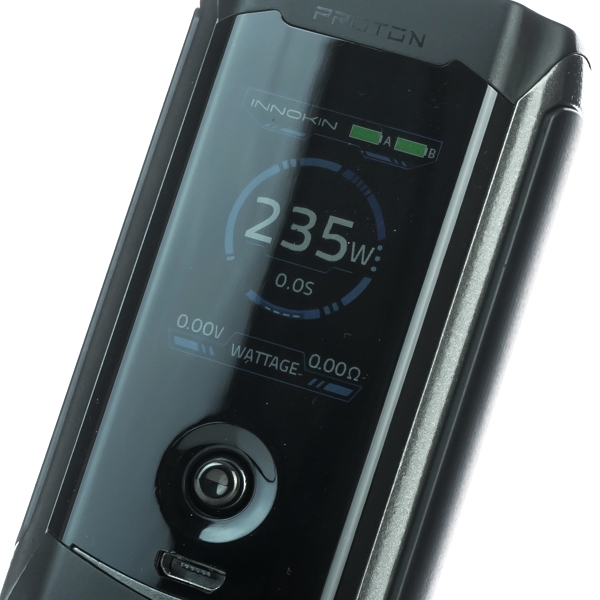 The Innokin Proton Box Mod looks absolutely stunning, sporting a unique, stylish, and stealthy appearance that will leave you truly amazed. It sports a compact design, being just 85mm by 44.6nn by 29.6mm in size, while its frame is available in multiple color options, including black, gunmetal, and rainbow. To further enhance the appeal of the device, it features a 1.45-inch full-color display screen, which allows you to cycle through six different colors to give it your own personal touch. Those colors include blue, red, green, pink, purple, and white. To the side of the device is a large firing button, while underneath the display screen rests an ergonomic joystick control that allows you to completely control the device with an easy to use joystick selector. As with many mods today, the Proton Box Mod also houses two 18650 batteries, which can be inserted into the slide to open bottom latch battery door. A micro-USB port is also equipped, which is capable of a 2A charge rate. Internally, you can expect this beast of a mod to push out upwards of 235 watts and fire as low as 0.05 ohm. It also packs a full temperature control suite, which consists of Ni200 Nickel, Titanium, Stainless Steel, Curve Support, TCR Support, and Bypass Support.
Innokin Scion 2 Tank
Matched ideally for the Proton Mod, the Innokin Scion 2 Tank isn't the lesser of the two. In fact, it offers an outstanding performance from mesh coil and quad vertical coil, which will send you soaring upwards of 150 watts, leaving 85 watts left to spare on your device. The Scion 2 Tank offers a stainless steel and glass construction while being based on a 24mm diameter (25mm at its widest point). It has a slide to fill top-fill system, and the tank has a 3.5ML e-liquid capacity. A 10mm bore 810 Delrin drip tip rests at the top, and it has a threaded design. At the bottom, you'll find dual adjustable airflow control with 9mm by 2mm slots. What makes this tank most impressive, aside from its many features and matching appearance to the Proton Mod, is its use of the Scion Coil System. This coil system utilizes a 0.15-ohm single kanthal mesh coil with quad wicking ports and the ability to reach up to 100 watts, and a 0.36-ohm quad vertical coil with quad wicking ports and the ability to reach up to 150 watts.