The SMOK G-Priv Mod Kit is yet another brilliantly executed setup from one of the most popular brands in vaping right now.  SMOK has continuously poured out amazing new mods that's hit after hit, and this G-Priv Mod is just another added to the list.  However, there's something different about this mod than the rest, which happens to be its large 2.4 inch OLED touch screen display.  And that's just the start of what makes this mod so great.  Check it all out in this SMOK G-Priv Mod Kit Review!
If you already have the G-Priv and you're looking for information on how to operate it, be sure that you check out our Complete Guide To The SMOK G-Priv Mod.
Appearance:  The new G-Priv Mod by SMOK is an exciting new device that offers plenty in the appearance department.  It's available in multiple colorways, only stands 85mm in height, 28mm in depth, and only 58.5mm in width, letting you know this device is very compact.  On the backside of the device there is a magnetic battery door that has a carbon fiber inlay, and the opposite side features a 2.4 inch OLED touch screen display that looks remarkable.  Not only does the screen look great when the device is powered on, but the overall design of the device looks great too.  It has a side stealth fire button that stretches nearly the full length of the device, and another screen/lock button that rests just above it.  I have no real complaints as far as the looks, although I wish the device didn't look so squared off or blocky.
Since this is a full kit, the TFV8 Big Baby Beast is included, and it pairs nicely with the G-Priv Mod, sharing the same colors and matching perfectly in appearance.  The drip tip on the TFV8 Big Baby Beast is quite large, so it just adds to the high performance look that the tank and full kit offers.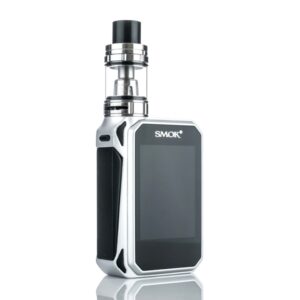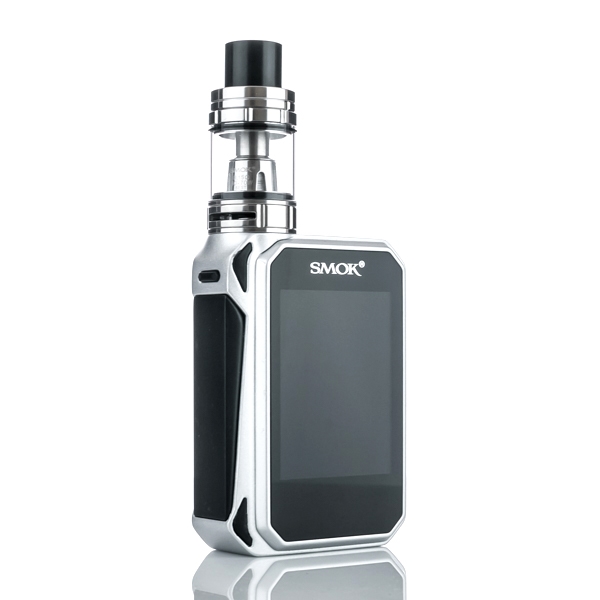 Features:  When it comes to the features, the SMOK G-Priv Kit has several.  For starters, it has that full 2.4 inch touch screen, which happens to be shatter and shock-resistant tampered glass, you've got variable wattage that allows you to reach up to 220 watts, temperature control that allows you to take advantage of  Ni200, Stainless Steel, and Titanium, along with a TCR mode.  In addition, there is a pre-heat function, adjustable initial resistance, multiple effects settings (a feature I love), it's firmware upgradeable, and holds two 18650 batteries.  It's just an overall great mod to use that offers plenty of features, all of which you can adjust directly on the screen itself.  My only gripe with this mod is the way it feels in the hand, it's just too squared off for me. However, I still find myself using it because of how cool the screen is and how well it performs.
As for the TFV8 Big Baby Beast Tank, you've got a shell constructed of 304 stainless steel, it uses pyrex glass, it has a 5mL e-liquid capacity, a delrin wide bore drip tip, dual adjustable airflow control, a top fill lock and hinge design, and uses several high performance coils for a complete and awesome vaping experience.
Performance:  The performance is great, plain and simple.  It just vapes good, and when you add in the different vaping effects, you can alter your experience in your favor.  Again, I really like the effects feature on this device, and I think that's one reason I like the way it performs.  But as with any other new SMOK mod, the performance is great, temperature control works as it should, and there's really nothing to complain about. Definitely a nice mod to own.
The TFV8 Big Baby Beast Sub-Ohm Tank is yet another high performance tank that's become super popular among vapers, and now I see why.  It simply performs to the fullest, and the coils that comes with it is 90 percent of the reason why it does.  However, its other features like dual adjustable airflow control, a 5mL capacity, and an easy top fill make it a great tank to use, but the V8-X4 Coil and the V8-T6 Coil makes for a great experience as you push out big clouds and receive a nice flavor.