If you're looking for help with your SMOK GX350 Mod or just need guidance on how to operate it, then we highly encourage you to check out this complete and detailed guide to the GX350 Mod.
The GX350 Mod by SMOK has become one of the most talked about mods to hit the vaping market in 2017.  In fact, it joins a list of other incredible devices created by the SMOK brand, one which has taken home the first place award in GuideToVaping's Best of 2016 event.  The GX350 Mod in particular has gained great popularity rather quickly due to its unique design, its monstrous power, and its incredible ability to hold four 18650 batteries, making it an all-around mod that can deliver in all aspects.
The new SMOK GX350 Mod is obviously an over-the-top device, but unfortunately not everyone that purchases it knows how to use it correctly.  Moreover, you don't know how many times viewers of this blog have shared with us that they've misplaced or thrown away the user manual that comes included with the device… and half of the time these user manuals provided by these Chinese manufacturers aren't quite up to par when it comes to the English language.  With that said, we want you to become familiar with your new Smok GX350 Kit, we want to list how to operate it, its features, and its specifications so that you know everything about the Smok GX350.  If this guide has helped you in any way, we ask for your help in sharing it with your friends and other vapers throughout the social networks you use. — we truly appreciate your help! If you like this guide, feel free to check our our complete guide to the SMOK Alien Mod, our complete guide to the SMOK G-Priv, and our complete guide to the SMOK OSUB Plus Kit. Our latest guide released is the complete guide to the SMOK T-Priv Mod.
Note: There are 5 pages in this guide.  Visit each page to learn more about the SMOK GX350 Mod.  After you finish reading this guide, if you're interested in seeing new vape products, visit the Vape Preview site, which is a website dedicated to showing off only the newest products, and the list is updated almost daily!
[mks_button size="medium" title="GET THE SMOK GX350 FULL KIT HERE" style="rounded" url="https://www.directvapor.com/smok-gx350-350w-tc-vape-starter-kit.html?A=1025″ target="_blank" bg_color="#000000″ txt_color="#FFFFFF" icon="" icon_type="" nofollow="1″]
[mks_separator style="dotted" height="2″]
About The SMOK GX350 Mod
The GX350 Mod manufactured by SMOK (Shenzhen IVPS Technology Co., Ltd) is constructed from a superior Zinc Alloy material.  It sports a poly angular frame, unique in design, and an appearance that offers just as much appeal as it does wattage — and it offers a lot of wattage.  Though it isn't the smallest device released by SMOK, it still offers a comfortable size, standing only 84.5mm tall, 58mm wide, and 40.4mm in depth.  Despite its larger than normal size, users are still very attracted to the Smok GX350 due to its various colorway options, which includes Black & Red, Black & Silver, Black & Gold, Black & Purple, and a very rare Rainbow color that you only see pictures of, but are never able to actually find it being sold.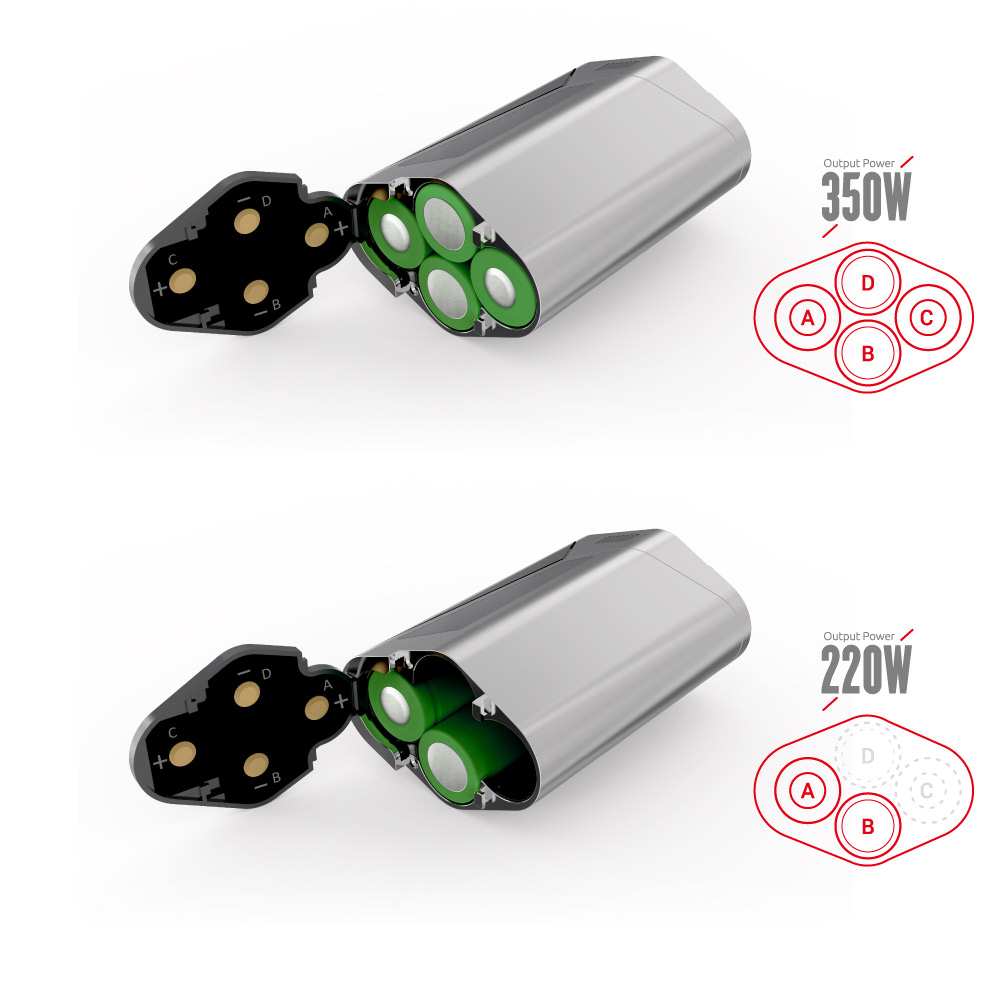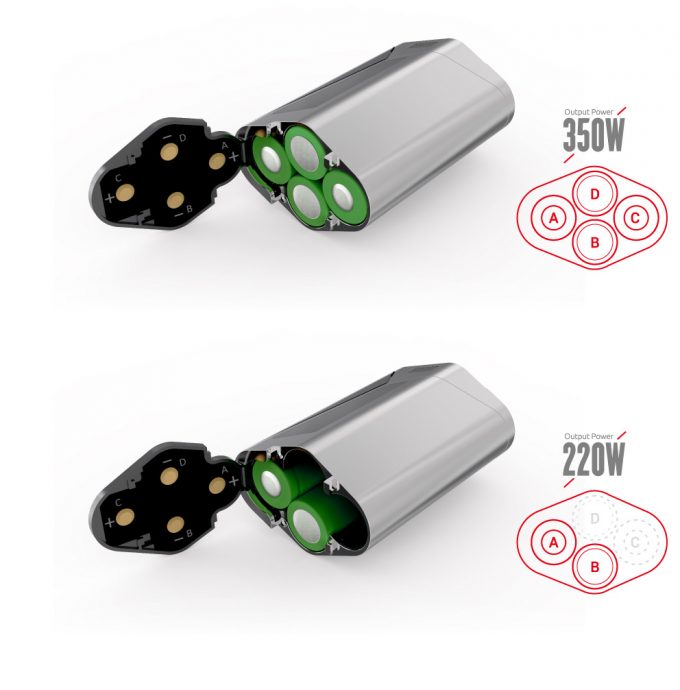 It isn't just the appearance that makes the GX350 Mod so spectacular though, it's also because of its ability to hold four 18650 batteries for a longer than normal battery life, along with its ability to hold only two 18650 batteries.  If using the 4-battery configuration, you can reach up to 350 watts, but if you're using the 2-battery configuration, you'll still be capable of reaching up to 220 watts.
---
ATTENTION:  The SMOK CEO has learned that the 2-battery configuration originally advertised has caused a malfunction with the GX350 Chipset.  Therefore, he has started including notes in the latest packaging for the SMOK GX350.  Below is the note you'll receive:
Dear Valued Customer:  Thanks for your choose of GX350!  To improve the stability of the GX350, we canceled the functional of supporting two 18650 batteries to work.  We are sorry for the inconvenience thereof.  We shall work even harder to create the best products.  Best regards, CEO of SMOK.
---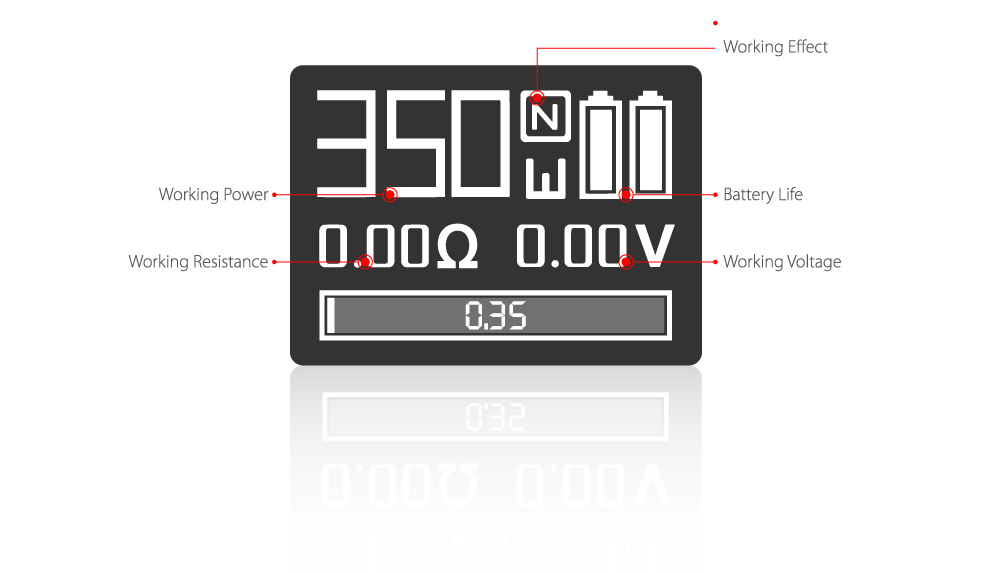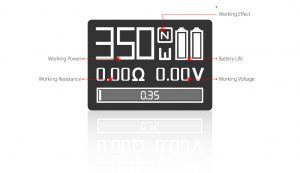 As you would expect, the GX350 Vape Mod also features the latest tech, such as a full temperature control suite.  While in the temp control mode, you'll be able to use Ni200 Nickel, Titanium, and Stainless Steel coils.  Moreover, you'll be able to range from 200 to 600 degrees and fire as low as 0.06Ω.  Additional features include a top mounted intuitive OLED display screen, a hinged battery door to hide its battery compartment, a stealth firing button bar, a micro-USB port that's used for firmware upgrades only, stainless steel 510 threading, a spring-loaded gold-plated 510 pin, and a slew of safety features that's equipped to protect both you and your device. For more information, please visit flawless vape shop.