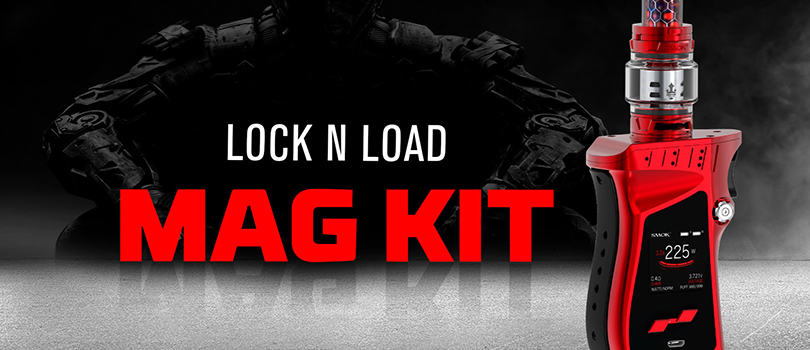 The SMOK MAG Kit is the latest offering from one of the most hard-hitting brands on the market. This manufacturer is relentless when it comes to dishing out trendy products, and we see the SMOK Mag Kit gaining the same success. The R&D team SMOK employees continues to pour out great mods and tanks, and this latest pairing of the SMOK Mag Mod and the SMOK TFV12 Prince is one of the best pairings they've released yet.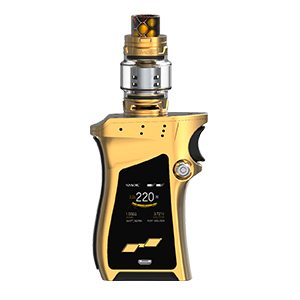 Featuring an ergonomic design, a unique and sleek appearance, and a chassis that mimics the handle of a gun with a pop out magazine capable of holding two 18650 batteries, you'll find that the SMOK Mag Mod is all that and more. It boasts a trigger style firing button, a large color OLED display with intelligent feedback and the capability of changing screen color, and a button that will easily allow you to drop the bottom magazine style battery holder. With three modes to choose from, such as variable wattage, temperature control, and memory mode, your vaping experience will reach new heights. Its variable wattage mode will allow you to reach up to 225 watts. Temperature control gives you the ability to choose between titanium, ni200 nickel, and stainless steel, and the memory mode will allow you to store specific settings. It also uses a drawing effect to allow you to change the experience you receive.
Including in the Mag Kit is the new the SMOK TFV12 Prince Tank. It features a stainless steel and glass construction while sharing a 25mm diameter base. Along with a hinge and lock top fill system, bottom dual adjustable airflow control, and a bulb glass design that offers an 8ML e-liquid capacity, we're sure you'll find the TFV12 Prince Tank is a delightful pairing for this mod. Where this tank really shines is its use of the SMOK V12 Prince Coil Family. Take advantage of the V12 Prince-T10 decuple coil, the V12 Prince-X6 sextuple coil, and the V12 Prince-Q4 quadruple coil.