Those familiar with vaping know the impact of the SMOK brand name, and that is because of the sheer number of products they develop and release throughout each year. It isn't just a constant flow of devices that lose their fame in a couple of months time, these are devices that are memorable and are still being used to this day. SMOK creates innovative devices that become hits, and the latest to join its collection is the SMOK RPM80 Pod Mod Kit, an upgrade to the original RPM40, sporting a more advanced chipset, greater power capabilities, a 3000mAh built-in battery or the Pro version that requires a single 18650 battery, and even better performance. Read all about it in this SMOK RPM80 Pod Mod Kit Preview!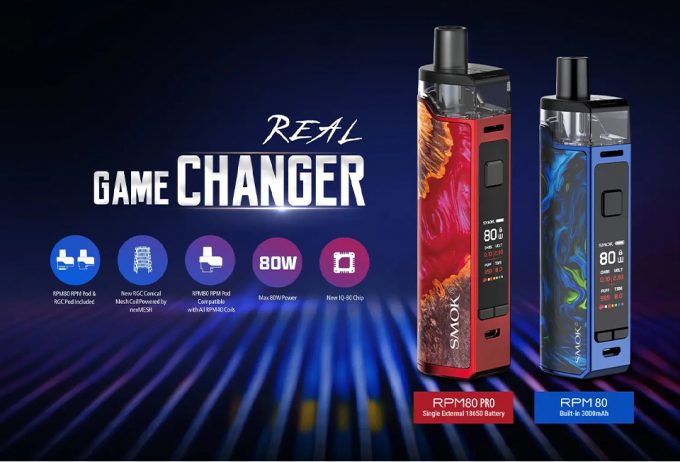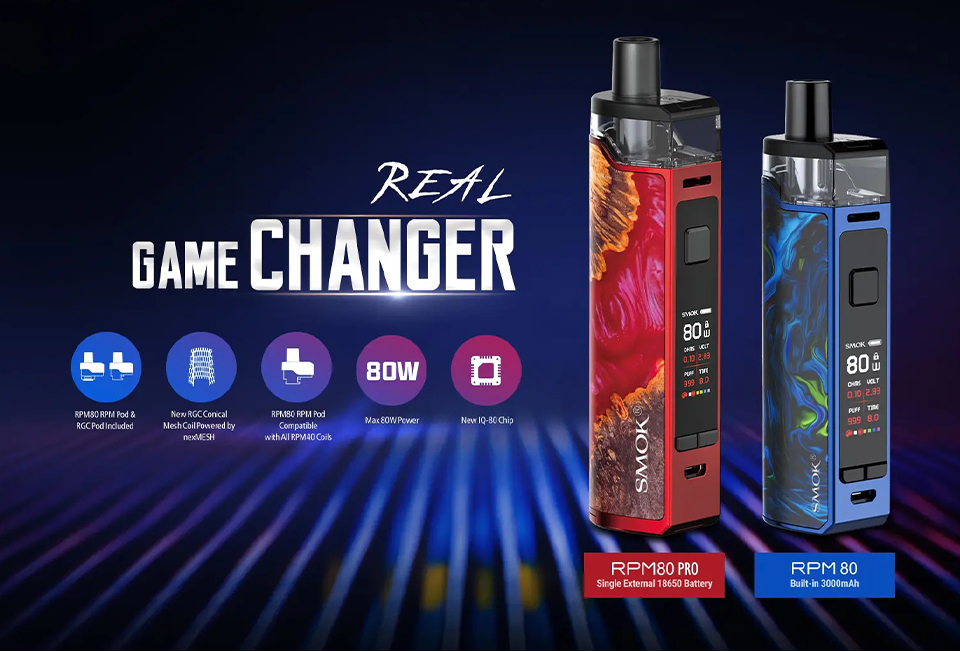 SMOK RPM80 Pod Mod Kit
The SMOK RPM 80 Pod Mod looks outstanding, boasting a variety of design and color options, including Black Stabilizing Wood, Red Stabilizing Wood, Fluid Gold, Fluid Blue, Black and White Resin, 7-Color Resin, and Black Carbon Fiber. Its control face consists of a firing button, two adjustment buttons, a Type-C charging port, and a 0.96″ color display screen that delivers extraordinary feedback. The quality of this device is just as fascinating, boasting a zinc alloy chassis that is durable and can stand the test of time. The RPM80 Pod Mod by SMOK is also very portable, with measurements of just 118mm by 31.5mm by 26mm.
The RPM80 Pod utilizes the equipped IQ-80 chipset, which delivers a slew of features. It makes it possible that you'll reach up to 80W in power output, along with the ability to fire down as low as 0.1-ohm. Also helping in the performance department is a built-in 3000mAh battery. You can now charge the device with its Type-C charging cable.
The SMOK RPM80 Pod Mod Kit also includes a pre-installed RPM Pod, which features a pre-installed RPM Mesh 0.4-ohm Coil. The RPM80 RGC Pod is also included, which utilizes an included RGC Conical Mesh 0.17-ohm Coil. The pod's both offer a 5ML e-liquid capacity, which means longer sessions between refills.
Note: There is also an RPM80 Pro that houses a single 18650 battery.
Conclusion
If you are looking for a pod system that works with both regular and nicotine salts, while at the same time delivering the high-performance capabilities of a mod and the convenience of a traditional pod system, then the new SMOK RPM80 Pod Mod Kit is the best available option. It's comfortable, convenient, powerful, and very versatile.