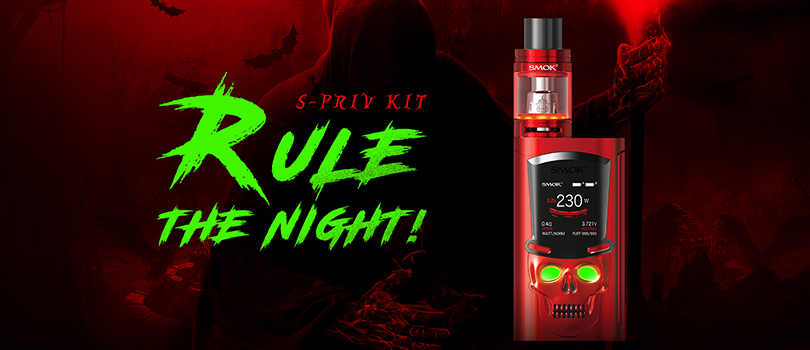 Introducing one of the most unique kits to ever be released, the SMOK S-Priv 230W Kit will either turn you on or turn you off. It features a mysterious skull, a hat shaped OLED display, and eyes that light up. It becomes even more so when you add in the SMOK TFV8 Big Baby Light Edition Tank. While some may be on the fence on how far SMOK is taking this adoption of LED's, others feel it's a sight for sore eyes. The SMOK S-Priv Kit is just the latest addition to a long list of Priv Series mods, all of which have become very successful within the vaping market. The question is, will this S-Priv follow in the footsteps of its successors?
Meet The SMOK S-Priv 230W Kit
Combing a highly appealing pairing of the SMOK S-Priv Mod and the SMOK TFV8 Big Baby Light Edition Tank, you'll endure loads of eye-candy from one of the most unique kits ever released. These two new products work seamlessly together and create a balanced look that exudes high appeal and worthy discussions from those around you. It's a product pairing that will turn heads and create a performance that will have you falling in love with vaping all over again. It's products like these that make us enjoy vaping that much more. This kit is available in black, stainless, red, green, purple and gold.
The SMOK S-Priv 230W Mod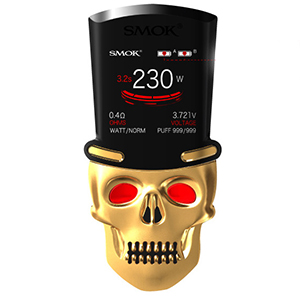 Featuring a unique design that presents a skull and top hat on the front facing of the mod, you'll find that the SMOK S-Priv Mod is certainly one with character. It stands 86mm by 47mm by 30mm and features a bottom latched battery compartment capable of holding two 18650 batteries. The right side of the device offers a large firing bar mechanism that will allow you to easily press and fire the device with ease, much like many of the SMOK devices from the past. Where this mod shines the most is in its appearance, which uses the skulls eyes to display 12 different LED light colors, including blood red, mysterious green, and more. When customizing these LED-lit eyes you'll have a choice between 3 different light styles, including normal, flash and fade. It doesn't just stop there, in fact, the top hat of the skull is actually a large OLED screen with intelligent feedback. There are a total of 3 different modes to choose from when operation the S-Priv Mod, which includes Wattage mode, Temperature Control Mode, and Memory mode. In wattage mode you'll have the ability to reach up to 230 watts. In temperature control mode you'll be able to scroll through titanium, ni200 nickel, and stainless steel options, as well as the support of TCR functionality. There are more features that make the SMOK S-Priv Mod so great, like its preheat function, its dual battery life indicators, its puff counter, its strength settings of normal, soft and hard, and its 6 color settings for the screen. Lastly, a micro-USB port is equipped on the backside of the device for charging and future firmware upgrades.
The SMOK TFV8 Big Baby Light Edition Tank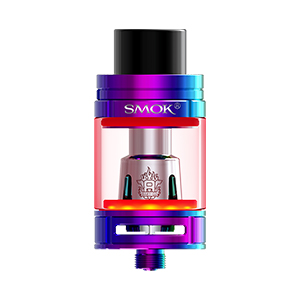 Constructed of 304 stainless steel and pyrex glass, the SMOK TFV8 Big Baby Light Edition Tank offers quality materials used and durability that you can count on. This tank offers 24.5mm diameter, stands just 56mm tall, and weighs just 60g. An 8.5mmblack delrin wide bore drip tip rests atop, with the option of purchasing SMOK's Cobra Drip Tips separately. Just below you'll enjoy the convenience of a cutting-edge top fill system with a lock and hinge design. The bottom of the tank offers a state of the art dual adjustable airflow control to fine-tune your vaping experience. While other features like a 510 connection, complete disassembly, and a pleasing aesthetic design make this a worthy sub-ohm tank, you'll enjoy it that much more when you see its LED light that illuminates the tank from the base. The TFV8 Big Baby Light Edition Tank comes with 6 extra o-ring seals to give your tank a remarkably lit appearance. Lastly, you'll have the ability to experience a pre-installed V8 Baby-Q2 0.4Ω coil, an extra V8 Baby-T8 0.15Ω coil, and a V8 Baby-X4 0.15Ω coil that are all geared for the best performance possible.