Introducing the new SMOK Veneno Kit that presents both an appealing and ergonomic design, while incorporating powerful features and a tank that offers great performance and a large 5ML e-liquid capacity. Combing the SMOK Veneno Mod with the SMOK TFV8 Big Baby Light Edition Tank, you'll find this kit to be just as great with its performance as its appeal. This new SMOK powerhouse was designed to satisfy the user to the fullest extent, and many of us believe that it does just that in every manner.
Meet The SMOK Veneno 225W Kit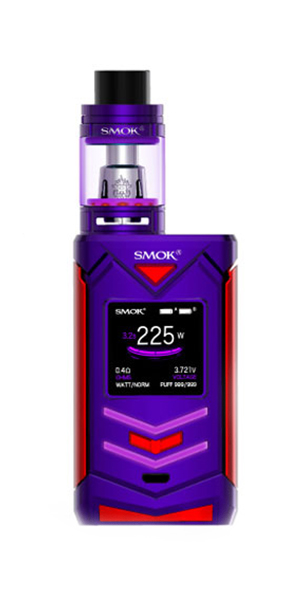 Constructed of stainless steel and giving up a fascinating first impression, the SMOK Veneno Mod is certainly a brilliantly crafted and well-designed device. The looks alone unveil an innovative design that gives the mod a tasteful appearance marked with both artistic and creative appeal. Allow your eyes to scroll throughout the body of the Veneno 225W Mod, as you'll notice sleek lines and overall sophisticated craftsmanship. Far from ordinary, you'll experience a series of angled LED lights that not only have the capability of matching the mod itself but also the perfectly paired SMOK TFV8 Big Baby Light Edition Tank. Furthermore, if perfectly matched colors aren't your thing, throw in a splash of green, blue, or blood red by choosing between the many LED color light options that are available within its menu system.
Though a marvelous set of LED lights and high appeal may sound great and all, we have yet to tell you about its clear, vibrant, and data-driven OLED screen that features remarkable feedback. With the help of a large side firing mechanism and a set of adjustment buttons, you'll have the ability to access its user-friendly menu system, which in turn opens you up to a whole set of various features, such as variable wattage with a range of 1W to 225W, temperature control with a range of 200 to 600 degrees Fahrenheit, and support for ni200, titanium, stainless steel, as well as TCR functionality. In addition, you'll have access to strength settings including normal, soft, and hard just like you may have experienced from SMOK devices from the past. Though there are many more features that make the SMOK Veneno Mod such an awesome one, the last thing we feel you should know is that it's capable of holding two high amp 18650 batteries to supply power to its highly advanced microprocessor and to deliver an experience that you won't soon forget.
While the SMOK Veneno Mod is nothing short of incredible, it does have a matching tank that comes included in this kit. The experience with this kit is only enhanced when you combine the SMOK TFV8 Big Baby Light Edition Tank with the Veneno Mod. The TFV8 Light Edition Tank is constructed of stainless steel and pyrex glass for superior durability. It features a 510 connection, while the top gives way to a drip tip constructed of a delrin material. While the drip tip features a large bore and offers up an 8.5mm size, the tank itself offers up a 24.5mm diameter and only stands 56mm tall. What's most impressive about this tank is its appearance, features, and performance, a trio that you'll become more familiar with once it rests in upon your mod. For starters, this tank matches the SMOK Veneno Mod perfectly, from the snazzy design to the color choice. As far as its features, you'll enjoy a large 5ML e-liquid capacity with the optional bulb glass design for an increased capacity, a LED-lit tank with optional colored o-rings, bottom dual adjustable airflow control for a wide and airy feel, and a hinge and lock top fill system for ultimate convenience. The performance is a given, as SMOK is not only known for producing some of the best performing mods but it's also known for producing the best performing tanks, be it the TFV4, TFV8, or TFV12… they've all exceeded expectations. The new TFV8 Big Baby Light Edition Tank is a top performer because it uses a wide variety of coil options, including what comes pre-installed, the SMOK V8 Baby-Q2 0.4Ω coil – one of my favorites. It also includes the SMOK V8 Baby-T8 0.15Ω coil. Both coils perform outstandingly well and deliver incredible flavor and vapor production.