Working its magic for years, SMOK has created a masterful collection of vapor products for the market. Consumers have been showered with the most remarkably crafted mods anyone has ever seen, and it all comes from within the SMOK vape manufacturing facility. Always looking to enhance their arsenal, the industry's most popular brand has created yet another innovative device, the SMOK SCAR-18 Starter Kit.
The SCAR-18 Starter Kit combines the newly launched SCAR-18 Mod and the SMOK TFV8 Sub-Ohm Tank. The mod stands at 88mm by 54mm by 30.6mm, maintaining a compact footprint, despite its capacity capabilities. It's constructed of a zinc-alloy material and has an IP67 rating, meaning it is shock, dust, and waterproof. Added to the externals are a single firing button, two adjustment buttons, a 0.96-inch TFT display screen, and a Type-C micro-USB port.
Internally, the device comes equipped with the new IQ-X chipset, which gives it the ability to climb up to 230W and carry out various tasks, including variable wattage, temperature control, and bypass mode. Advanced features are built into the device, such as intelligent atomizer recognition, a puff monitoring system, and a full protection suite that protects both you and the device. Delivering power to this incredible vape mod is dual 18650 batteries, which must be purchased separately.
Added to boost its performance, the SMOK TFV9 Sub-Ohm Tank is included in the starter kit. It has a 28mm diameter, giving it ample size to hold large volumes of vape juice. It has a 6.5mL refillable capacity and is surrounded by a pyrex glass tank. The tank is constructed of 304 stainless steel, making it very durable, which is perfect for the beating you will give it through your time. At the top, you have a sliding top fill system, which makes refilling a breeze. At the bottom, however, you have a dual slotted airflow control ring to define your experience. Where the performance really comes into play is from the 0.15-ohm V9 Meshed Coil, which utilizes a press-fit coil installation design, making it even easier to replace coils in the tank.
The SCAR-P3 Starter Kit was coupled in the launch of the SCAR-18. It is a series of devices that SMOK has rolled out featuring the new IP67 rating. The SMOK SCAR-P3 stands at 110mm by 32.3mm by 27mm and utilizes the IQ-80 chipset. It has a built-in 2000mAh battery (charged with a Type-C port), which makes it capable of pushing out up to 80W. The device has an IP67 rating, making it dust, shock, and waterproof to withstand all conditions thrown its way. Added with the zinc alloy construction, we're sure you will find this to be the most durable device yet.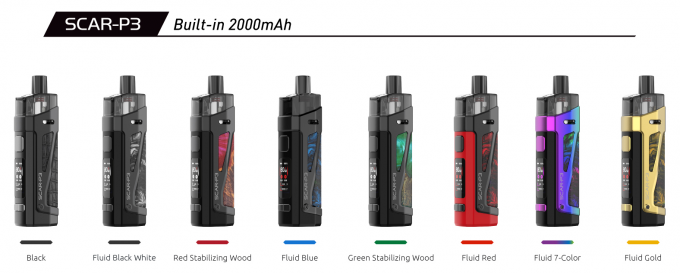 Utilizing a single firing button, two adjustment buttons, and a 0.96-inch TFT color screen, you will enjoy all of the features the P3 has to offer. The pod has a 5.5mL refillable capacity and makes use of the 0.4-ohm RPM Mesh Coil and the 0.16-ohm RPM 2 Mesh Coil to deliver exceptional performance.
The SCAR-P5 Starter Kit was also rolled out during the big SMOK SCAR launch. It is a vape pod system that stands 117.6mm by 35.8mm and uses a single 18650 battery for power. It can reach up to 80W and uses a single firing button to activate, while two adjustment buttons allow you to make adjustments. Giving a clear readout, there is a 0.96-inch TFT color screen, and plenty of features to make this device stand out. Its most notable feature is that it has an IP67 rating, making it dust, shock, and waterproof.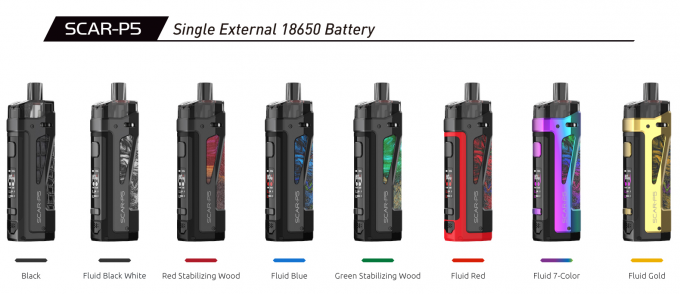 The SCAR-P5 Starter Kit offers a 5mL vape juice capacity, a side fill system, a dual airflow system, and utilizes the 0.4-ohm RPM Mesh Coil and 0.16-ohm RPM 2 Mesh Coil to deliver its superior performance.