For those that are looking for huge battery life, a classy design, a small footprint, and great performance, meet the new SMOK V-FIN Kit!  It's a compact powerhouse of a box mod that features a built-in 8000mAh rechargeable battery that's capable of producing long vape sessions and power up to 160 watts. To deliver such a grande experience, this kit combines the SMOK V-FIN Box MOD with the SMOK TFV12 Big Baby Prince Tank. We assure you, you haven't yet seen anything quite like this spectacular pairing.
Meet The SMOK V-FIN Kit
The SMOK V-FIN Box MOD was designed for those who enjoy a compact mod, sharing a small footprint, and fits comfortably in the palm of your hand. It's only 85mm tall, 56mm wide, and just 31.5mm in depth. With its relatively small size, shockingly the V-FIN MOD only weighs 294g. Although its weight doesn't compare to many of the mods with a larger battery capacity, it still uses a zinc alloy material for a strong and durable housing. It's easy to see how great this device is off the jump — small size, low weight, and great quality.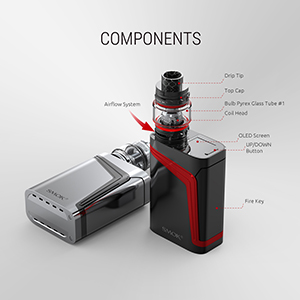 Delivering a stunning appearance was a huge priority for the brand as well, which is why they created a box MOD that is available in five different colors and offers a simple, yet remarkable design. You'll have a choice of Black/Red, Silver/Black, Black/7-Color, White/7-Color, and Black/Purple. It's one of the most impressive devices of the year, be it from the inlaid pattern that gives it its modern appeal or the easy-to-read top mounted OLED screen that has a simple operation face. Raising the bar even higher, the SMOK V-FIN MOD comes equipped with a built-in 8000mAh battery, making it one of the most powerful and durable devices of our time. The battery is rechargeable, as you would expect, and you can do the charging via the micro-USB port that also is capable of pushing out firmware upgrades. As for the rest of its performance, expect to reach up to 160 watts, reach temperatures up to 600 degrees Fahrenheit, and enjoy it all with peace of mind due to the full safety suite, which includes intelligent atomizer recognition, puff monitoring system, 12-seconds cut-off, short circuit protection, over-heating protection, and low-battery warning.
Creating the duo of a lifetime, the SMOK TFV12 Big Baby Prince Tank is also included in the kit. It's constructed of stainless steel and glass material, delivering a solid and durable design. It stands only 55mm tall and has a 28mm diameter, allowing it to hold up to a 6ML e-liquid capacity. The top features a Cobra wide bore resin drip tip, and just below you'll find a rotary style top fill system with a push button. It also has a bulb glass design that increased its e-liquid capacity, while also enhancing its appeal. The SMOK TFV12 Big Baby Prince Tank receives the bulk of its great performance from its two most prominent features, which includes the dual adjustable airflow control located at the bottom, and its use of the new and improved TFV8 Baby Beast Coils. Enjoy up to eight different coil options, while the kit will include the V8 Baby-Q4 and V8 Baby-T8 Coil to get you off and running with the capability of reaching up to 80W.