Making its way into the market with a masculine, modern, and unique look, the new SMOK X-Force AIO Starter Kit is certainly a "force" to be reckoned with. SMOK's research and design department dug deep to deliver its take on the compact all-in-one mod, and the result was nothing short of satisfactory. Like many of its product developments, the X-Force offers features like a stunning design, a sidebar firing mechanism, a high-performance coil system, and of course incredible power. We encourage you to continue reading about the all-new X-Force AIO Kit!
The SMOK X-Force AIO Starter Kit
Sporting a compact design with a height of just 102.5mm, 52mm wide, and only 30.4mm in depth, it's no wonder why this device weighs a mere 99.8g. Along with a small size, it uses a polycarbonate material to make the device lightweight, yet durable to withstand the course of time and everyday use. Its outside appearance is pleasing, boasting nice curves, smooth edges, and using modern lines to differentiate it from other AIO mods.


Looking to its side, you'll notice a firing bar mechanism that makes operation easy and comfortable. SMOK's firing bar has become a popular feature on its device and can be seen on most popular mods such as the X-Priv series mods. Just below the firing bar is a micro-USB port for charging. What you'll be charging is an integrated 2000mAh battery, which provides an incredible long-life experience. There are five vertically arranged LED indicators positioned on the front of the SMOK X-Force Mod, giving a clear view of the current battery life. Like with many mods that house integrated batteries and a compact design, the X-Force Mod also uses a direct voltage output, meaning the power the device offers is based on the battery's current state. At its best, a full charge, expect an amazing experience!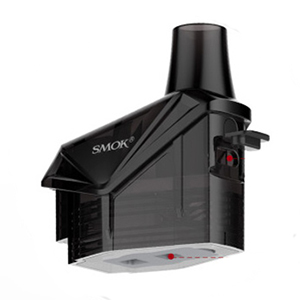 The Tank portion of the X-Force Kit is equally as impressive as the X-Force Mod. It offers a large 7ML e-liquid capacity, stands just 52mm tall, and has a 30.3mm diameter. It uses a PCTG material, making it only 30g and giving it a lightweight feel as well. The mouthpiece is integrated into the tank, and the airflow system rests off to the opposite side. Providing ease of use, the X-Force Tank easily detaches from the X-Force Mod and reveals an injection hole on the side, while the very bottom will house the coil head. The X-Force Transverse Coil was designed strictly for performance, offering a 0.3ohm coil with a vertical airflow system that delivers a large vapor production and a dense flavor output. The base of the coil uses an insulated ceramic, allowing the coil's internal temperature to rise faster and more sufficient than traditional coils.
The resistance of gold-plated brass electrode can be comparable with silver, which is much lower than that of aluminum alloy and iron alloy and is able to transfer the battery energy to heating wires without losses. Thus, it's more power-saving and more durable with faster response. — SMOK
In addition to its all-in-one modern design, its comfortable feel, and its incredible performance, the SMOK X-Force AIO Starter Kit will also come complete with several protection features, such as 8-second cut-off, short circuit protection, and low voltage protection. These protection features were incorporated into this fantastic device to protect both you and your precious new mod.