With many devices under its belt now, Caliburn will "keep on keeping on" with the new Uwell Caliburn KOKO Pod Kit. It's a slogan used for the device and something the brand has stayed true to since the beginning. It originally made its claim to fame with the release of the Crown Tank and Valyrian Tank series, then going on to create some of the most memorable devices ever released. The brand known for delivering serious performance has now debuted its next addition to the vapor products market, the Uwell Caliburn KOKO Pod Kit.
The Caliburn KOKO Pod Kit by Uwell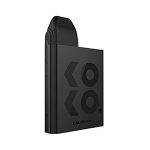 Giving way to a stance of just 67mm by 43mm by 12mm, there isn't a whole lot of 'device' to this pod system. It has an all-in-one design and it's very compact, so if you are wondering if it's portable… it most certainly is. Portable, lightweight, and very comfortable to both hold and use, the Caliburn KOKO is the device that you can take anywhere and enjoy using it when it's that time. Just because it's small and lightweight doesn't mean it isn't sturdy, strong, and made to be durable against everyday conditions you may throw at it.
Despite its small size, the Uwell KOKO has a built-in battery capacity of 520mAh. It's rechargeable and includes a USB cable to plugin for a direct charge via the equipped micro-USB port. An LED light indicator is also present to indicate tasks such as charging. The Caliburn KOKO has a simple one-button design, though it does offer both automatic draw or the manual firing button. When it comes to the performance, the device is capable of reaching upwards of 11W, yet uses a direct voltage output where the device relies on the current battery level. The pod itself offers a 2Ml e-liquid capacity and has a top fill design. Internally, there is a 1.4-ohm coil that provides extraordinary flavor and plenty of vapor. There are two refillable, empty pod cartridges that are included, with one of them being installed. The Uwell Caliburn Replacement Coils are available in 1.4-ohm or 1.2-ohm and can be removed and installed with ease, offering the most convenient experience.
Conclusion
The Caliburn KOKO pod Kit by Uwell is an outstanding device through and through. If you're looking for something that is small, portable, easy to use and delivers an incredible performance, you can't go wrong with this device. It offers great battery life, despite its super compact design, and if balanced flavor and vapor production is something you hold to a high priority, you may very well have your best vape yet.