As one of the most popular brands on the market, it seems as if anything Vandy Vape produces from its largescale manufacturing facility, it's considered vape gold. Due to an astounding number of products being released from the brand, Vandy Vape has become the people choice as far as brands go, which has ultimately led them to a leading position within the vaping industry. Vandy Vape's portfolio is quite extensive, having produced some of the most innovative vaping equipment of all time. From the Vandy Vape Pulse to the Berserker to the Maze RDA, there's an abundance of products that have delivered quite the impact on both vaping, and its consumers. One the latest to join its rapidly growing arsenal is the Vandy Vape Jackaroo Starter Kit Preview, a uniquely crafted vaping device that features incredible durability, extraordinary power, and the industry's latest tech.
The Vandy Vape Jackaroo Starter Kit
The Jackaroo Starter Kit consists of the Jackaroo Mod and the Jackaroo Sub-Ohm Tank, two perfectly paired products that have been engineered to withstand the toughest condition, present incredible performance, and offer the best possible vaping experience. In addition to receiving the Vandy Vape Jackaroo Mod and Tank, you can also expect two mesh coils, a battery adapter, a spare glass tube, an accessory bag, and an instruction manual.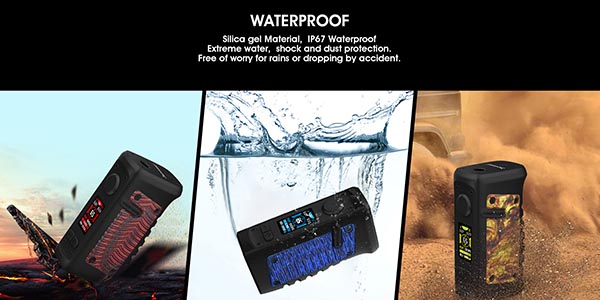 The Vandy Vape Jackaroo Mod has a compact design, standing just 90mm by 49.8mm, 33.2mm. The device is made with incredible quality and has been built with Shockproof material, as well as being IP67 Water Resistant. In addition to its fascinating quality, the Jackaroo Mod has a remarkable appearance. Aside from its unique appearance that has both options of wood and resin panels that provide some serious grip, the Jackaroo Mod boasts an intuitive 0.91-inch TFT OLED display and a 3-button control face that consists of two adjustment buttons and a firing mechanism.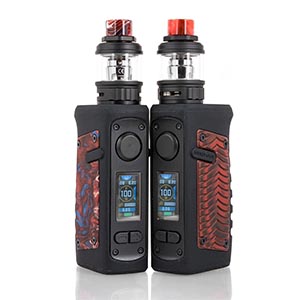 The device doesn't require a lot of room, it manages to house either a single 20700 or 21700 battery, with an additional option to house a single 18650 battery with the use of the included 18650 battery adapter. With the large battery capacity and Vandy Vape's internal chipset, the Jackaroo Mod by Vandy Vape allows users to range between 5W and 100W. Its power output is quite impressive, despite its compact design. It features a power mode, voltage mode, DIY mode, and offers the industry's latest tech, temperature control. The temperature control mode is perfect for those who want to prevent dry hits, reduce e-liquid consumption, and have greater control of their device. When using this TC mode, you can range from 200 to 600 degrees Fahrenheit. With the abundant amount f features packed into this stunning device, Vandy Vape was sure to include a slew of safety features to protect both the user and the device, including overtime protection, atomizer protection, short circuit protection, over-heat protection, and a low power warning.
Another spectacular part that's included in the Jackaroo Starter Kit is the Vandy Vape Jackaroo Sub-Ohm Tank, an atomizer tank system that not only looks outstanding but performs outstanding as well. The tank has great quality, equally matching its paired device. It's constructed of a stainless steel material and the 510 connection also features a stainless steel material. The tank is only 23mm in diameter, though it still offers a 3ML e-liquid capacity, which is held by pyrex glass. At the top, you'll notice a wide bore resin drip tip, and just below it is a sliding retractable top-fill mechanism. One of the most impressive parts of the Jackaroo Tank is the Vandy Vape Jackaroo Coil System, which consists of the 0.15-ohm Mesh Coil rated for 50-90W, and the 0.3-ohm Mesh Coil rated for 40-60W.