Vandy Vape has become the whisper in everyone's ear lately, dishing out a slew of fascinating products. Its latest and most innovative is the Maze BF SUB OHM RDA, a new design that's incredibly unique and very interesting. Its performance is yet to be determined as this product was just announced. However, vapers all over the world are ready and eager to get their hands on this remarkably designed coil head that has the capability of changing the path of atomizers to come. Get comfortable ladies and gents, this is one you'll want to read about!
Meet The Maze BF SUB OHM RDA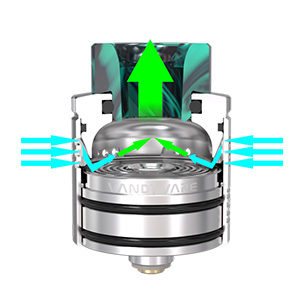 Hello Maze BF RDA, how are you what are you? — I am a sub ohm RDA constructed of stainless steel that offers a traditional rebuildable dripping atomizer outer appearance. However, don't let the first impressions fool you. In fact, although my outer appearance takes on a traditional appearance, my internals feature an innovative design far from anything you've seen before. But first, let's start with an undressing from head to toe.
The top sports a wide bore 810 resin drip tip that will most definitely spice up the appearance of the Maze BF SUB OHM RDA. Due to using a resin drip tip you'll find that heat transfer is greatly reduced as a result of this specific material. In addition, the larger bore will play a big role when it comes to the airflow, strengthening its performance offering. Just below you'll notice a knurled top cap that acts as the adjustable airflow ring. The indentions in the top cap make it especially easy to rotate when controlling and fine-tuning the airflow inlets. Speaking of airflow, the airflow cap offers five different airflow directions, making for an ultra smooth vaping experience. Due to the distinctive airflow design, you'll also notice that the airflow pattern helps prevent any potential spit-back from e-liquid.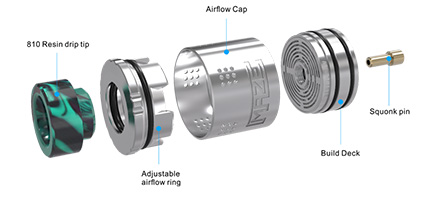 Moving down even lower there is the Maze Coil and build deck. The Maze Coil features a disk type coil design that's flat, allowing manufacturers to eliminate extra space and reducing the overall size of the Maze RDA — which I may add is 24mm in diameter and 22.5mm in length. The Maze Coil head is constructed of stainless steel and utilizes SS316L wire. It offers a resistance of 0.2Ω, uses Japanese cotton, and comes equipped with PEEK insulator raw material. With this coil you're able to range from 50W to 100W, while Vandy Vape feels that it's best from 70W to 80W. As for the build deck, it features a 2ML e-liquid reservoir and can be used in its default squonk-ready mode or with any 510 threaded device using its included 510 pin. Using the 510 pin you'll then use a central refill tube for the ability to refill the e-liquid reservoir manually.