Vaping Guide: How To Vape – Best Vape Mod
This vaping guide is a detailed explanation of what electronic cigarettes are, the parts that are used, the vape juice that's vaporized, how to vape, as well as the various tips and tricks. Often times new users are overwhelmed with the different amounts of information that's scattered throughout the web, which is why we've created this ultimate all-in-one guide that shares all the information you need in one place.
In this guide we cover topics like what is an electronic cigarette, we tell you how to vape, we tell you about vape juice, and we also share the best vape mod.  We cover an extensive amount of topics in this guide, and it's all to fill that brain of yours with the knowledge it needs for this incredible alternative.
If you're pleased with this guide, we would like to urge you to check out some of our guides that are based on products. We wrote these guides so that users are informed on the products they purchase. After you read this vaping guide if you have the time, here's a small list of some of our most popular product guides.
---
What We Want From You
By providing this very detailed vaping guide for you, the only thing we ask in return is that you share it.  We want as many smokers and vapers as possible to see this information on electronic cigarettes.  It could potentially lead them to stop smoking or it could help that friend that just started vaping.  We thank you for visiting the Guide To Vaping, and we hope you enjoy reading!  If this vaping guide has helped you, feel free to share your experience in the comments section below.
What Is An Electronic Cigarette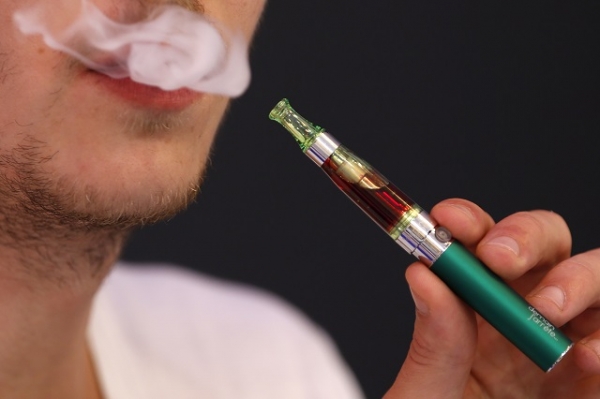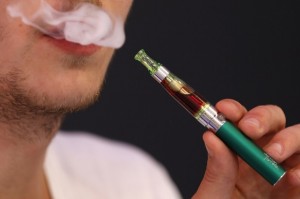 The Electronic Cigarette is a device that is battery-powered to produce inhaled doses of nicotine by way of a vaporized solution. It makes use of a rechargeable battery that powers a heating element (coil). The E-Liquid (also known as Vape Juice) comes in contact with the coil and is then vaporized.
Essentially, the battery provides power to a switch, which when activated will heat a wire coil.  In this wired coil is a wicking material. When e-liquid is placed onto this wicking material and reaches the coil, the e-liquid is then heated to the right temperature in order to turn the e-liquid into vapor.  As you pull from the electronic cigarette, vapor travels directly from the coil and into your mouth, where it is then to be inhaled and exhaled by the user.
Beginner Tip: When someone uses a tobacco cigarette, they are smoking since the cigarette produces smoke. When someone uses an electronic cigarette, they are vaping since the e-cigarette produces vapor.
Electronic Cigarette Parts
[mks_separator style="dashed" height="2″]
An Electronic Cigarette is quite simple in design, but there are multiple parts that can make up or be used with the electronic cigarette. Below is the basic parts that make up a complete electronic cigarette. Some can be replaced with other style parts.  Keep in mind, this version of electronic cigarette is an older style and since the vaping market has progressed, they've become less commonly used.  Box mods (devices they retain the shape of a box) are now more commonly manufactured and used.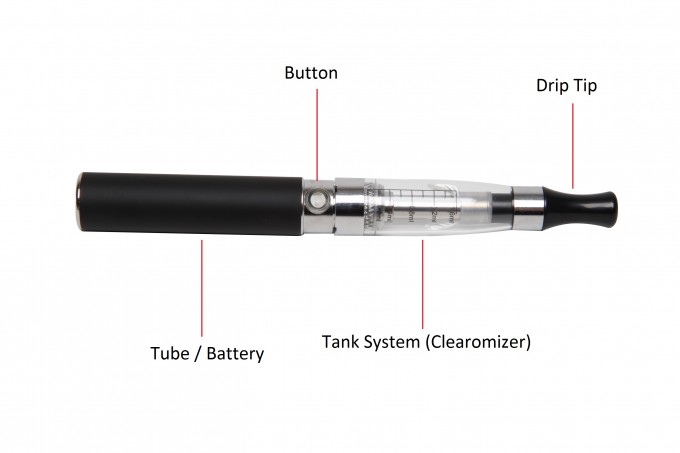 Tube (or Box): The tube is the housing to the electronic cigarette. Some tubes come in a variety of shapes and sizes to accommodate certain battery sizes and internal electronics. The tube part of the device is typically the bottom part of the electronic cigarette.
Battery: The battery comes in many shapes, but the typical battery is similar to an AA battery styling and varies in specific sizes. (See Battery Breakdown)
Power Button (Manual or Automatic): The power button is what activates the battery, which then delivers power to the heating element (atomizer or cartomizer). Some buttons have multiple use functions. The button is considered as a 'manual' e-cig. An 'automatic' e-cig has no button and is activated by a sensor that detects when you're pulling vapor from the device. Many e-cigarette users (or vapers) tend to like a manual e-cig more because an automatic e-cig can be triggered to activate at times when not in use, which will deplete the battery life.
Connector: The connector is a part that sits at the top of the electronic cigarette and is used to accept the atomizer (or cartomizer). The connector has female (or male) threading. The connector will range in various styles such as 510 (the most common), 801 and 901 just to name a few.
Atomizer (or Cartomizer): The atomizer is a small metal tube casing that has a male (or female) threading at the bottom to be attached to an electronic cigarette. The top of the atomizer is an opening to allow the use of e-liquid. To fill an atomizer, the user will typically drip 2 to 3 drops onto the coil (which sits inside and on the bottom of the metal atomizer tubing). The cartomizer is much like the atomizer, except that the metal tubing is a bit longer. Inside the metal tubing of a cartomizer is a filler material. This filler material acts as a wicking system. To fill a cartomizer with e-liquid, the user will pour e-liquid onto the filler material until it has a full or soggy look. A cartomizer is also used inside of tank systems.
Tank System (or Clearomizer): The tank system is more commonly used today, and is also designed to hold more e-liquid than the outdated atomizers that were once leading the market. The tank is a tube that is usually made from either a plastic or a Pyrex glass material.  The top of the tank system has a drip tip (mouthpiece), the middle is where the e-liquid is held, and the bottom is a base where the replaceable coil head will sit.
Drip Tip: A drip tip is a mouthpiece that will sit on top of the atomizer or clearomizer. The casing on an atomizer or clearomizer can sometimes become hot to the touch, so a drip tip is used so that your lip does not come in contact with that heat. A drip tip was also designed so that you could easily drip e-liquid into your atomizer without taking off the mouthpiece. This is done by pouring your drops of e-liquid into the center hole of the drip tip.
As the vaping market has progressed, new electronic cigarette products have emerged.  Even though they've taken on a new shape and more advanced parts, the electronic cigarette continues to work the same.  There are several variations of e-cigarettes these days, most receiving a different name from what they were once called to differentiate each type of product.  Standard e-cigs that take on the cylindrical shape, is similar to the size of a traditional cigarette or the size of a cigar are called Vape Pens.  We recently wrote a very detailed article that explains what a Vape Pen is and we also tell you the top 5 best vape pen starter kits that are available.  Below is an image to help you understand what the parts are on a modern electronic cigarette — also referred to as a Vape Mod.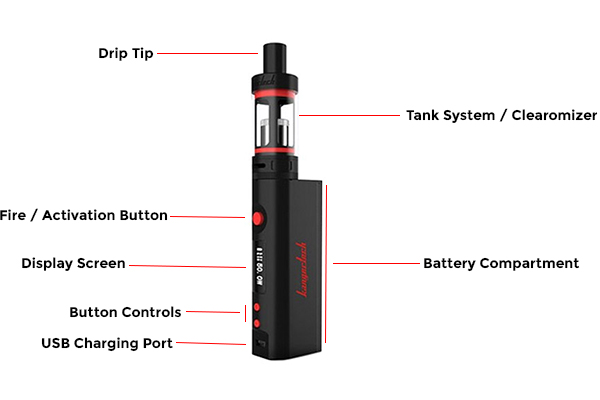 Want to learn about these new vaping products? Feel free to visit our friends at Vape Preview.  They update their website daily with the latest vaping products on the market.  While you're there, they also have cool posts to grab your attention, such as vaping lists, vape memes that you can share online with your friends, and they even post deals to the cheapest vape products.
Vape Juice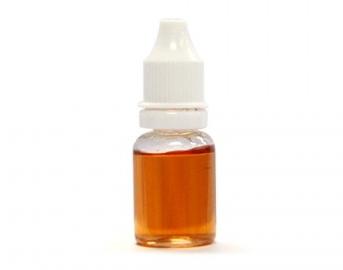 Vape Juice or better referred to as E-liquid (or eJuice) is the liquid that is used to vaporize. E-Liquid typically contains Vegetable Glycerin, Propylene Glycol, Nicotine and Flavoring. The user can generally custom order e-liquid by requesting a certain VG (Vegetable Glycerin) percentage and PG (Propylene Glycol) percentage.  However, as the industry has progressed, many e-liquid manufacturers are distributing e-liquid with a set VG/PG percentage.
If you're wanting to find some ejuice quick, the best ejuice brands, and for the lowest price on the market, here's a recent article that we wrote sharing the top 3 best sites to buy cheap ejuice. Trust us when we say this, it doesn't get any cheap than these 3 sites for all the popular ejuice brands.
The user can also request a certain nicotine strength. Nicotine isn't required to be in vape juice in order to vaporize it. There are some users who in fact do not use nicotine. These type of 'vapers' are called "No-Nic" vapers. The common nicotine strengths are from 0mg to 24mg. It is said to be safer to not exceed 24mg of nicotine and most electronic cigarette vendors will not offer more than that amount either. The most common nicotine strength used is 18mg on the high side and 12mg on the low side.
As new products continue to emerge, more advanced electronic cigarettes have enabled vapers to drop their nicotine strengths since these advance devices deliver nicotine more efficiently.  In fact, there's a study that has been published proving that advanced devices deliver nicotine greater than cig-a-likes (an e-cig that looks very similar to a real tobacco cigarette).  Choosing the right flavor can become a make it or break it deal for your vape journey. There are many vapers that enjoy fruit flavored vape juice, while there are others that enjoy menthol vape juice.  It all comes down to your preference. We have loads of information on Guide To Vaping, for example, we've recently shared the 5 best menthol juice flavors in a recent article, and there's plenty more like this to help you along the way.
[mks_button size="medium" title="THE CHEAPEST DEALS ON E-LIQUID – GO HERE" style="squared" url="http://bit.ly/2jrucCN" target="_blank" bg_color="#000000″ txt_color="#FFFFFF" icon="fa-share" icon_type="fa" nofollow="1″]
How To Vape
Using electronic cigarettes and understanding how to vape is pretty simple. Although it requires more action than the traditional tobacco cigarette, it is far less harmful. Once you grasp what it takes to use an electronic cigarette (which consists of a charged battery and an atomizer/tank filled with e-liquid), here's some useful tips on how to vape.
For your first time inhaling vapor, it's a lot different to your lungs and it doesn't recognize it. Your lungs are used to tobacco smoke, which is completely different from vapor. With a traditional cigarette, you pull hard to get smoke, but with vaping – you'll pull slow and steady. Remember, liquid is inside your atomizer/cartomizer, so you don't want to pull hard enough to suck that liquid into your mouth.
When you inhale vapor, the longer you hold it in your mouth, the less vapor you'll blow out.
There two different types of inhales: one where you pull the vapor into your mouth, hold it there, then inhale the vapor.  The other is where you pull the vapor into your mouth and directly to your lungs without holding it in your mouth.  The first is called a "mouth hit" while the other is called a "lung hit".
Remember, this is about you… so find your own style of vaping and what feels most comfortable to you.
Tip: Many people are beginning to favor lung hits because the products that are being manufactured today are designed specifically for that way of vaping.
What You Need For Vaping
To get started with vaping, you'll need the following:
A battery (if using a modified type device, you may need a tube and battery)
A clearomizer or type of atomizer
A mouth piece
A charger
E-liquid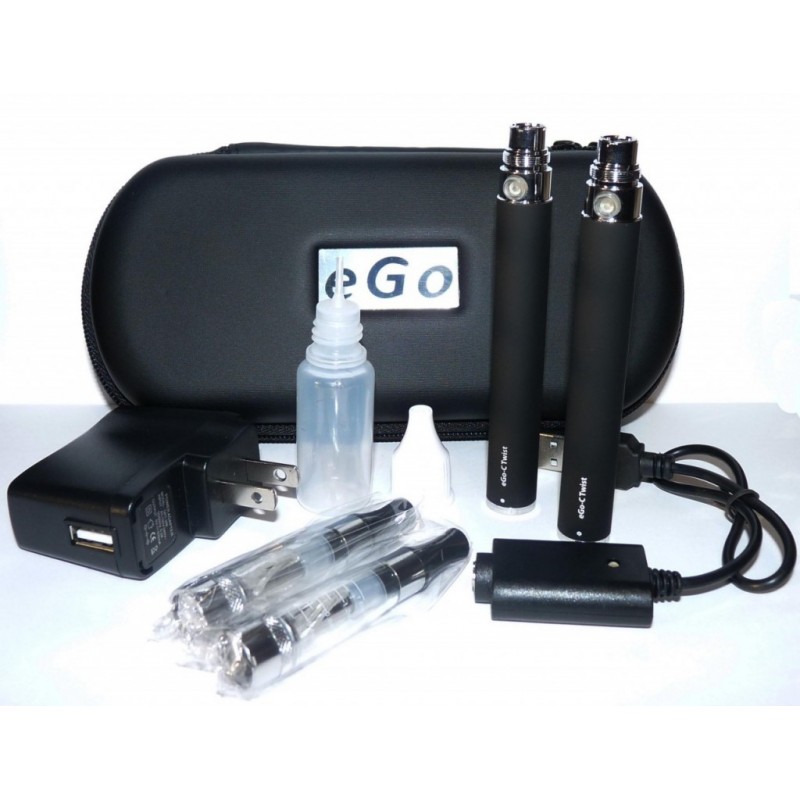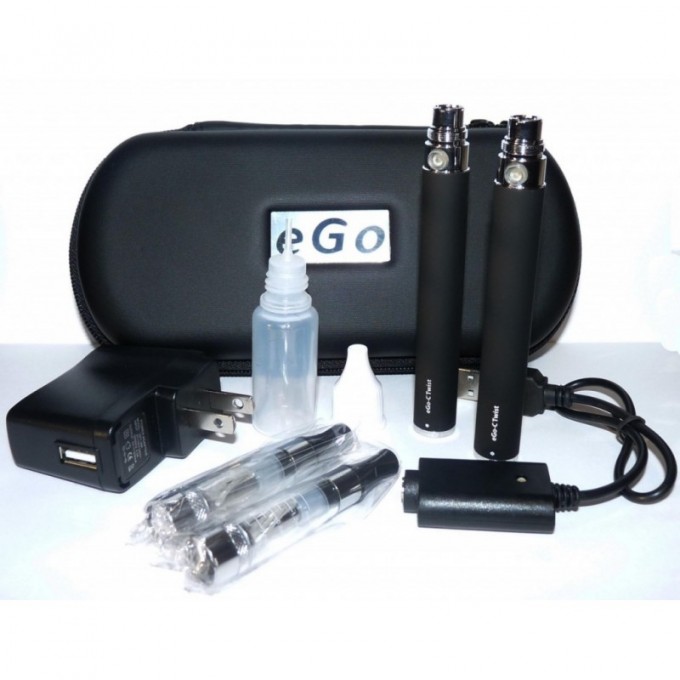 Usually vendors offer starter kits that come with everything you need to start vaping. Some offer e-liquid with the kit and for those who don't, just order you a bottle of e-liquid that interests you.  Many new vapers today are starting off with an advanced device so that they don't have to keep upgrading, which allows them to adjust the power to their liking.  Using such a device will also give you longer battery life.
The Setbacks of Vaping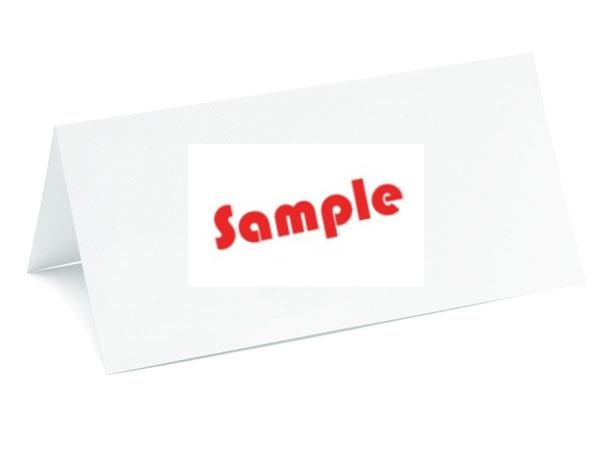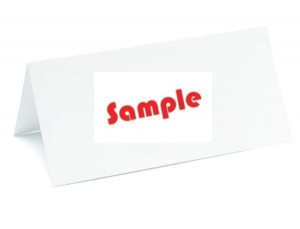 The only setbacks to just starting to vape is having to learn about e-cigarettes. Although that isn't much of a setback, it can be a little confusing to some at times. The other setback is finding the right e-liquid for you. When you first start ordering e-liquid, try to find sample packs. Many vendors will offer a sample pack of small bottles in assorted flavors for you to try. Finding the right e-liquid can be a hassle sometimes and can make you feel like there's a hole in your pocket, but once you find the right flavor, it'll be a breeze from then on.
Never settle for a bad tasting e-liquid. We have many vendors that have tons of different flavors that will suit your taste buds. China made e-liquid is much cheaper than the rest, but many avoid it because the flavors aren't that great, and it's built an ugly track record. USA made e-liquid has much more of a quality taste in flavor and feel.  If there is a vapor shop in your area, head that way and try a few flavors to find the type of flavors you enjoy most.
What To Expect From Vaping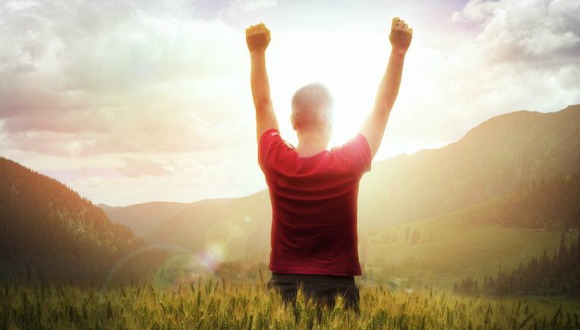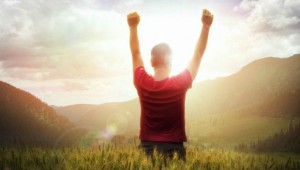 When you first make the switch from tobacco cigarettes to electronic cigarettes, you'll notice some changes that are good. Some vapers have said that they could breathe better, get less winded, no more terrible coughs and another that I've heard from many – notice an improved better immune system. However, there are some things to expect that come with removing yourself from the 4,000 chemicals in tobacco cigarettes. Here are a few of those that we've heard of or experienced. (This doesn't necessarily mean that this will happen to you.)
Headaches
Cold Sweats
Coughing
Chest Pains
If these issues continue, I advise you to consult with your local physician and please contact GuideToVaping so that we can come up with a solution for you.
Save Money By Vaping
Saving money was possibly one of the reasons you switched to electronic cigarettes, and though switching has already saved you a bit, there are many other ways to save even more. Here are a few to help you get started.
Find The Best Prices: We have many electronic cigarette vendors and some have better prices than the others. Always look for the best priced product with the best quality.
Look For Discount Codes: Search for discount codes. Most vendors have a never-expiring discount code, while others have weekly and monthly discount codes. To get you started, here is the GuideToVaping 

Coupon Codes

 page.
Order In Bulk: Once you've found the e-liquid flavor you're comfortable with and the clearomizer or atomizers that you like, order them in bulk. Just like with any other product, when you order in bulk, it helps you save in the long run. 
Don't Get Tricked
Many vendors are in this market to help you, while others are out just to make a buck or trick you. Here are a few tips that will help you not get tricked.
Don't Fall For Free Trials: You'll see many ads or receive emails that will offer you a free trial e-cig. Do not fall for this trick. To get the free trial, they'll ask you to give you a credit card number, but they won't charge you. After that, they'll bill you and charge you quite a bit for a horrible product.
Don't Buy From Gas Stations: Do not buy an electronic cigarette from a gas station. The e-cig you'll get is horrible and the worst on the market. The disposable e-cigs claim to last 24 hours, but they don't and for most smokers, it won't satisfy them.
Don't Be Fooled By Kiosk Pricing: Many kiosks are over-charging people for products. Don't be fooled by the nice products, because they come at a high price. Purchase from local vape shops or online vape shops. Feel free to click one of the ads to vape shops here on GTV. All of our advertised vendors have great pricing and quality products.
Research First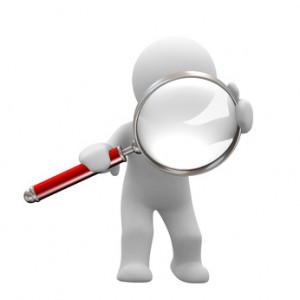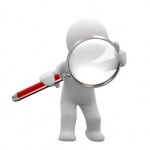 Do not be fooled by these low-quality electronic cigarettes that are being sold at gas stations and such.  Just because it looks like a real cigarette doesn't mean it performs the best.  I'm not going into a full article on why it's common sense to do research before making a purchase, but I will tell you, it'll save you a lot of time, money and stress by doing the research first and getting the best electronic cigarette for you.  We have many articles and reviews on the vaping market's latest devices that are being released and available for you to purchase.  Feel free to visit some of those articles to help you make a determination on what the best products are for you to purchase.
Support
The vaping community has become one of the best support systems for smokers switching to electronic cigarettes. All of us more veteran vapers have been down the same road as you and there are many offering to be your crutch. You can share, discuss and be entertained by thousands upon thousands of vapers on electronic cigarette forums, chats, shows, blogs, and the many social networks.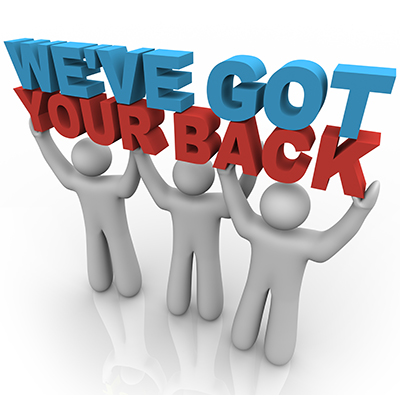 Guide To Vaping has a Facebook Group where you can socialize with other vapers just like yourself.  Ask anything or just post pictures of your new setup!  Visit the Guide To Vaping Facebook Group, HERE.
Abbreviations
So you're new to the whole scene of vaping and very confused with all the abbreviations people are using on forums, websites, chats and even here at GuideToVaping.  Well, look below, we've laid out all the abbreviations and the meanings to them.
General
Noob – Beginner
Analog – Regular Cigarette
Mod – Homemade or modified PV
Pull – The act of sucking on the mouthpiece to pull the vapor into your mouth
TH – Throat Hit (The tingling sensation in the back of your throat)
Vapor – the "smoke" emitted from an e-cigarette
Vape, Vaping – The use of an e-cigarette (similar to the term "smoking" when referring to an analog)
Topping off – Adding drops of e-liquid to your current cartomizer.
Dripping – Vaping by adding a few drops of e-liquid directly on the atomizer instead of using a cartomizer.
E-Cigarette
E-cig or E-cigarette – Electronic Cigarette
PV – Personal Vaporizer (think ecig that is beefed up)
APV – Advanced Personal Vaporizer
Atty – Atomizer
RBA – The abbreviation used for any Rebuildable Atomizer.
RTA – Rebuildable Tank Atomizer
RDA – Rebuildable Dripping Atomizer
Cart – Cartridge
Carto – Cartomizer
Bat – Battery
Filler – The fiber found inside your cartomizer that holds your e-liquid
PCC – Personal Charging Case
PT – Passthrough or passthrough battery
2-piece/Disposable – 2 part e-cigarette. The Battery and a "cartomizer".
Cartomizer – An atomizer built into the cartridge, marketed as disposable (you throw it away when the e-liquid is used up).
3-piece – 3 part e-cigarette. Battery, Atomizer, and Cartridge.
Cutoff – Refers to how long the battery will activate the atomizer before shutting down (safety measure to protect the atomizer).
E-Liquid
E-juice, e-liquid, juice – the liquid nicotine that you fill your cartomizers with.
DIY – Do it yourself (homemade e-liquid mixture)
PG – Propylene Glycol
VG – Vegetable Glycerin
High VG – An e-liquid that has a higher percentage of Vegetable Glycerin.
Advanced – Vape Mods
A vape mod is basically a high-powered version of a standard electronic cigarette.  Mods are more commonly used by vapers these days since they offer more power, longer battery life and an increase in flavor and vapor production.  A mod can come in many different shapes and sizes and can hold different features.  A mod will typically have a set wattage or voltage (power) that it can go up to and you can adjust it as you want.  It will also likely have a screen for you to see what is going on with your device.  In addition, there will be a fire/activation button and two buttons to control the wattage/voltage up or down.  A mod is commonly powered by a 18650 battery or two 18650 batteries.  Some batteries are built into the device where you can not replace them and rely on a charging cable to charge the device, while other batteries can be taken out of the device and charged externally through a specific charger.  Understanding vape mods, how they work, where to get them, and which is the best is all information we answer here on Guide To Vaping.  We shared the best vape mod of 2016 in a recent article, and there are more like this throughout the site.  One article we recommend most for users that are fairly new is an article that will teach you how to increase the lifespan of your vape, which covers vape mods, batteries, vape juice and more.  We encourage you to take a look around, as we have nearly 2,000 posts dedicated to helping you throughout your journey.  Below is a picture of a vape mod to get you a bit more familiar.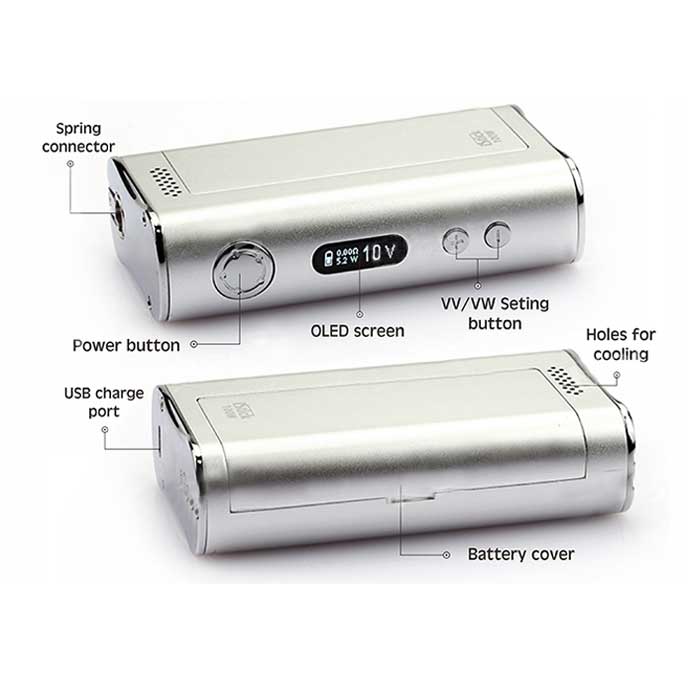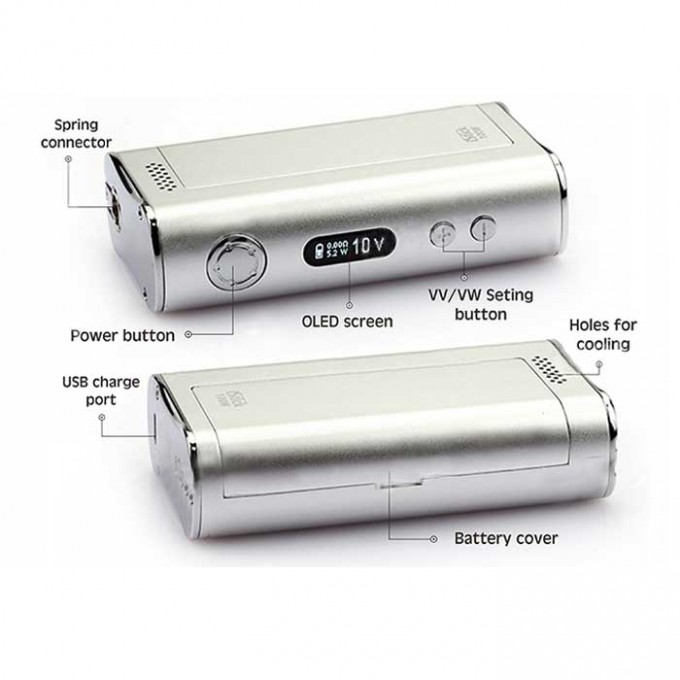 Advanced – Resistance
The resistance of your coil in your atomizer or clearomizer will make a huge difference in your vaping experience.  The main thing you'll need to know is that the lower the resistance of the coil, the quicker and hotter the coil will heat up.  This means, the lower your resistance, the more vapor you will be able to produce.  Many manufacturers are now making sub-ohm clearomizers, where resistances go lower than 1.0Ω.  These resistances are very low, but they perform very well too.  Rebuildable Atomizers have become very popular since you can manually build the coil yourself, which allows you to build to your own preferred resistance.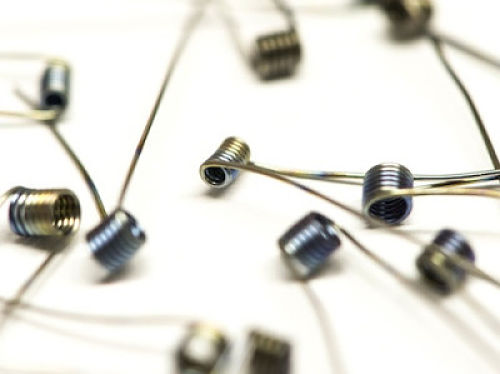 It is highly recommended that you learn ohms law and how all this works before using low resistances on your device.  Luckily, many of the mods available today have protection features built-in for your safety.  Another thing to keep in mind with resistances is that batteries have a certain rating on them.  Do the research and choose a battery that can handle the load you are placing on it.  We recommend that you read our battery safety guide for more information.
Advanced – Temperature Control

Temperature Control has become the latest technology hype within the vaping market.  Once upon a time, users were forced to strictly go by only voltage or wattage to control the outcome of their vaping experience.  Since Evolv introduced the first temp control chipset, nothing has been the same since.  This technology has now allowed vapers to control the temperature of their coils, which results in a safer and more consistent vaping experience.  Temp control also prevents dry-hits (dry-hit: when your wick runs out of liquid that results in a burnt taste).  This type of technology also keeps the vapor from getting hotter than you prefer, letting you choose how much warmth you receive.
Ultimately, temp control is a technology that limits the temperature of the coil.  By using your device that has the temp control feature and a Nickel 200 or Titanium coil, you can completely control the temperature applied to your coil, giving you full control.  However, we must inform you that the name temp control isn't exactly spot on, because our mods aren't actually reading the temperature of your coil degree by degree like the climate control in your house.  What actually happens is that the mod reads the change in resistance in your coil as it heats up.  When a change in resistance gets to where it is greatly noticed, your temp control device will either cut off the power altogether, it will restrict the power flow or simply adjust the power flow.
Though an advanced feature on devices today, this feature can be great for beginner vapers, as it adds a layer of safety and prevents dry-hits.  In addition, most devices today that come packed with this feature will also store appropriate safety features as well.  You can learn more about temp control in this Temp Control Devices article.
Advanced – Rebuildable Atomizers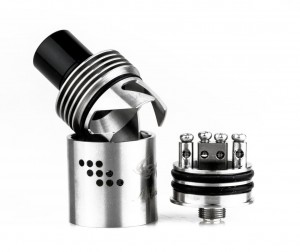 A rebuildable atomizer (also known as an RBA) is an atomizer that is non-disposable and that you can manually build your own coils for.  If at any point you feel that your RBA isn't performing to its best, you have the ability to pull the old coil out and stick another in its place.  A rebuildable atomizer consists of a base and on that base is the "deck" where the positive and negative post(s) sit.  Covering this deck is a cap, which usually has an adjustable airflow of some kind, and then above that is a drip trip or large mouthpiece.
To rebuild an atomizer, it is as simple as wrapping a coil, then inserting one end of the wire into the positive post and the other end into a negative post to complete a circuit.  Not all RBA's are the same.  The type of atomizer I explained above is called a rebuildable dripping atomizer.  A rebuildable tank atomizer is more-so the same design, except there is a tank around the atomizer, which is in a smaller format and a design that is a bit different, but they work overall in the same way.
RBA's are used because they give the user more freedom over their setup.  Since the user is manually building the coil, they can build it to their preferred resistance and can use their preferred wicking material.  This also allows the user to build very intricate coils, and even ones that are directed at helping produce more flavor and vapor.  Rebuildable atomizers have become really popular because they are cheap to run.  The wire used to make the coils are very cheap, the cotton used as a wicking material is also cheap, which results in only pennies spent for a coil setup.  However, rebuildable atomizers can be dangerous if you don't know what you're doing.  It is vital that you learn ohms law and use a resistance checker (ohm meter) before ever using a coil in a rebuildable atomizer.  In addition, be sure that your battery can handle the resistance of your coil, or things can easily go bad.
If you're interested in rebuildable atomizers, you can visit our All About Rebuildable Atomizers category here on Guide To Vaping.  Keep a lookout in the RBA category, as we have published articles explaining what's the best cotton, the best wire, and the best coils for either flavor or vapor.  I know many of you have been waiting for this section of the vaping guide for a while, but we can only type just as fast as our fingers will let us.  Stay tuned, we have great and very beneficial information coming to Guide To Vaping!
Advanced – High VG Vape Juice
High VG vape juice has become a big part in vaping.  In the past, users were more driven to use e-liquid that had a higher content of Propylene Glycol, but since the sub-ohm boom hit the vaping market, they've taken more of a liking to high VG e-liquids, and the vape juice manufacturers have followed.  High VG vape juice is basically e-liquid with a higher percentage of Vegetable Glycern than Propylene Glycol.  VG is known for helping produce more vapor, since it has the ability to capture moisture molecules from the air.  This results in an increased vapor production when the user exhales.

High VG vape juice (or e-liquid as referred by many) is commonly used with sub-ohm tanks and rebuildable atomizers.  Hardware manufacturers are even designing coil heads these days with larger juice holes to allow thicker e-liquids pass through to the coil freely.  The only downside to high VG e-liquids is that some tanks utilize coil heads that are still not large enough and result in a dry hit.  Another problem is that you'll be sacrificing flavor for the larger vapor production, since PG is known to help with pronouncing the flavor in your e-liquid.
[mks_button size="medium" title="GET VAPE JUICE HERE" style="squared" url="http://bit.ly/2jrucCN" target="_blank" bg_color="#000000″ txt_color="#FFFFFF" icon="" icon_type="" nofollow="1″]
Recommended  Vapor Products
Let us start off by saying, we completely understand the struggles you may be facing as you're taking on this new vaping journey.  There are even some of you that have found your way to this vaping guide that have been vaping quite some time.  With so many products available on the vaping marketplace, it can become frustrating and confusing on what to purchase.  Deciphering between reviewers opinions on every product is troublesome and that's what we want to avoid with these recommendations.  With that being said, these recommendations are going to be organized for you so that you can make a quick and easy choice between a selection we're going to present to you.  However, we're also going to give our input on what we feel will be the best product and best-priced product, so be sure to look to the side of the product to see what we personally recommend most out of the selection.
Starter Kits
VaporFi VEX 75 TC Starter Kit Bundle: GET IT HERE  *personal recommendation – its the whole package!*
Eleaf iStick TC 100W Kit: GET IT HERE
Vape Mods
Vape Tanks
Rebuildable Atomizers
Vape Juice
Vape Juice is very subjective and merely relies on your personal tastes.  With that being said, there's not a lot we can do other than recommend a company that we believe has some of the best premium vape juice flavors available.  Not everyone these days will offer a sample pack, so you're somewhat forced to go with a flavor you think you may like and hope for the best if ordering online.  The best option we can recommend is to start by clicking this link here since this store has all the popular e-liquid at the lowest prices.  The other option is to find a shop near you and sample the flavors that they offer.  Although we support local shops, online is much cheaper.
Herbal Vaping
Herbal Vaping utilizes a vaporizer to vaporize cannabis. What happens here is that a special type of vaporizer designed for cannabis is used to heat a cannabis product to the point where it turns into a vapor form. many vaporizers use a temperature control function, some being adjustable while others may have a fixed temperature. When herbal vaping, you're heating the dried cannabis to just the right temperature, just below its point of combustion of 392 degrees.
By vaping dried cannabis instead of smoking it, users are reducing harm to themselves as smoking it presents carcinogens, tar, etc. Turning the dried cannabis into a vapor is pretty simple. You heat the dry herb to a point where the cannabinoids (the resin of the flower) are released, thus creating a vapor form. By doing this you are not igniting or destroying the dry herb material. Many prefer to vape dried cannabis because of its health benefits and potency.
If you're wanting to start herbal vaping then you'll want to use a special type of vaporizer, either from a vape pen, a portable vaporizer or a desktop vaporizer. Each of these type of products will allow you to vape, but some are dedicated to a specific type of herbal vaping. Some will allow you to vape dried cannabis, wax, CBD and other concentrates. You can find a list of vaporizers in the button link we've provided below.  We recommend buying your herbal vaping products from this company because of their authentic gear, professional website design, great prices, and awesome customer service.
---
[mks_button size="large" title="SEE HERBAL VAPORIZERS HERE" style="rounded" url="http://www.shareasale.com/r.cfm?u=821755&b=1054339&m=73858&afftrack=&urllink=www%2Enugrepublic%2Ecom%2F" target="_blank" bg_color="#5c9b30″ txt_color="#FFFFFF" icon="fa-share" icon_type="fa" nofollow="1″]
---
If you're further interested in herbal vaping, wondering what is herbal vaping or how to use a dry herb vaporizer, we've created a list of articles explaining everything you need to know about it in our herbal vaping category. Feel free to visit, check it out, and share with your friends on social media. If you're one that has caught the buzz for Cannabidiol, CBD Manual is where you'll want to visit. The site answers many questions, such as what does CBD mean, where you can find CBD for sale, and products are examined in detail, such as with the hemp bombs CBD gummies review. If you want your CBD fix, CBD Manual is the place to visit. For CBD products, visit PRYME CBD. They offer some of the best products, including CBD gummies, hemp flower, oils, cbd vape juice and more.