The Vaporesso brand is at the height of its success and known throughout the vaping industry for some of the most iconic mods ever created, like the Target Pro, Nebula, Switcher, and Revenger Mod. Adding to its powerful list, Vaporesso has released its own pod system, the Vaporesso Nexus AIO Starter Kit. It's a highly compact and very appealing all-in-one system that uses the performance CCELL coil to achieve a mouth-to-lung vaping experience that will most definitely become your most memorable vape ever!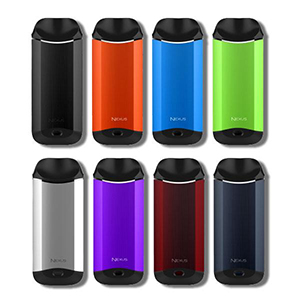 While certainly compact, sharing a small footprint of 85.7mm by 34mm by 17.2mm, the Vaporesso Nexus Kit is one of the smallest devices in its class. It's ultimately an all-in-one pod-like system, which features a glass chamber that offers a 2ML e-liquid capacity. It uses a top-fill method, which allows you to easily expose the filling port and fill the device without any hassle. To boost its performance and deliver a customized experience, the Nexus device features adjustable airflow control and makes use of Vaporesso's NX CCELL Coil Technology, allowing you to reach up to a maximum of 12 watts. The OMNI Board Mini also comes equipped, which hosts a slew of interesting perks, such as a direct voltage output, draw-activated firing, a colorful LED light battery indicator, auto temp control, low liquid detection, and a full protection suite. To ensure adequate power and an incredible battery life, despite its small size, the Nexus AIO Starter Kit houses a 650mAh rechargeable battery and uses a micro-USB charging port with a 1A maximum charge rate.
The Vaporesso Nexus is a marvelous all-in-one kit that features some very fascinating controls that are built-in to the device and automatic. For instance, the auto temperature control eliminates liquid burn that can occur at temperatures above 250 degrees, which will contribute to optimal vapor delivery. The low liquid detection, on the other hand, automatically shuts off the heating element when the liquid in the tank is too low, which will help avoid dry burning. These are awesome additional features made possible by the OMNI Board Mini, which is why you'll find the Vaporesso Nexus AIO Starter Kit to be at the top of its class!