There are several pod systems on the market, and it looks like the Pod Mod's are the ones that are taking over the category. Out of them all, Vaporesso is looking to take the spotlight with the new Target PM80 Pod Mod, a device that falls in the crowned Target series of devices. The question is, with so much competition out there, so many options now available, is the Vaporesso Target PM80 Pod Mod enough for us spoiled vapers? You'll find out in this review.
Vaporesso Target PM80 Pod Mod
In this review, we'll go over the appearance, features, and performance that the Vaporesso Target PM80 Pod Mod offers. As you all know, looks are everything… well, almost. Having appeal is a must. With so many options available to us, there has to be an overwhelming amount of features that make us want this device over all the others that exist. Performance is the part that seals the deal. If it can't keep up with our demand, there is something else out there that will.
Appearance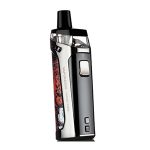 The Target PM80 is flawlessly designed, everything from the magnetic pod above to the comfortable shaft, there is simply nothing to complain about. The Target PM80 by Vaporesso boasts a zinc-alloy chassis construction and is available in several colorways, including silver, brown, blue, black, green, and red. On the outside, you may notice that it has an intuitive firing button, a 0.96″ TFT display screen, and two adjustment buttons that definitely give this compact device its appeal. It's only 102mm by 24.8mm by 33.4mm, yet maintains a remarkable appearance, despite its small size.
Features
When it comes to the features, the Vaporesso Target PM80 Pod Mod utilizes the AXON Chipset and is combined with an integrated 2000mAh rechargeable battery. Due to its incredible chipset, it has intelligent wattage detection, a wattage range of 5-80W, and there is also a pulse mode.  As for the pod, it offers a 4ML e-liquid capacity, features a bottom fill system, and has a magnetic pod connection that makes everything so much easier to simply slip into place.
Performance
When it comes to the performance of the Target PM80 Pod Mod, it doesn't get any better. This little device really performs to the best, and though it can reach up to 80W, you'll never need to go there. It utilizes the Vaporesso GTX Coil Series to boost its performance, which consists of the 0.2-ohm GTX Mesh Coil that is rated for 45-60W, and the 0.3-ohm GTX Mesh Coil that is rated for 32-45W. Both mesh coils provide incredible flavor, loads of dense vapor, and overall a great experience with plenty of airflow.