Today we will be focusing on  the Morpheus V2 sub ohm tank from VaporTech.  After being issued with a challenge last week, I had to give it a go.  Under normal circumstances I tend to avoid tanks, as they are good for a day or two but I always end up going back to a dripper.  A friend told me that I would still be using this after a week without a single complaint, so I have spent the last seven days trying to prove him wrong.
Appearance
When you first get the tank, it is housed in a see-through perspex chamber, looking more like a piece of modern art than a tank used for vaping. VaporTech decided that the Morpheus V2 would not be hidden in a cardboard box.  Pop off the top of the box, you find a spare coil and the instruction manual, but lift the case from around the Morpheus and be prepared to be amazed.  Standing before you is a stainless steel monster that reminds me of something that should either be in a mad scientists laboratory or a steam punk inspired game. The triangular cut outs in the brushed steel reveal the Pyrex glass beneath and in all honesty, everything seems to fit together aesthetically .
Features
The Morpheus V2 tank is built with 304 food grade stainless steel and Pyrex Glass.  The brushed steel casing that encase's the glass looks amazing and also serves as protection, increasing durability.  The 510 wide bore Stainless steel drip tip has a collar and air holes to allow for a cooler vape.  Thinking about airflow, under the tank you will find what the manufacturer calls modifiable air holes.  In truth, there are 3 massive air slots down there, positioned in such a way that you can either have 2 open at once or just a single hole exposed.  The tank itself holds a whopping 4ml's of e-liquid, double the capacity of its predecessor and is a must have for any tank user.  Another feature of this tank is the box it came in, it doubles as a tank stand, so when you decide to change out for something new for a while you can place the tank back in its box and leave it on your desk.  When it is sitting in that glass case, you feel it judging you for using anything else.
As for the features offered by the coils, I will list them below:
MORPHEUS V2 COIL 
Coils Made of 100% Japanese Organic Cotton
Morpheus regular coils are available in 1.0, 0.5 and 0.2 ohm option
Morpheus Nickel coils are available in 0.1 and 0.15 ohm option
1.0 ohm (20W to 40W), 0.5 ohm (30W to 55W), 0.2 ohm (45W to 75W), 0.15 ohm Nickel (30W to 60W), 0.1 ohm Nickel (65W to 110W)
Smooth airflow function
Two 13mm air holes on opposite sides which operate together for maximum airflow
One 11mm air hole on adjacent side to be opened separately for controlled airflow.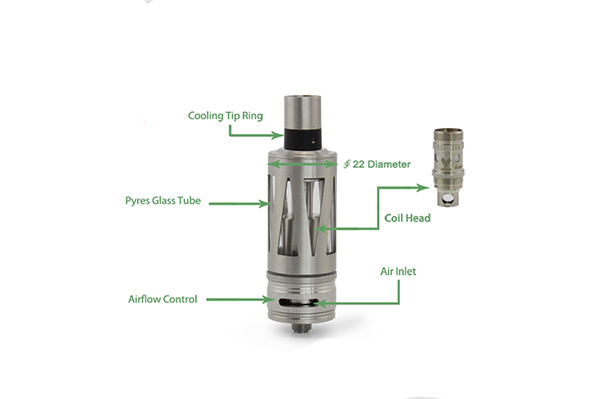 Performance
As I stated at the beginning of this post, I generally don't use tanks in my daily life.  I use them for work purposes and testing but other than that I am a dripper fan.  I will rephrase that, I was a dripper fan.  For some reason this just hits the spot.  With the 0.5Ω coil head, I have found that all the way up to 55 watts there is no loss of flavor and there are no dry hits.  The juice flow is so even, high VG e-liquid is not a problem for this little guy.  The cloud production is phenomenal and it doesn't slow down.  This week, I have tried 2 tanks from VaporTech and have fallen in love with both.