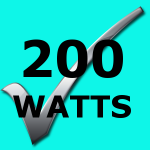 Battle of The Box Mods: 200 Watt Beast Edition started with a simple question on Facebook.  Which is better, X or Y and why.   Each device is capable of hitting the 200 watt mark, so it was an even playing field as far as power goes, so the decision-making process was based on other things, such as appearance and price.  Which is the best looking box at the lowest price point.  Let's take a look at the entrants and then we can determine who comes out on top.
The entrants are placed in no particular order. This article is based solely on the authors opinion and own vaping experience. 
---
Asmodus 200W Snow Wolf

One look at the Snow Wolf is enough to have many people falling in love.  The strength of its sleek stainless steel outer shell is given a soft fragility by the glass panels that adorn the front and back.  It has an elegance rarely seen in the vaping world, and the ability to remind you with the touch of a button that behind this beauty is a mythological beast.  Measuring 25mm across the top, it is large enough to hold even bulky atomizers without making your 22's look small. The 3 buttons on the side are solid and to the uninitiated this may seem like a confusing device.
The amazingly bright OLED screen is hidden beneath the front glass panel and when the device is not active, you truly have no idea it is even there.  The back glass hides the battery compartment, and the inside of this device is as clean and precise as the outside.  We are looking at devices that can fire to maximum of 200 watts, and this device can also fire down to a 0.05Ω.  Every beast in this post can switch from regular vaping to temperature control, and this box will fire what ever you throw on there with out a problem.
Asmodus 200 Watt Snow Wolf: GET IT HERE