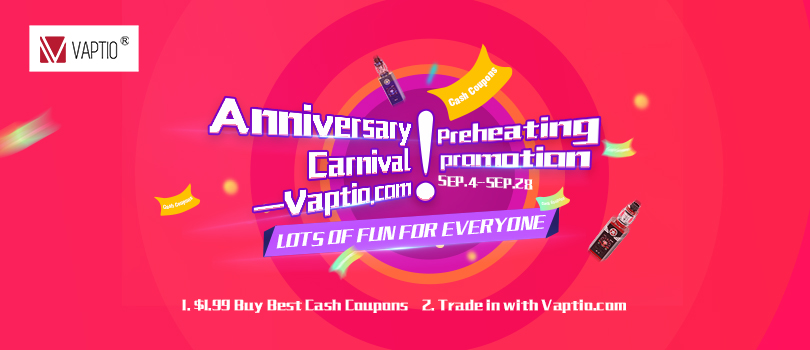 Are you Vaptio's loyal fan? Are you looking forward to Vaptio's big deals? If your answer is YES, here is a special series of gifts for you: from today on we're running VAPTIO ANNIVERSARY CARNIVAL, with SUPER HUGE DEALS and PRIZES waiting for you!
We're not kidding. We will offer various coupons, discounts and other crazy sales, for most models including all our new products! Now let's see what will be offered:
$1.99 Buy Best Cash Coupons
Sept. 4 – Sept.28
$1.99 for $15 Cash Coupon
$2.99 for $30 Cash Coupon
$3.99 for $50 Cash Coupon
The coupons are limited every day, so guys there's no time to hesitate!
Trade in with Vaptio.com
You can unlock a 40% OFF coupon by sending to [email protected] the invoice copy or order number of buying Vaptio products online or offline no less than a year ago.
$1 Flash Sale
Sept. 18 – Sept.24
You can buy certain products with only $1, as long as you click fast enough!
Combo Offers
You can buy a kit with a tank or coil at a special price:
$ 11.9 for a P-I TF Kit + a Tank (Original Price: 18.99+8.99=$27.98)
$ 15.8 for a P-III Gear Kit + a Tank (Original Price: 17.29+9.99=$27.28)
$ 25.9 for a P1 mini s Kit + a Tank (Original Price: 31.50+15.50=$47.00)
$ 23.8 for a Solo-Flat Mini Kit + a Solo-Flat Mini Tank (Original
Price:19.99+12.99=$32.98)
$ 28.5 for a C-flat Mini Kit + C-flat Mini Tank (Original Price:
23.99+12.99=$36.98)
$ 39.8 for a N1 PRO 240W Kit + Frogman Coil (Original Price: 39.39+20=$59.39)
Buy More, Get More Gifts
If your payment of one single order reaches a certain amount during the
event, we will pack the corresponding gift with your purchase!
With a $30+ order, you can get a Vaptio cap.
With a $60+ order, you can get a Vaptio T-shirt.
With a $80+ order, you can get a P3 Tank.
With a $120+ order, you can get a MOVE2 240W MOD!
Lucky Prize Wheel
In this period, a chance will come every day for you to win one of the following Lucky Prizes:
1 st Prize: Wall Crawler Frogman Kit
2 nd Prize: $50 Cash Coupon
3 rd Prize: A cap and a T-shirt
Now let's snap up!
P.S. Stay tuned to Vaptio.com and Vaptio's official social media accounts,
more surprising offers to come!