In the land of vape tricks, perfect o's, and the infamous jellyfish, comes VGOD — a crew of tricksters that's taking the word "vape" to a whole new level.  Backed by experienced cloud pushers, VGOD offers up some of the dopest products on the market, with their latest being the VGOD Trick Tank.  Below we're going to give you a preview of the Trick Tank, and we're going to be giving away 10 of them so that you'll have your trick game on point, and ready for the big leagues!
Note: This giveaway is sponsored by our good friends at AtomVapes.com.
Congrats To The Following Winners:

Michael C, Monika Janetta, Kyle Hensley, Stefano, Daniel Hall, John Mader,
Russell Adkins, Amanda Glynn, Kiefer Wilson, David Oney
---
VGOD Trick Tank Features & Specifications
The VGOD Trick Tank is one incredible looking sub-ohm tank.  It offers a short stature with a simplistic design, making it an outstanding site to look at, and an even better one when it's used to top off your most precious mod.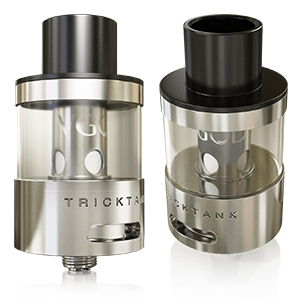 The Trick Tank is towered by a Delrin Heat Resistance Drip Tip, eliminating burnt lips, while the body of the tank is constructed of durable stainless steel, pyrex glass, and delrin components.  The Trick Tank by VGOD was truly built for performance!
It stands just 48mm tall, only 24mm in diameter, and offers up a minor 38g when it comes to its weight.  This is certainly a small tank that will give you that stealthy look that's trending, but it's backed with features that make it a top performer.  It features a 3mL e-liquid capacity, an easy to use top fill design, and boasts a large airflow inlet that prevents the Trick Tank from overheating.  What's most impressive about this little monster of a sub-ohm tank though, has to be its coil options.  It comes included with a 0.2Ω and a 0.5Ω TTC Parallel Kanthal coil.  These coils not only provide a low resistance, but they also provide great flavor, reliability, and performance for those clouds tricks that you're looking to take to the next level!  Wickin and Trickin all day son!
---
VGOD Trick Tank Giveaway
Our good friends at Atom Vapes are distributing the VGOD Trick Tank, and they wanted to share some of the love with Guide To Vaping viewers.  Atom Vapes is giving away 10 VGOD Trick Tank's so that you can put your skills to the test!
Giving Away 10 VGOD Trick Tank's
There Will Be 10 Lucky Winners
Giveaway Ends: 5/31/16
Comment on and Share This Post To Enter
1 Entry/Comment Per Household/IP
INFO: Don't feel like waiting for giveaway results?  Purchase the VGOD Trick Tank from Atom Vapes!