If there's one thing I don't enjoy about my vaping is change. For many that know me personally, know that I'll stick with the same e-liquid flavor for years, and it's because once I find something that satisfies me, I have a hard time letting go. Although I'm a bit softer when it comes to devices, I still prefer to stick with something, despite the high number of mods that are being sent to me. However, the VOOPOO Panda Starter Kit is the device that changed me. I've been using mods since 2012, vaping since 2011, and the Panda has finally pushed me towards the trend of dropping the mod for the pod. Yes, I've finally transitioned to vape pod systems, and I've become a sucker for the nicotine salt e-liquids as well.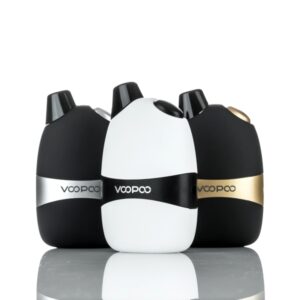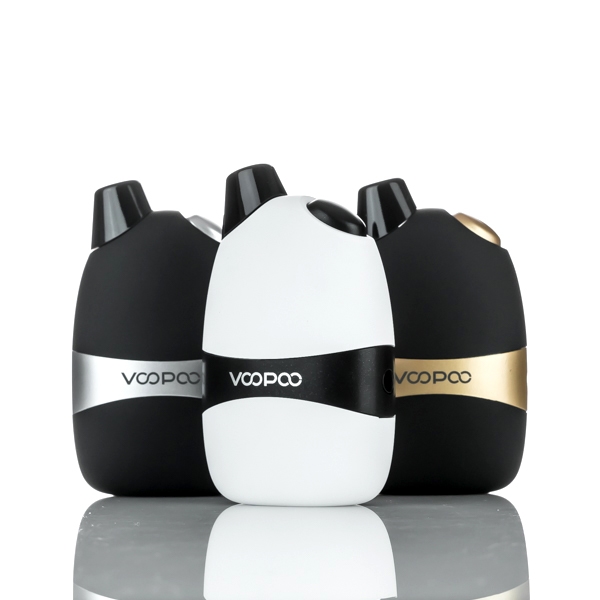 You see, I wasn't a big believer when this whole pod system and nic salt trend started. I felt as if it was just another way for manufacturers to pull in more money. That is until I used the VOOPOO Panda Starter Kit. I went from using a mod, a sub-ohm tank, high VG e-liquid, and 3MG nicotine to using a small pod system using 35MG salt nic e-liquid. But how did I transition so easily?
Over time I began noticing that I vape constantly, or even more than your average vaper. I was running through e-liquid and one day it dawned on me that I simply wasn't being satisfied. I think the only thing that was satisfying me was the flavor I was vaping, and not the device or the nicotine intake. Therefore, I started searching for a good pod system. Several companies sent me different pod devices to use, I tried them, but I just couldn't see myself switching to them. There were some with pre-filled pods and 50MG that was absolutely too harsh. There were some that you could fill, but the performance was weak, at best. And then I was visiting a family member and noticed he no longer was using a mod, but instead using the VOOPOO Panda. I tried it out and was immediately in love. It was small, comfortable to hold, it looked good, the performance was there, and the e-liquid he was using wasn't harsh at all. I went from only using mods and low nic e-liquid to using pods and high nic e-liquid — this is the device that changed me.
GET THE VOOPOO PANDA STARTER KIT HERE
---
VOOPOO Panda Starter Kit Review
Appearance
When you first look at the VOOPOO Panda, you'll notice that is doesn't look like your standard pod system. In fact, it has a unique shape to it that allows it to be a bit bulkier than others, yet shorter. At the top, positioned on the corner, there is a mouthpiece and the other side is the firing button. The bottom portion of the device sports an accent color to separate the two and to offer more appeal, while the very bottom of the Panda has a hole to allow e-liquid to escape from the connection area, a hole for airflow, and the micro-USB port for charging. The device is small, rounded, boasts a comfortable rubberized finish, and it's available in several color options.
Features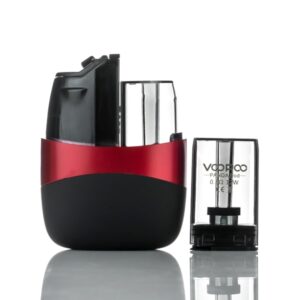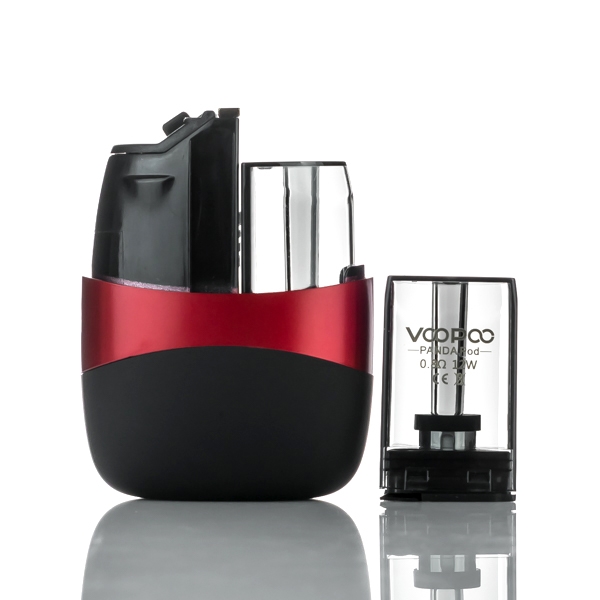 Short and bulky plays a major role in its list of features. Due to its bulkier shape, the Panda Refillable Pod has a large 5ML e-liquid capacity, which is far greater than most pod systems on the market. There are two pods this device uses, one being a 1.2-ohm Panda Pod and the other being a 0.8-ohm Panda Pod. Both pods come with a non-replaceable coil, however, once you replace the pod itself, it comes with a newly integrated coil. The 1.2-ohm pod is used for nicotine salt e-liquid and the 0.8-ohm is used for regular e-liquids. Both coils utilize organic cotton for consistent wicking and pure flavor. The pods are easily replaceable, they're bottom filled and have been designed to be convenient and mess free.
Another big feature about the VOOPOO Panda Starter Kit is the integrated 1100mAh battery. The battery can easily be charged via the micro-USB port positioned at the bottom of the device, and it only takes 1.5 hours for a full charge. To activate the device, there is a fire button positioned at the top that requires a single press to vape. Pressing the fire button 5 times will turn the device on or off. The top cap on the VOOPOO Panda is magnetized and falls into place when covering the pod. A mouthpiece is also present, which is the perfect size and offers the perfect feel. Other than that, there are a few safety features built into the device to protect both you and the Panda at all times.
Performance
The performance of the VOOPOO Panda Starter Kit is nothing short of impressive. Using both coil options results in an even more impressive flavor output and vapor production. The Panda comes packed with a self-adaptive wattage output feature, so when you use the 1.2-ohm coil, it automatically offers an 8W maximum output, and with the 0.8-ohm coil it automatically offers a 12W maximum output. If you're on the hunt for a device that delivers a harder hit, but nothing too harsh, while still maintaining both the flavor and vapor production, you'll enjoy the VOOPOO Panda Starter Kit.
---
Additional Thoughts:
There are many of you that may want to transition from a mod to a pod, and you're worried about battery life, e-liquid consumption, and nicotine levels. I had the same concerns, so let me break it down for you so that you understand what's going on. When you're using a mod, you're using a lower nicotine strength and absorbing the nicotine much more efficient. With that, you're also running through those larger batteries, and doing the same with e-liquid. With the VOOPOO Panda and using a nicotine salt e-liquid, you're gaining more satisfaction from a higher dose of nicotine, causing you to vape less, which will save you from having to constantly buy more e-liquid.
Although the nicotine strength is higher, using the salt nic e-liquid, the feeling is smoother, so it doesn't feel like it's a really high nicotine strength. And then there's battery life… since you're vaping less, you aren't using the device as often as you would a mod. For me, I switch dual 18650 batteries in a mod almost as much as I recharge my Panda. When using this device I also get great flavor and even though the vapor production doesn't look like I'm trying to win a cloud competition, there's quite a bit of vapor — and yes, I mean a lot more than you would get from something like a JUUL or similar device. If you're planning to switch over, I highly recommend the Panda — it worked for me. (if you do, do not charge it in your car, it will kill it)