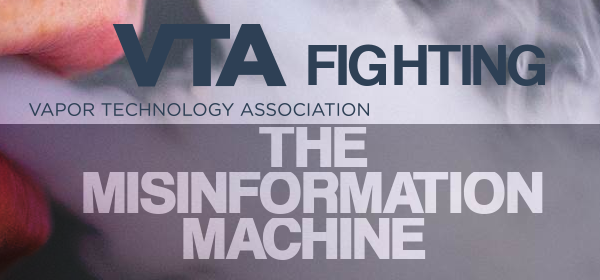 The Vapor Technology Association (aka VTA) has vowed to stand against Misinformation Inc. on the front lines in the war on vaping, defending the rights of vapers and the industry against the constant onslaught of false information and insane proposed regulations.
Their mission is simple:
 Keep the vaping market open and competitive for both small and big players
Ensure the long-term viability of the industry
Defeat bills that stifle innovation critical to public health
Transform the public debate on vapor products
But the task ahead of them and other advocacy groups within the industry is gargantuan.  As industry leaders and lobbyists, this group will be coming at our problems from the same angle I have been promoting here for months.  Citing research from Public Health England stating that vaping is 95% safer than smoking and taking the approach that the United States should be looking at her cousin for answers rather than the constant knee jerk reaction to junk science and attempts to stifle the industry by outsiders with a vested interest in its demise.
Having only been officially launched at the end of January, the DC based organization already boasts 70 members and represents importers, wholesalers, manufacturers and retailers who are on the forefront of innovation and development of the adult consumer products our industry offers.
In a recent article, Tony Abboud, the VTA's  national legislative director stated:
One of the biggest challenges we face as an industry – and one that our industry has been outflanked on up until this point – is the rampant misinformation disseminated about our technology.

Let's be clear: vapor products are not only a safer alternative to traditional combustible products, but they also provide thousands upon thousands of Americans with a viable path to reduce tobacco smoking and even quit altogether.

So, it should surprise no one that FDA Center for Tobacco Products Director Mitch Zeller, a life-long anti-smoking advocate, stated: 'If we could get all those people [who smoke] to completely switch all of their cigarettes to non-combustible cigarettes, it would be good for public health.
When I mentioned Misinformation Inc. in the title we are talking about the American Heart Association, The American Lung Association and a list of other Public Health groups that are seemingly oblivious to the facts about vaping.  I am not sure whether my sarcasm showed through there, but in 2016 claiming that vaping is as dangerous as smoking is disingenuous at best.  In the United Sates, these are the people who legislators and the general public look to for guidance and they are the very people who have the majority of the American population creating a hostile environment towards this life saving altering technology:
Unreasonable regulations that treat vapor products like traditional tobacco products and impose restrictions that cannot be met by small businesses will lead to two consequences:

First, all of the innovation that has gone into the vapor industry will be lost;
Second, all of the big tobacco companies, whose activities the government is trying to curtail, will only be strengthened.

Vapor technology is a growing industry, comprised of the best that America has to offer.  We are small businesses.  We are jobs.  We are entrepreneurs.  We are what is next in technological innovation.

It is time that our story is heard.
To read Tony's entire statement, which I advise everyone to do, please click here.
The smoking problem is a world-wide issue and as such Governments need to be open-minded and look at evidence from across borders to come up with solutions.  We have spent long enough waiting for politicians to pander to the whim's of their corporate masters who are losing money to our fledgling industry and it is time to start setting the perception of our products correctly in the public arena.
I for one applaud the rise of the VTA and wish them well on their chosen path and can not wait to report in the future on their victories in battle.
As always, enjoy your vaporizers and vape safe!