Mushrooms have played a vital role in our way of life for years, using them as medicine, food, and in rituals. While mushrooms are still being used in the same way today, they're gaining significant importance for their use in delicious, bite-sized gummy candies. There are many different gummies people are taking as mushroom supplements, but up until recently, it has been Lions Mane and various mushrooms for their medicinal benefits. Today, many of the gummies are now being infused with Amanita Muscaria, a potent mushroom with psychedelic properties. What are Amanita mushroom gummies, though? Allow us to first explain what Amanita Muscaria is and what Amanita muscaria gummies are in this next part of the article.
What Is Amanita Muscaria?
Amanita Muscaria is a type of mushroom that has gained extraordinary fame for its looks, let alone its effects. It is known for its red color with white speckles and being included in classic cartoons, such as The Smurfs, and in video console games, such as Super Mario. Despite its fame, Amanita Muscaria mushrooms, also known as Fly Agaric or Fly Amanita, have been used for their hallucinogenic properties. They were first used in religious ceremonies in Asia. Amanita Muscaria has also been used as a hallucinogenic ritual drink (known as soma) in parts of India and Iran. It is easy to recognize the mushroom, although there are different variants and subspecies.
What Are Amanita Mushroom Gummies?
Amanita mushroom gummies are chewy, bite-sized gummy candies made for adults who want to experience a delicious treat that can produce psychedelic effects. The gummies are like any other chewy candy you've experienced before, in terms of taste and feel, except for the fact that these gummies are infused with Amanita Muscaria extract, a potent dose of mushroom extract that is highly effective.
While there are various types of mushroom supplements available on the market, it is Amanita Mushroom Gummies that have gained the most popularity. They are still very scarce, although several brands have adopted them recently, creating some of the most delicious amanita gummies. The most popular ones on the market are Galaxy Treats Amanita Mushroom Gummies, which you'll find very pleasing and effective.
Galaxy Treats Amanita Mushroom Gummies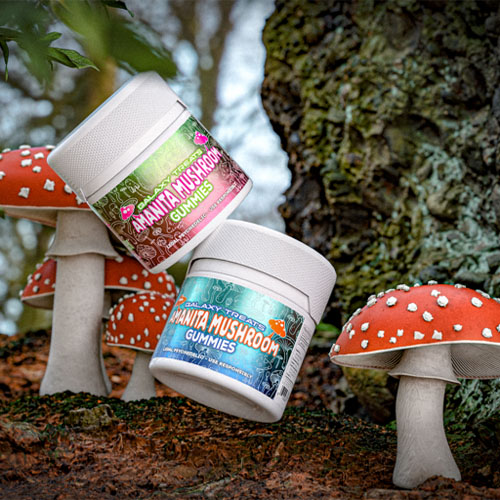 Galaxy Treats has turned into one of the industry's most reliable brands because of its premium quality products. While it has developed a wide range of cannabis products, focusing heavily on hemp-derived cannabinoid-focused products, it has moved into the landscape of mushrooms. The Galaxy Treats Amanita Mushroom Gummies is one of the first in its collection, providing bottles that contain delicious mushroom gummies that feature a blend of flavors and 350mg Amanita Muscaria extract. Enjoy a total of 1050mg and amazing flavors of watermelon and mango. You are set to embark on a journey with legal psychedelic mushroom gummies that will provide trippy, hallucinogenic effects, so we recommend that you consult with a doctor first before purchasing and use this product responsibly.