In this Wismec Predator 228 Starter Kit Review I show all of its features, specs, give you a nice close-up shot, and I even give a small tutorial on how to prime any coil head. The Predator and its partner the Elabo Tank is a fantastic pairing, both presenting a great appearance, and performing just as well. I honestly couldn't be any happier with a setup, and as you can see in the provided video, I'm more than happy to recommend this kit to you all. Enjoy!
GET THE PREDATOR 228 STARTER KIT HERE
---
Appearance: The Predator 228 Starter Kit looks incredible. Both the Predator 228 and Elabo Tank are both appealing and have been designed well enough to meet the demands of vapers today. The design of these products have recently taken a different route, and you can see that when you compare something like the Predator 228 to devices released just a year ago. Manufacturers know that you can only offer the same power and tech for so long, so they really increased the design aspect of their products, and it shows with the Predator 228 and Elabo Tank.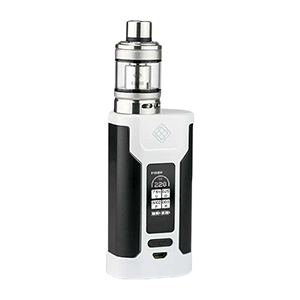 The Predator 228 offers a chassis that features different colorways, the one I have being white with black sides. The front side of the device is where everything is happening, as it has the Sinuous Designs logo, below that is an OLED screen, below that is the rocker adjustment button, and the bottom features a micro-USB port. The Elabo Tank is constructed of stainless steel and glass. The top and bottom base have more of a polished look, while the metal holding the glass tank offers more of a raw look. It's tough to describe the look of this tank, but it's definitely different from what we're used to. I highly recommend watching the provided video to get a good idea of its appearance.
Features: This pairing offers plenty of features, all which I'm sure you'll enjoy. For starters the Predator 228 mod allows you to reach up to 228 watts, it has a full temperature control suite, bypass mode, preheat function, fire down as low as 0.1 ohm in wattage, 0.05 ohm in temp control, a resistance lock feature, and you can range from 200 to 600 degrees while in that tc mode. It has a 0.96″ OLED screen with a vertical stack a three button control setup with a side fire bar, 2A max charging current, a hinge and lock battery access door on the bottom that holds two 18650 batteries, and a stainless steel 510 connector with a spring-loaded center pin. The Elabo Tank offers a 25mm diameter, child resistant side top fill system, dual adjustable airflow control, a 10mm delrin and stainless drip tip, a 4.6mL e-liquid capacity, and it uses two nice high performance coils that allow you to reach up to 120 watts.
Performance: As far as the performance goes, both the Predator 228 and Elabo Tank perform amazingly well. The Predator 228 mod offers a consistent hit much like other Wismec devices, everything's very responsive, and I couldn't be anymore pleased with using it thus far. The Elabo Tank is what I enjoyed the most though, to be honest. This tank has an airy feel, great airflow, the top fill system is awesome, and the coils it uses offers plenty of vapor production and the flavor is amazing. You just have to try it for yourself to understand just how nice this setup is to use.