Hold on to your socks because this deal will blow them off! Get a 120ML bottle of Cheap Ejuice for only $10! Compare that to the average retail price of a 60ML being roughly between $20 to $30.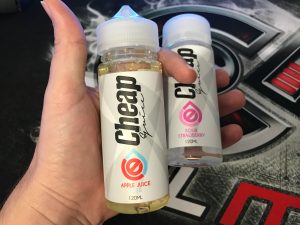 Now I'm quite aware that this deal may seem too good to be true, but it isn't. And, you may also be thinking if it's this cheap, the juice must be bad, and it isn't. How do I know? I have the full line of Cheap Ejuice right in front of me at my desk, and a review of them will be published on this site soon. My thoughts? The liquid is damn good, especially for its price. The Apple Juice and Apple Juice Iced is definitely a contender with one of my person favorites, Reds Apple. If anything, spend a little bit of money and give it a try.
There is no coupon required, but this deal is available for a limited time, so act quickly!
GET CHEAP EJUICE 120ML FOR $10 HERE