Wismec continues to cover the frontlines of the vaping market with its unique, yet highly affordable products.  The latest to arrive is the all new Wismec Reuleaux RX200S Mod, which is an improved on version of the original Reuleaux RX200.
Though the Wismec brand didn't receive much attention until products like its Presa Mod, you've known of the manufacturing giant for as long as you've known about vaping.  Believe it or not, but Wismec is under the umbrella of the highly known Joyetech company, along with Eleaf.  Wismec offers many of the same great quality features and designs as the others, yet at a more affordable price.  The Reuleaux DNA200 was Wismec's standout product, but the Reuleaux RX200 was the product that made Wismec what it is today.
To capitalize on the popularity of the RX200, Wismec along with the helping of Jay Boy Designs, gave the RX200 a face lift in an upgraded revision of one of the most popular vaping devices in the world.  Before we get into this, you must first understand that there were differences in the Reuleaux DNA200 versus the RX200, like the battery bay, 510 connector, color, and a few others (other than the chipset).  The RX200S adopts many of those features.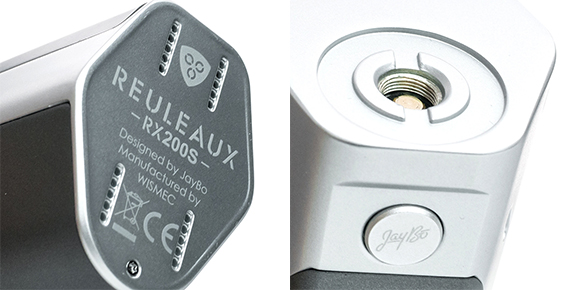 Though the chasis may be the same, it now has an integrated brightly lit 0.96 inch OLED display screen.  Looking at the screen, you'll notice a vertical display arrangement, much like Joyetech's Evic VTC and the Cuboid.  See how things are beginning to add up here?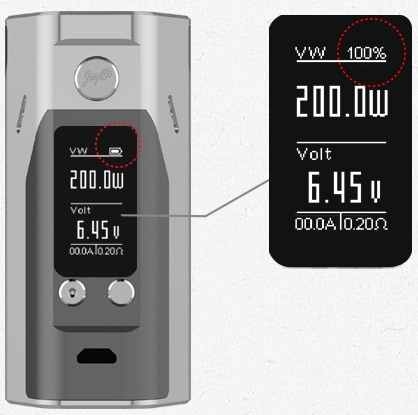 The most recognized feature of the RX200 was its trendsetting chassis (which many other manufacturers are now mimicking to some degree).  That same triangular design is carried over in the RX200S, offering easy handling and the same 3 battery setup.  The RX200S allows you to insert three 18650 batteries into its battery compartment, while it's covered by a battery door that has 4 magnets that secures it in place.  Inside the battery compartment, you'll see that there are gold-plated contacts and spring-loaded negative posts.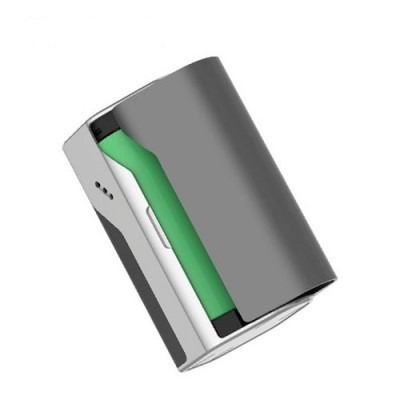 However, what many look over, due to its unique design features and triple battery configuration, is that this mod offers a hard-hitting 200 watts of vaping power.  Not only does it offer a substantial output, but it also offers a temperature control feature, which supports Nickel 200, Titanium, and Stainless heating wire, as well as a 3 memory TCR mode.  And lastly, the onboard chipset that delivers these features is upgradable, giving the room for future firmware improvements as vaping technology continues to progress.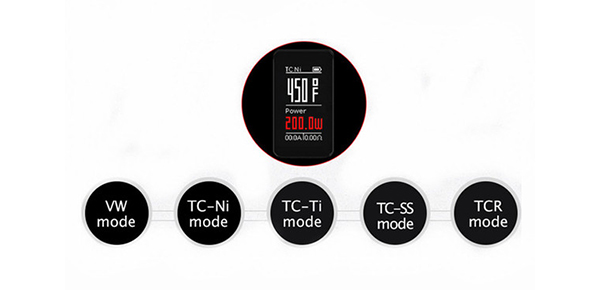 RX200S Features
Triple 18650 Configuration
RX200 Chipset
Variable Wattage: 1W – 200W
Resistance (VW): 0.1Ω – 3.5Ω
Temperature Control: 200F – 600F
TC Modes: Nickel 200, Titanium, Stainless Steel, TCR
Resistance (TC): 0.05Ω – 1.0Ω
New 0.96 Inch OLED Display Screen
Magnetic Battery Door
Gold Plated Spring-Loaded Contacts
For those of you who already own the wonderful Reuleaux RX200 by Wismec, you might be wondering why upgrade your actual device, since you obviously already have the latest firmware.  And to answer that question, the RX200S won't offer any difference under the hood, but you'll enjoy using your mod even more with its new, fancy, and highly appealing large OLED display. (they've already come out with colored face plates and back covers for the RX200S)
Wismec Reuleaux RX200S: GET IT HERE