Hot on the market, Wotofo presents yet another stunning rebuildable tank atomizer known as the Wotofo Bravo RTA. For those that are allowing this brand to slip you by, Wotofo is a major player in the vaping market, producing some of the industry's most popular products, such as the Sapor RDA, Vaporous RDA, Serpent BF RDA, the new released Nudge Box Mod and RDA, and now the very innovative Bravo RTA.
The Backstory of The Bravo RTA
In a marvelous collaboration between Wotofo and Aaron Hart, the Bravo RTA was born. If you're wondering why this RTA has been dubbed "Bravo", you understand more once you know more about Mr. Hart. He's a vaper that has a large following on Facebook and other platforms, but that isn't what makes this guy special. It's that he's a United States Army Veteran and has huge potential to sway other veterans to make the switch from traditional cigarettes to the world of vaping and electronic cigarettes.
Meet The Wotofo Bravo RTA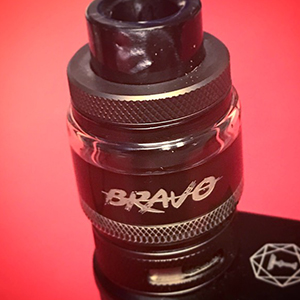 The Bravo RTA by Wotofo is an extraordinarily designed rebuildable tank atomizer that delivers incredible features from head to toe. It's constructed of stainless steel and available in matte black, matte gunmetal, blue, gold, rainbow, and polished stainless steel, presenting great structure and quality, while it boasts a fairly large 25mm diameter housing. The top offers up a wide bore 810 resin drip tip that plays well both in performance and appeal. Just below you'll notice incredible knurling to easily remove the top portion of the atomizer, not to mention it features a 1/2 turn design that allows you to simply press down and turn the cap a 1/2 turn for easy removal. It also doesn't hurt that the knurling only enhances the appearance of this atomizer.
The Bravo RTA comes with two types of glasses sections, a regular glass that's capable of holding 4ML and a bubble glass that's capable of holding up to 6ML's of e-liquid. Aside from the dual adjustable airflow control that rests on the bottom base, which creates an amazing airflow experience and a satisfying swooshing sound that resembles the sound of a helicopter. The airflow is a major piece to the performance capabilities the Wotofo Bravo RTA has to offer.
While there are many features you'll find impressive when scoping the Bravo RTA, you'll find its internals are most impressive. For instance, the deck on this innovative atomizer boasts a floating two clamp gravity system. The deck is constructed of stainless steel for increased durability and features a gold-plated coating. For added stability, the clamps on the deck follow a groove in the post. As you can see, not only is this atomizer build for performance and durability, it's also built to present a great sign of quality, such as the Phillips head screws being heat treated and made extra long for bigger and more complex builds.