With the recent splurge of advanced personal vaporizer releases that's hit the electronic cigarette market lately, having a good charger is a must to keep your devices powered and ready for that next all day vape.
My experience with chargers are like any other – they're not talked about much, they don't get the hype that many other e-cig accessories do, but yet they're one of the most important pieces to the puzzle. There isn't much to them other than it doing its job, which is charging your batteries. We all know what they do, but believe it or not – some lack quality and performance, while others excel in it.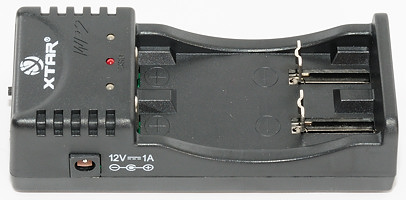 I received the Xtar WP2 II Multi-Charger with my LavaTube Version 2 Kit a little while back and didn't give it the credit it really deserved in the review. The truth is, ever since I started using it, my charging times have greatly improved and I'm no longer stuck with the buzzing noise from my old TR-002 charger. When I first received the Xtar WP2 I was confused – The Xtar charged my 18650 batteries so fast that I was unsure if it was even functioning and charging properly. After pulling the battery off for the first time, it was completely charged and did it in 2 and a half hours.
Not only does the WP2 II charge quick, but it's well built with added features – such as a switch that can change between two different charge currents and a USB power output. The charger is powered from a single 12 volt DC connector and the USB connector is a USB power output, that can be used to power or charge small USB devices. It can supply up to about 500 mA. Two LED's sit in line with each channel to indicate when a battery is charging (LED will show red) and completely charged (LED will show green) – Other than that, the LED will always show green (even when your battery isn't in the channel).
Details
Product Features:
Undervoltage lockout system
Two-modes ( CC.CV ) charging system
Reverse-polarity protection circuit board
Under voltage disconnecting technology.
Specifications:
XTAR WP2 II is capable of charging any of the following 3.7V Li-ion batteries: 14500/ 14650/ 17670/ 18500/ 18650/ 18700/ 10440/16340
[one_half last="no"]
Charging qualifications and structures:
Operation Temperature: 0~40℃
Input AC: 12V DC / 1000mA
500mA CC Current: 500m A±5%
1000 A CC Current: 1000m A±5%
Cut-Off Voltage: 4.2±0.05V
CV Cut-off Current: <100mA
Standby Current: <20.0mA
TC Current (Battery Volt 2.0~3.0V): 80±20m
A
Auto Recharging Threshold Value Voltage: 3.9±0.15V
USB Discharging qualifications and structures
Operation Temperature: 0~40℃
USB Interface Output Floating Voltage: 5.0V
Output Floating Voltage Ripple:<120mV
Reactive Current:<10mA
Maximum Output Current: 500mA
Battery Output Cut-off Voltage: 2.80±0.15V[/one_half]
[one_half last="yes"]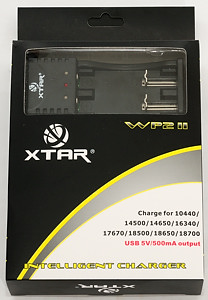 [/one_half]
Xtar WP2 II Multi-Charger Price
You can grab the Xtar WP2 II Multi-Charger from Volcano Ecigs for $19.99 – A small price for such a great and quality charger.
If you want to purchase the Xtar WP2 II Multi-Charger or see other products like this, visit www.VolcanoEcigs.com