Since rebuildable atomizers became the hot item in the electronic cigarette market, manufacturers have created a whole slew of devices to accommodate them. The devices of today have followed in the direction of where vaping is going, and that is to support these new atomizers. Though we've recently seen a boom in unregulated mods, the regulated mods are also creating a buzz since manufacturers are now increasing the wattage and lowering the limitations of what these devices can support. With that said, we get outstandingly made devices, fewer limitations, and yes, more power.  However, with better made mods and even greater technology pushing them, they can become expensive, eliminating a portion of the market that can't afford or find the higher prices reasonable.
Today we will list our opinion of the 10 Best Inexpensive Regulated Mods. Feel free to browse the 10 pages where we give you all the details on the mods and the manufacturers that make them.
(the mods have been placed in no particular order and only reflect the opinions of Guide To Vaping)
---
1. Eleaf iStick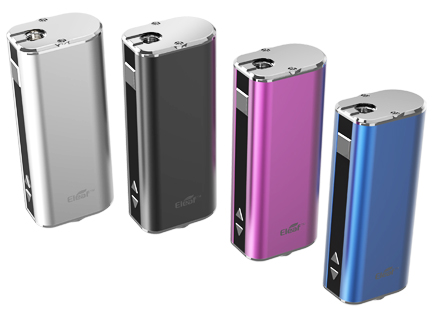 For those of you who didn't know, Eleaf is a brand of Shenzhen iSmoka Electronics Company, which was established in 2008. The Eleaf branded products are in fact manufactured by iSmoka.  The iStick is a newly launched advanced personal vaporizer that sports a fancy metallic appearance. The device comes in four colors, which include Black, Silver, Red and Blue. The iStick is also one of the most smallest high performing devices  currently out on the market – precisely 75mm*21mm*32.8mm. In fact, the device is even smaller than the popular and super small original Vapor Shark DNA, which makes it a very comfortable device through convenience and portability.
Furthermore, the iStick not only has a stunning appearance, but it also has the power to back it and the incremental OLED screen to display it. In this small palm-friendly device, sits up to 20 watts of power. Don't let these details fool you though… just because the Eleaf iStick is smaller than most devices and puts out almost as much power, that doesn't mean you'll be left stranded without ample battery life. The iStick really shines with its 2200mAh Li-Ion Battery that is rechargeable via a Micro-USB port located at the bottom of the mod. If that doesn't entice you enough to make this little power house your own, maybe the $34.99 price tag will.
Further features include the ability to reach up to 5.5 volts, 510 threaded connection, 5-click power on/off, 10-second puff protection, atomizer short-circuit protection, low-voltage protection, ability to unlock low-voltage protection, low power alert, as low as 1Ohm capable, accurate metering, and pass-thru enabled.
Eleaf iStick 20w: GET IT HERE!
Eleaf iStick 30w: GET IT HERE
Eleaf iStick 50w: GET IT HERE (highly recommended, super long battery life – 4400mAh)
Eleaf iStick 40W TC: GET IT HERE (has temperature control)
Eleaf iStick 100W: GET IT HERE (big power!!)