Today I was expecting a package of #VapeMail to come in from GoodEjuice.com and to my surprise, they added a nice little product that I didn't know would be included, an aluminum drip shield. The drip shield is a semi-gloss black color and looks almost identical to the most 'must have' accessory of 2011, which was the empire drip shield. The only real difference I see is that the groove cutouts are a bit smaller and the vent hole is also just a bit smaller. For something so small and simple, it's amazing at how it completely changes your vaping experience. Many have named the drip shield as a 'must have' accessory because not only does it last forever, but it serves its purpose to a long existing problem we've always had as vapers, which has been an e-liquid leaking issue. With that being said, let me explain exactly what the drip shield does.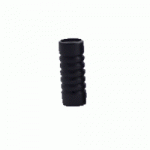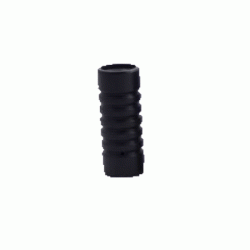 The drip shield was invented for the simple fact of your e-liquid leaking out the bottom holes where your atomizer vents threw. Located at the bottom of your atomizer, you'll notice open holes that let air flow into your atomizer, which then pulls the vapor into your mouth as you inhale from your drip tip, cartridge or whatever else you're using. When you over drip too much e-liquid into your atomizer, you'll likely see e-liquid leaking from those holes. Before the drip shield came about, many of us always had to carry around a piece of paper towel to wipe down our device. The drip shield acts some-what as a tank system. If you over drip too much e-liquid in your atomizer, it leaks into the drip shield and then when you vape all that is in your atomizer, it then pulls that e-liquid that's in the drip shield back into the atomizer. Another thing I like about drip shields is that it adds a slightly tighter draw, which helps me produce more vapor.
Now the question is… does this drip shield perform like the original empire drip shield? – No, it doesn't. This drip shield works and serves its purpose of course, but it has one set back. Remember earlier when I said that the vent hole on it was smaller than the vent hole on the original empire drip shield? Well, that's a small problem for me at least. When you draw from your device, it feels like you're trying to suck a golf ball through a straw. This doesn't mean there is something wrong with the drip shield, it just means I'm not one of those people who like a really tight draw. Overall, it's a drip shield and it does what it's supposed to do, which makes it an awesome product in my book.
At $8.49 per drip shield, I feel that's a fair price. That small price is nothing compared to how this product will change your vaping experience. To get your hands on one of these aluminum drip shields, head on over to GoodEjuice.com
To my more knowledgeable readers, the long read was due to having to explain what the product is used for. Forgive me, we have many viewers that are just now learning these things. 🙂