Headquartered in southern California, Naked 100 has seen incredible success since launching its brand in 2016. It first made its entrance into the market with award-winning yogurt flavors from its brand, The Schwartz. Soon after, Naked 100 became the premier e-liquid brand for satisfying blends of fruit, cream, salt, menthol, and tobacco e-liquid flavors. While its whole collection of flavors are extraordinary, Naked 100 Brain Freeze E-Liquid has become one of the most favored due to its refreshingly cool mix of highly exciting fruit flavors.
Naked 100 – Brain Freeze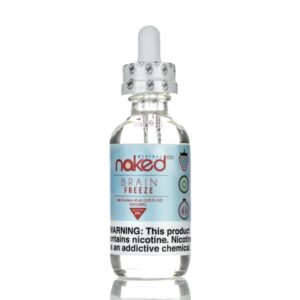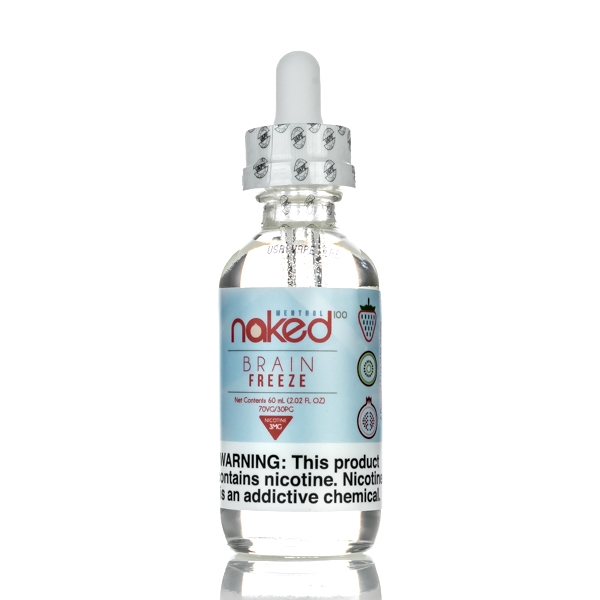 Consisting of a highly complex list of flavors, Brain Freeze is the concoction that you only dream of, until now. When USA Vape Lab launched the Naked 100 E-Liquid brand, it set forth a series of mixologists to perfectly formulate and master the Brain Freeze flavor. It was designed to be sweet, juicy, and chilling to deliver an exciting experience specifically for your oral senses.
Cooler than your coolest flavor, Brain Freeze is bursting with a mentholated taste that's beyond ordinary. Aside from the ice cold taste of a cool menthol, this brilliantly crafted blend also features ripe Strawberries that are perfect, Kiwi that's absolutely superb, and the unique taste that only Pomegranate offers.
From the very moment you take your first draw, you immediately taste the trio of multiplex flavors. The taste of Strawberries is luscious and juicy, the Kiwi is crisp and perfect, and the Ruby Red Pomegranate is sour yet sweet. Following immediately is the introduction of a mentholated, fruit-bearing vapor that awakens both your oral and nasal senses with a strong burst of a freezing sensation.
This remarkably blended concoction of Naked 100 Brain Freeze comes packaged in a 60ML glass bottle with a dropper cap. The cap is sealed, the labeling is appealing and provides all the necessary information, and the contents are just as impressive. If you're one for a high dose of refreshingly cool e-liquid, Naked 100 offers many flavors that are designed specifically for your chilling tastes. Its 'cooler' collection consists of Polar Breeze, Very Cool, Amazing Mango Ice, Hawaiian POG Ice, and Lava Flow Ice. Each flavor delivers the satisfying taste of fruit while incorporating the refreshing taste of menthol that your taste buds are eager to experience.
Conclusion
The Brain Freeze vape juice flavor by Naked 100 is one that you are sure to enjoy. It delivers the perfect flavor and right amount of menthol to send your taste buds into an overload. However, as good as that one flavor is, there's a large variety of other Naked flavors that we're sure you'll enjoy just as much. In fact, West Coast Vape Supply has a Naked Vape Juice Pick 5 Bundle that will let you choose five of your most preferred flavors from the entire Naked 100 Vape Juice collection, which consists of 20 unique and delicious crafted ejuice flavors. You'll be able to choose from a variety of menthols, fruits, creams, tobacco flavors and more. You can also find yourself the Naked Vape Juice Menthol Pick 3 Bundle, which is 180ML of Naked 100 Menthol, where you'll get Brain Freeze, Polar Breeze, and Very Cool ejuice flavors.
About West Coast Vape Supply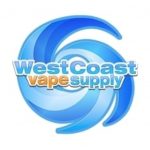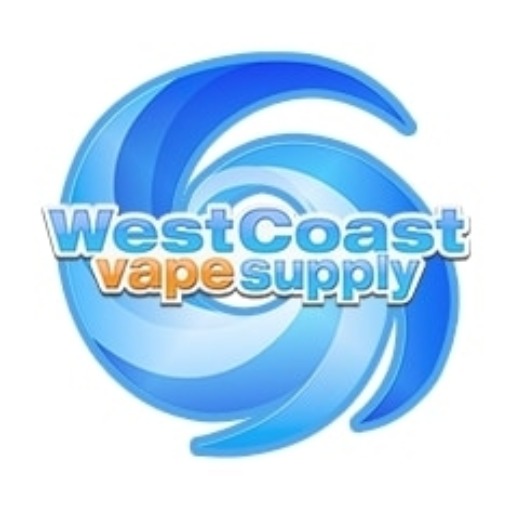 Established in August 2013, West Coast Vape Supply quickly became one of the largest suppliers of vape juice and naked brand vape juice in the vapor products industry. The distribution brand is headquartered in Las Vegas, Nevada but serves vape shop retailers nationwide, along with selling ejuice and vapor products at rock bottom discount prices direct-to-consumer. West Coast Vape Supply offers decades of experience in vape products, e-commerce, economics, and finance, allowing them to provide customers with the best possible experience.