In this next addition to our Vaping Guides category, we share the complete guide to the VOOPOO Drag 2 Mod. If you need help with your Drag 2 Mod and want to learn as much as possible about your new investment, then this user guide will provide all of the information you'll need. Discover its features, perks, and the many capabilities that come integrated into the new VOOPOO Drag 2 Mod.
Update: If you are looking for vape supplies that are a bit more convenient, you should consider a disposible vape. They are more convenient, easier to use, and offer some of the most pleasing tastes. There are many disposable vapes online too.
VOOPOO & The New Drag 2 Mod
Making its way into the industry in 2014 and immediately acquiring an already-established U.S. brand, VOOPOO quickly gained recognition and became a leading manufacturer for vapor products. Originally established to serve the medical and industrials fields, the brand has a significant amount of experience manufacturing high-quality products. In 2017, just after its acquisition, VOOPOO became an exclusive partner of the GENE chip and started incorporating its high-end GENE.FAN chipset into each one of its devices. To this day, VOOPOO remains to be one of the most innovative vapor product brands and has released several iconic products.
About The VOOPOO Drag 2 Mod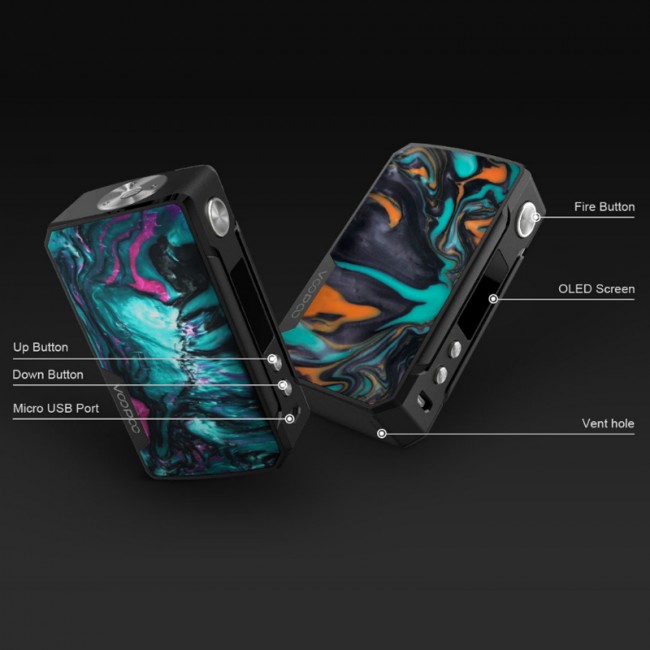 One of its latest releases is the VOOPOO Drag 2 Mod, a fascinating device that features a remarkable chassis. It stands just 88.3mm tall, 51mm wide, and only 26.5mm in depth. It's constructed of a superior zinc alloy material, giving it incredible durability and strengthens its external shell for an increased lifespan. Enhancing its appearance, the Drag 2 Mod comes included with a visually striking resin inlay design that's available in Island, Flame, Aurora, Scarlet, Fire Cloud, Puzzle, Dawn, and Ink finishes. Positioned on the backside of the device there is a magnetized battery door cover which is capable of housing dual 18650 batteries, giving you longer durations between charges.
What's fascinating about the Drag 2 Mod by VOOPOO, aside from its good looks, is the advanced GENE.FIT chip that's integrated into the device. It provides a full range of features, like temp control, TCR adjustments, the new FIT mode, and a variable wattage mode that will allow you to reach up to 177W. To control the device to the fullest ability, there is a large firing button, two adjustment buttons, and an intuitive OLED display screen. Combine all of this with its protection suite and a micro-USB port that supports charging and future firmware upgrades, and you've got yourself one of the impressive devices on the market.
What's Included With The Drag 2 Mod
The VOOPOO Drag 2 Mod is available as a standalone unit or as a VOOPOO Drag 2 Starter Kit. With the choice of either, you can decide on which will be the best fit for you. If you have a tank that you already favor, maybe buying the mod itself will be the best idea, and will save you money as well. When you buy the full kit, you're buying both the device and a tank that's included with it.
The Drag 2 Mod Includes: You'll receive the VOOPOO Drag 2 177W Box Mod, a USB Cable, and an instructional manual.
The Drag 2 Kit Includes: You'll receive the VOOPOO Drag 2 177W Box Mod, the UForce T2 Sub-Ohm Tank, a 0.4-ohm U2 Dual Coil, a 0.2-ohm N3 Triple Mesh Coil, a Spare Glass Tube, USB Cable, spare parts bag, instructional manual, and a warranty card.
Where To Buy The Drag 2 Mod
There are many stores online and locally that now sell the VOOPOO Drag 2 Mod, as a standalone unit and in a full kit. Although the Drag 2 has gained popularity rather quickly and you can buy it nearly anywhere, we recommend you to shop at VaporAuthority.com, an online vapor shop that has gained the respect of the vaping community due to their incredible customer service and a large selection of the industry's latest and greatest products. There are several perks to shopping with Vapor Authority, like free shipping on orders over $50, their competitive pricing, same-day shipping, 60-day warranty, authenticity guarantee, and of course their award-winning customer service.
---
VOOPOO Drag 2 Operation
We're now to the part where we tell you how to operate your VOOPOO Drag 2 Mod. Often times when users buy a new device they will immediately rummage through the packaging and toss everything else in the trash that isn't required, which is one of the reasons why we continue to write and provide these guides on specific devices. Another reason why we write these guides is because of the language barrier and the small text in the user manuals. After writing many guides now on products, we've seen many viewers leave feedback and thanking us for providing a guide that answers their questions and tells them how to use the mod in plain, easy-to-read text.
Basic Drag 2 Operation
Verifying The Authenticity: Believe it or not but VOOPOO takes counterfeiting very seriously. With that said, they've been on a mission to provide better service by updating their authenticity check system since May 2018.  Look on the packaging that held your VOOPOO Drag 2 Mod and you'll see a sticker to check authenticity. There will be a code on the sticker. You can find this code in two ways — either scratch the silver cover to reveal the code or slowly rotate the mark in the light. Then visit VOOPOO's Authenticity Query page and validate the product.
How To Correctly Install The Batteries: Begin by turning the mod to its backside. On the back, there is a removable battery access door. Once you remove the access door, you will see two battery bays, each marked to indicate how to properly insert the batteries. If you aren't sure of how to install the battery properly and need to learn more about battery safety, we recommend you do that before attempting to install the batteries.
How To Turn On The Drag 2 Mod: To turn on the Drag 2, simply press the fire button 5 times consecutively. To turn the device off, repeat the process.
How To Activate and Vape: When you first turn the device on, it will automatically default to its variable wattage mode. From there, you can adjust the wattage or rely on the automatically recommended wattage the device provides. Press and hold the fire button and your coil will vaporize the e-liquid.
How To Adjust The Wattage: Once in wattage mode, press the up and down adjustment buttons on the device's control face to increase or decrease the wattage.
How To Adjust The Temperature: Once in temp control mode, press the up and down adjustment buttons on the device's control face to increase or decrease the temperature.
Main Drag 2 Operation
How To Switch Between Modes: Press the fire button 3 times to switch between Power Mode (Variable Wattage), FIT Mode, or Temperature Control Mode.
How To Lock/Unlock The Drag 2 Mod: To lock the device, press the fire and up "+" adjustment buttons simultaneously. To unlock the device, repeat the process.
How To Switch Screen Orientation: To switch the screen orientation, press the fire and down adjustment buttons simultaneously.
How To Navigate In FIT Mode: First switch to the FIT Mode by pressing the fire button 3 times, cycling through modes until you get to "FIT". When on the FIT screen, press the up and down adjustment buttons to select between 1, 2, and 3. (Battery Set, Flavor Set, Cloud Set)
How To Enter Function Menu: To enter the function menu, press the up and down adjustment buttons simultaneously.
How To Adjust Wattage In Temperature Control Mode: To adjust the wattage while in temp control mode, press the fire button 4 times rapidly to activate the wattage adjustment. From there you can adjust the wattage as normal, while in the temp control mode.
How To Enter Sleep Mode: Sleep mode is an automatic feature. After 30 seconds of the device being inactive, the screen will turn off. To turn it back on, simply press the fire button once and it will awake.
---
Drag 2 Mod FAQS
Why Does My Drag 2 Mod Say "CHECK ATOMIZER"?: When your Drag 2 Mod prompts "CHECK ATOMIZER", that often means there is a connection issue. That could be the result of a few things, such as your tank or atomizer not being attached to the device, it not making a solid connection, or an issue with your coil not making a connection. Most times when you see this prompt, it will be that your tank isn't attached or not tightened enough to make a solid enough connection.
How Can I Check My Software Version?: To check your software version, you'll need to enter the function menu. Do this by pressing the up and down adjustment buttons simultaneously, then navigating to software version.
How Do I Upgrade My Drag 2 Mod's Software?: When a download is available, you can visit VooPoo's  Download Support page and upgrade the device's software to take advantage of new features implemented by the manufacturer.
What Are The Best Batteries To Use With The Drag 2 Mod?: There are several batteries that perform great. However, we recommend that you look for a high-drain battery from either Samsung, Sony, or LG. These are trusted battery brands that are manufactured by these companies. Nearly every other battery brand you find on the vape market are rewrapped. Stick with what we know works.
Why Did My Drag 2 Mod Turn Off?: There could be a couple of reasons why your Drag 2 Mod would turn off, and two of them primarily being that there is a sleep mode that activates after the device is inactive for 30 seconds or your batteries have depleted too low.
Note From VOOPOO: WARNING
Please keep the device away from heat, fire, and water.
Please do not drop, throw, or throw the device in water.
Please use the proper working mode according to your coil's material.
Please turn off or lock the device to avoid misfiring when you're mobile.
Keep the contents of the packaging out of reach of children and pregnant women.