In the world of mini mods, the Artery Nugget Gold Rush Kit is the gold standard.  It provides a sleek appearance, a fabulous and very appealing screen, it has a simple box shape, it provides all the latest features available, and offers a stellar performance.  What more could you ask from in such a compact device?  Let me go into detail and tell you all about the Nugget Gold Rush Kit by Artery Vapor.
Appearance
The Nugget truly looks outstanding.  It offers the perfect box shape, the perfect size, as well as the perfect appearance.  It's like Artery has found just the right middle between size and design.  For example, the buttons aren't too big or too small, and the screen, even though it's large, seems to fit on the device just right.  And, that basically sums up the Nugget — a round metal stainless steel button at the top, which is a bit larger being that it's the fire button, then two smaller adjustment buttons resting just below, and right under that is a fairly large OLED display screen.  One side of the Nugget has a big N letter, then under it saying "Nugget".  The other side says "Artery" in a red color at the bottom, and just to the right of it is a micro-USB port, along with a small hole that has a LED to indicate when the device is currently charging and when the charging cycle completes.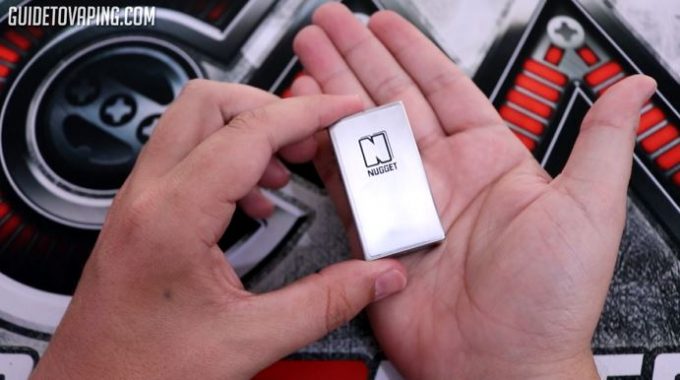 Being that this is the Gold Rush Kit, it comes with the 49er Tank.  This tank also has a compact design to match the Nugget.  A wide bore delrin insulated drip tip sits at the top, a Pyrex glass tank for the middle, adjustable airflow at the bottom, and the tank is constructed of stainless steel.  Not much more to say about it in the appearance category, other than I'm pleased with the way it looks, especially due to its small size.
Features
To be such a small vape setup, it's packed with plenty of features.  To start off with, there are two different versions of the Nugget; one being the Stainless Steel "limited edition" version, and the other being the more common "Zinc Alloy Edition".  I have received the Zinc Alloy Edition for this review.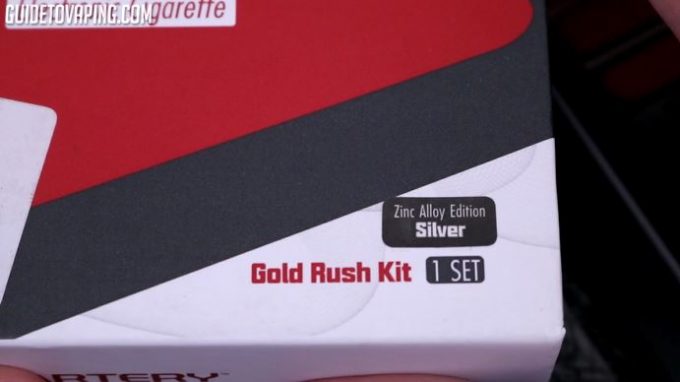 Moving on, the Nugget has a Zinc Alloy construction, feels solid in the hand, and due to its small size and hefty construction, the device is quite durable.  At the top sites a 510 threaded connector, which has a gold plated copper pin, which I might add is spring-loaded.  On the outside, you get a three-button setup, a large OLED screen with 4 stacks, and a micro-USB port to charge the 18350 1000mAh built-in poly lithium battery.
By looking at it, you wouldn't imagine that this device comes equipped with 50 watts of power, the ability to fire as low as 0.1Ω, and temperature control functionality that supports Nickel 200, Titanium, and Stainless Steel… but it does.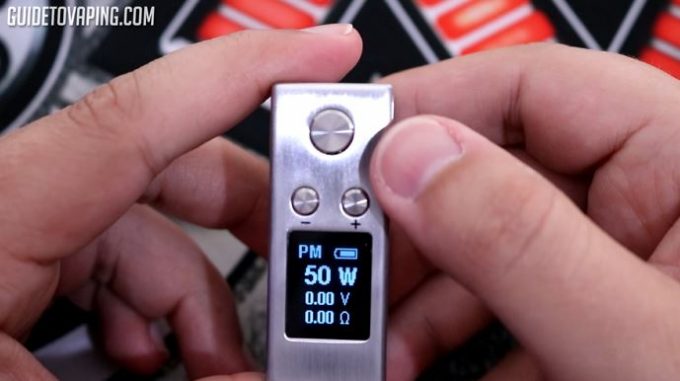 As for its partner in crime, the 49er Sub-Ohm Tank, you're looking at a stainless steel construction, a top fill design, adjustable airflow control, juice flow control (which I must include that I was controlling all wrong in the video I made for this review.  You simply turn the top portion of the tank, rather than that airflow ring at the bottom), and a Pyrex glass tank that can hold 4mL's of e-liquid.  And, if the juice flow control doesn't get you excited enough about this tank, I'm sure the APC atomizer heads that are included will get you there, as the kit includes 2 great performing coils, one that is 0.2Ω, uses Ni200 wire and can reach up to 50 watts.  While there's also a 0.5Ω Kanthal coil that can reach up to 40 watts.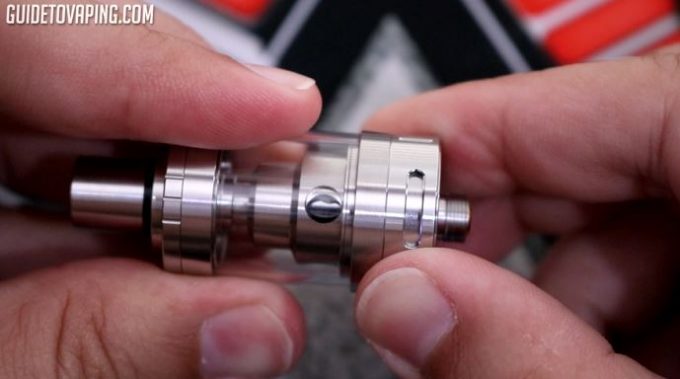 Performance
The performance both from the Artery Nugget and 49er Tank is fantastic.  This setup is nearly flawless, I just wish it came with coils that were higher in resistance.  It's best to run tiny mods like this at around 0.8Ω, so you can expect the Nugget to run out of breath rather quickly when you've got it at full blast.  The 49er Tank is awesome, and though I don't believe that juice flow control will come in much handy since most of us will want to leave it wide open, it is nice to know it's there for those that run thin e-liquid and lower wattage.  I should also include that the vapor production is great, plenty of clouds for such a little guy.