For those that haven't noticed, all-in-one vaping systems are beginning to pop up everywhere.  These manufacturers are now offering cheap, easy to use systems that come as a single device or are presented as a package for simplifying the vaping experience.  Over the next couple of minutes we're going to explore the 5 devices that we feel have caught our attention as vapers, as well as the ones that seem to be flying off the shelves fastest, according to some of our friends in the retail world.
This is not a scientific study, and is based on the opinion of our team and several retailers in the industry.  These products are in no particular order and this list is not meant to be exhaustive, as there are many other offerings within the category.
What Do We Classify As An All-In-One Vaping System?
There are two types of all-in-one kits; one that is marketed by the manufacturer as an all-in-one kit that simply includes a mod and atomizer (so two products), while there's the true version of an all-in-one kit that means it's one single device and the atomizer is built into the mod (one single product).
---
1. Joyetech eGo AIO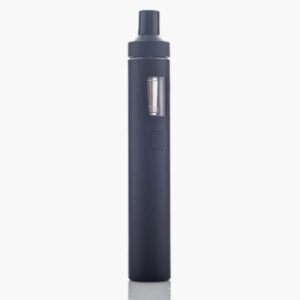 First on the list had to the device called the All In One from Joyetech and it is our first true single use item on the list.  The tank and body section's are a single entity, there is no taking this offering apart and marrying it with other devices.
With a 1500mAh built-in battery and 2ml e-liquid reservoir, the AIO is a great starter kit and honestly doubles up as an awesome back-up for experienced vapers as well.  Designed to comply with the European Union's TPD laws the tank is a top fill, top airflow, no leaking, child-locked device that takes advantage of a floating AIO head that can be changed by simply unscrewing it from the top cap.  Measuring in at 118.05mm by 19mm its a small, sleek well designed mod for people on the go, in fact, it's so inexpensive you could probably carry 2 or 3.
It's a low power device, the SS316 coils are only designed to run between 15 and 28 watts so it won't produce massive plumes of vapor, but most vapers aren't looking for the worlds biggest cloud.  With adjustable airflow and all that stored battery life, this thing should keep you happy for hours.
Joyetech eGo AIO: GET IT HERE
---
2. Kanger CUPTI All-In-One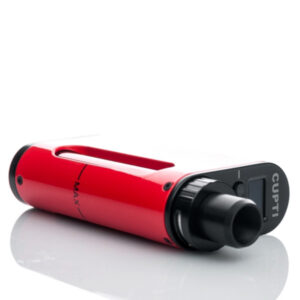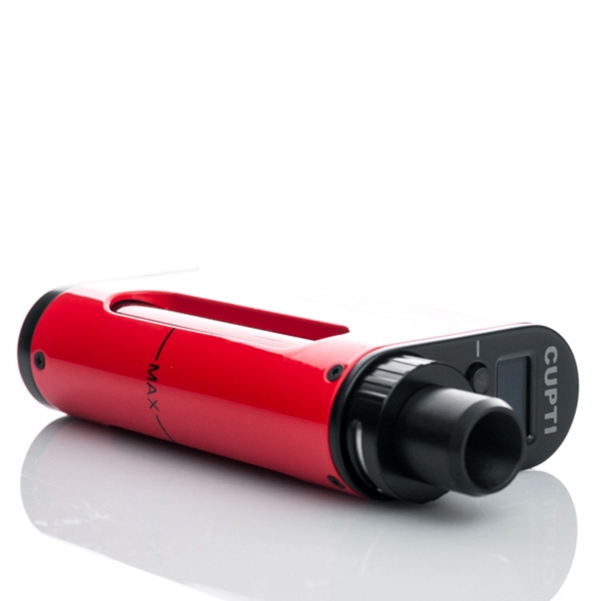 If you saw the NeBox from Kanger and were highly disappointed, don't worry, pretty much everyone was.  The concept was great but the delivery was severely lacking as several features were apparently overlooked between the drawing board and the finished product.
The CUPTI is what the NeBox should have been in the first place.  75 watts of adjustable vaping power with temperature control capabilities this all in one houses the 5ml glass tank inside its body.  A neat little compact package, measuring 50mm by 22.5mm by 82mm it fits perfectly into any hand and its removable 18650 battery means that as long as you have charged spares on your person, you are free to vape.  The protruding top cap has several functions, this device was designed with no leakage in mind, so the airflow control and coil changing functions are achieved by twisting the cap.  The coils provided with the system are great little vapes, but for a few extra dollars you can also buy a rebuild deck that works perfectly with the CUPTI.
Kanger CUPTI: GET IT HERE
---
3. Aspire Plato All-In-One Kit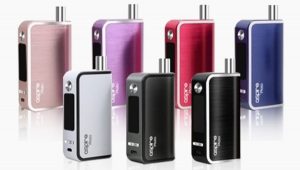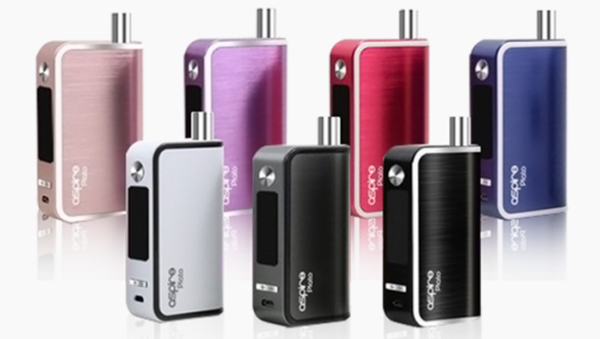 When Aspire designed the Plato, they were definitely thinking of the customer making one purchase, other than e-liquid and walking out of the store.  Measuring in at 100mm by 50mm by 23mm, this package is everything Aspire down to the 2500mah 20 amp replaceable 18650 battery that comes in the kit.
Giving you the options to run between 1 and 50 watts and a temperature control range of 200 to 600°F (100 to 315°C).  While neither of the initial coils that come with the kit are temperature control capable, Aspire do offer plenty of other options for it.  Pulling off the battery cover to get a look inside the device reveals all the inner workings, both of the tanks filling ports and the insanity that is the tank.  Capable of holding between 4.6 and 5.6ml of e-liquid depending on your choice of coil, that should be enough to keep you vaping for a while.  Available in several different colors, the Aspire Plato should appeal to almost everyone.
Aspire Plato All-In-One Kit: GET IT HERE
---
4. Joyetech eGrip II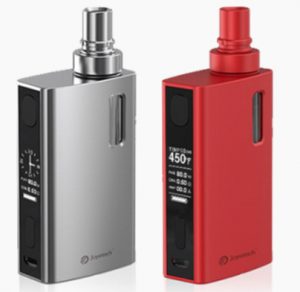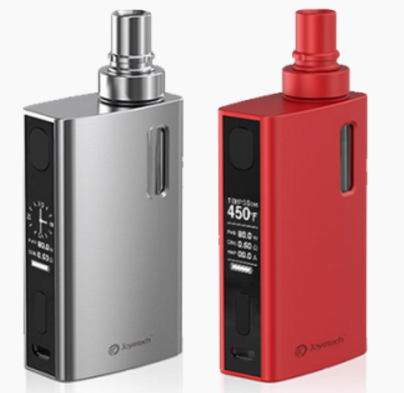 This is Joyetech's second appearance on this list, but that is mainly because the company seems to understand the needs of vapers.  The eGrip II is the second incarnation of this device and it is a beast.  With a built-in 2100mAh power cell the eGrip II can rock between 1 and 80 watts without a problem.  Its on-board 3.5ml tank is simple to fill and always on show through the side viewing port, just to make sure you never run the tank dry.  Options are available for temperature control ranging from 100 to 315°C (200 to 600°F) in the usual configurations for Ni200, Titanium and 316 stainless Steel coils.  Top airflow, top filling , this device offers everything we would expect from Joyetech.  They have basically provided us with a down sized version of some of their top-selling devices.
Here is where the eGrip II gets interesting though, Joyetech also includes a 510 adaptor that fits inside the built-in tank to turn it into a base unit for any other tank that you choose.  From this point forward the options are endless, everything up to a 22mm tank looks great on there.  Oh, I almost forgot to mention, it also comes with a copy of the Flappy Birds game installed .
Joyetech eGrip II: GET IT HERE
---
5. Kanger Evod Pro
Last but not the least on this list is the Evod Pro from Kanger, which is similar to the AIO in shape, and designed for new vapers, as well as mouth to lung hitters.  Some would call it a limited device, but for some reason it's flying off the shelves as it appeals to new vapers not looking for bulky machines and a thousand buttons to figure out.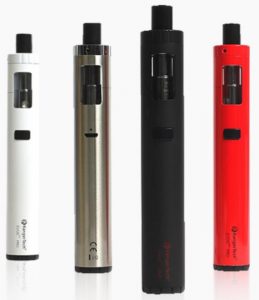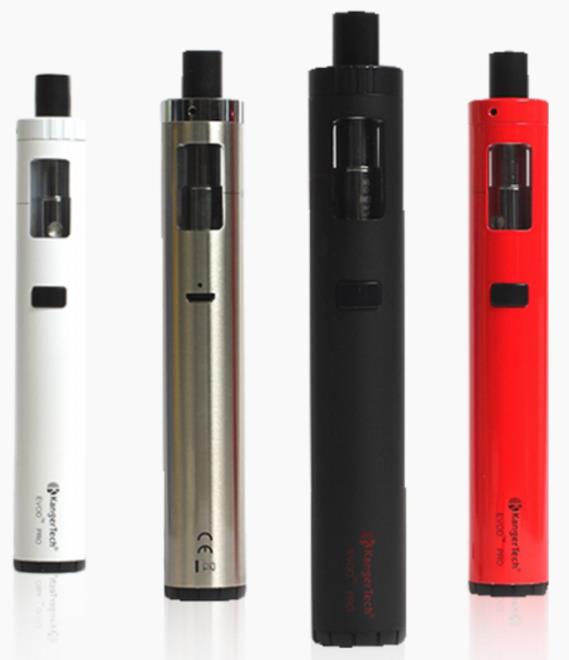 Measuring 22mm wide by 156mm from base to the top of the drip tip, the Evod Pro runs on a single, replaceable 18650 battery.  Capable of on-board charging or easy switching to a fresh cell so you can keep vaping on the go, it feels less tethered than mods with built-in power supplies.  The tank and body are a single entity, being semi-compliant with the EU TPD means that this is a no leak system with a top airflow and coil change design.  The simple one button operation ensures that the vaper doesn't have a major learning curve and in reality this device isn't as limited as it may first appear.
Designed for mouth to lung vaping, it doesn't require massive adjustable airflow slots but it can still take advantage of the CLOCC atomizer heads produced by Kanger.  At the same time has a massive capacity for e-liquid in its 4mm tank which, as we already mentioned is topped up by removing the cap.  The Evod Pro has built-in protection circuits to protect the device and the user making it a perfect device for a first time user, as long as they are versed in battery safety.
Kanger Evod Pro Kit: GET IT HERE