I had a chance to try the Apex Vapor Low Resistance Atomizer for the last month (AKA the AVA LR).
This USA made atomizer isn't your run of the mill ecig atomizer. The website states that it was made for the Apex line of PV's, which are 3.7v devices. The AVA LR and SR are not meant for high voltage devices, nor the small 510 stick batteries that look more like your traditional analog cigarette.
The first difference I noticed from the majority of atomizers on the market is that the AVA does not have a bridge or a visible coil. Instead, you see a ceramic "plate" and a rather clean inside. The outside casing is a high quality nickel plated brass.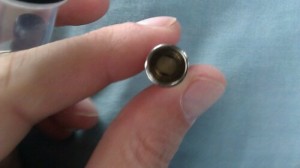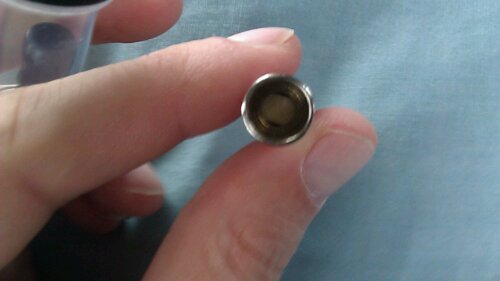 How's the Vape?
Upon inhale, it's difficult to know that this atomizer is working. It's quiet, and not extremely warm. I'm missing the heavier "mouth feel" that I typically get with a good LR atty. The exhale provided a large plume of vapor, with very good taste. The AVA website states that this atomizer will take a few days to break in, but on day two, this atty tastes just fine.  While I prefer a warmer draw, the flavor is really superior to your average $7 atty. There is no hot-spot to burn your juice. Running this atty dry shows a less harsh vape than if you were using a 306 and ran your atty dry.
Price
This atty is priced at $40-$49, depending on where you buy and if you use a discount code. The price is enough to discourage a large number of vapers, and most will balk at it, not giving the AVA LR a second look I assume. I know I almost did. Is it worth it? That largely depends on the life span of the atomizer. It's still going strong after a month of sporadic use, and I haven't had to clean it. In any debate, the AVA is not built like your typical disposable atomizer, which could put this atomizer in a different category- if it lasts.
The Debate
$45 for an atomizer? Really? Some people are just getting over the shock of the HH357 at $25 a pop, and the AVA has to exceed $25 by almost 100%. Someone must be crazy- right? Well I can tell you right now that I have not seen an American made atomizer with this type of quality to date- so give the AVA a point in this department. The flavor is also very very good from the AVA LR atomizer- score another point.  When the AVA atomizer runs dry, there is no burnt juice taste and it's not harsh on the throat. Point.
As I've mentioned above, the AVA is lacking the mouth feel from the vape. It's hard to notice that you are inhaling vapor until you exhale. It's not very noisy, it's doesn't spit at you and the vapor isn't as warm as say, a HH357 or a 306, or even a LR 510. What it does provide is great flavor, vapor and no "hot spots" that burn juice. The jury is still out as whether this atty will last long enough to be a good value.
All in all, if we want to move forward, I see a AVA and the HH357 breeding somehow to create the perfect atty. That's just my two cents -for what it's worth~