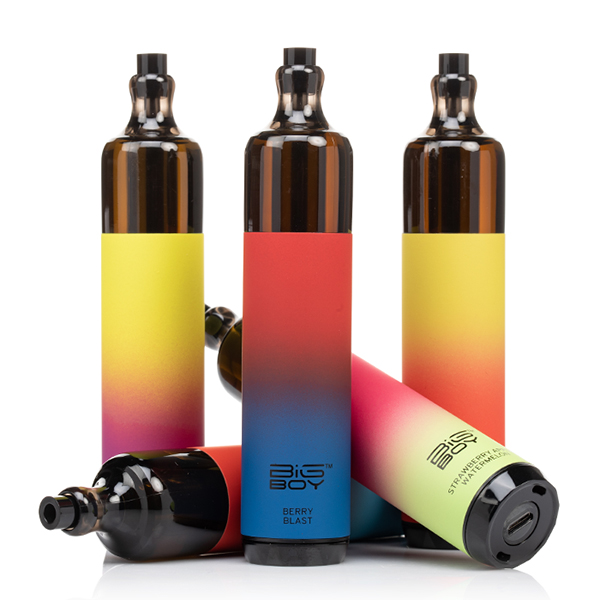 Giving in to the race to provide the highest puff count, the Big Boy Mega Disposable Vape is the next in line to fill the void. It is just the latest disposable vaping device to land on the market and it comes packed with one of the largest capacities available and an assortment of fascinating flavors to choose from.
If you are a fan of this easy-to-use and extremely convenient style of vaping, you will absolutely love the newly developed Big Boy Mega Vape. It is certainly one of the most giving vapes in the entire lineup of disposables. Not only are you to expect a large capacity but the device is also blistered with looks, great performance, and the perfect flavor that can be revisited over and over thanks to its rechargeable design.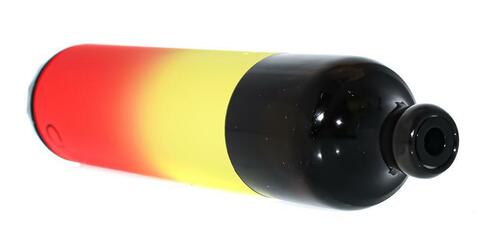 The Big Boy Mega Disposable Vape
Sporting a beefier size than what you're used to, the Big Boy Mega seems to have a lot to offer. The device was perfectly designed to not only provide great appeal but also to allow enough room for one of the industry's largest capacities when it comes to its battery and vape juice. With durable construction, the Big Boy Mega is made to withstand the course of time. It comes equipped with an integrated 500mAh rechargeable battery and a micro-USB port that allows you to continue reliving the amazing experience.
Along with reasonable battery size, the vape juice capacity is even more impressive, boasting an 11mL vape juice capacity, which means you can expect as many as 5000 puffs, one of the industry's largest. Combine this with an equipped mesh coil that is designed for providing the best of all flavors, along with a stellar performance offering, and you're setting yourself up for an enjoyable vape. There are 15 flavors to choose from in this collection of disposable vapes, giving you plenty to choose from and the most delicious tastes.
Big Boy Mega Disposable Vape Flavors
Aloe Grape
If you are looking to take your tastes you a whole new level, this delicious vape has plenty of flavors to offer. It offers the unique taste of aloe, which is mixed with the light and crisp taste of grapes, creating an all-day vape you can count on.
Apple Ice
There isn't anything as pleasing as a delicious recreation of a classic apple juice flavor. This perfect blend of flavors will offer you a tasty red apple flavor combined with menthol, recreating that straight out-of-the-fridge apple juice flavor you love.
Aloe Strawberry
Taking your taste buds to all-new heights, you won't believe how delicious this vape is. It brings together a masterful duo that consists of a unique aloe flavor meshed with a juicy and succulent strawberry flavor, easily pleasing your tastes.
Berry Blast
Easily pleasing your tastes, this amazing vape juice blend is all that you will want. It is a fascinating bombardment of sweet and rich berries, creating an explosion of flavor that runs throughout your mouth and leaves you craving even more.
Blue Energy
Becoming your next go-to vape, there is nothing more pleasing than this remarkable flavor creation. It is a masterful flavor that combines several flavors into one to recreate your favorite blue energy drink flavor. It is a tarty vape juice blend you'll love.
Blue Razz Ice
Providing the most pleasing tastes, you won't find another blend that tastes so good. It is an awesome combination of blue raspberries and the coolest menthol blend, ensuring you are thoroughly impressed and refreshed.
Cola Ice
Recreating that classic taste you've known and love throughout your lifetime, there isn't anything more enjoyable than this cola ice flavor. It mimics the taste of a classic cola, which comes backed by the perfect addition of menthol.
Coco Loco
Whether you are wanting to find a new dessert flavor to add to your collection or you've been searching for the perfect chocolate flavor, this one is the flavor you have to experience. It is a mixture of chocolate and creams you can't get enough of.
Just Kandy
This is one you wouldn't expect to taste so wonderful. It is a delightfully exciting mix of flavors, offering you one of the best vapes you've experienced yet. This vape consists of a delicious, flavorsome chewy candy flavor you can't get enough of.
Mega Mint
Although you've tried the classic taste several times, there isn't any of them you've experienced that is quite like this. The Big Boy Mega Mint is a refreshing taste that continues to linger, leaving you with a sweet and minty cool flavor you can count on.
Peach Lemon Ice
There is some vape juice blend that features the perfect pairing, and this is one of them. It is a delightful taste experience that brings together a nice mixture of peaches, lemons, and a bone-chilling addition of menthol, making for the perfect vape.
Watermelon Lush
You won't believe how incredibly satisfying this duo of flavors is, as it offers you an amazing mix that will have you falling in love with vaping all over again. It offers you the taste of watermelons mixed with a refreshing cool that is just too good.
Vanilla Bean
Giving you a delicious flavor experience that you will come to always remember, this flavor is one you'll never escape. It is the wildly unique taste of vanilla bean, which we're sure you'll come to call another one of your favorites.
Strawberry Apple Watermelon
If you want to give yourself a vape flavor that you will want to continuously revisit over and over, this awesome mix infuses together strawberries, apples, and watermelons, leaving you with a pleasing taste that just gets better and better.
Passion Orange Guava
You can never go wrong when you combine the delicious mixture of passion fruit, orange, and guava flavors. It is a delightful flavor that each flavor will impress your tastes and leave you only craving more and more.