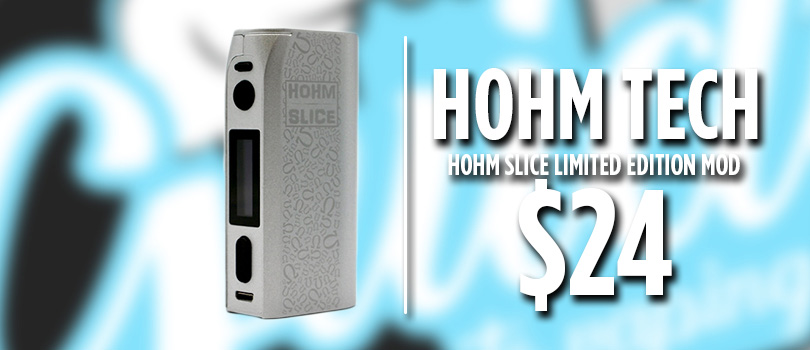 There's a huge blowout deal going on that will let you get the Hohm Tech Hohm Slice Limited Edition Mod for $24! This mod usually retails for $69, so jump on this deal before it's too late. Trust me, this one won't last long.
[mks_button size="large" title="GET THE HOHM SLICE MOD HERE FOR $24″ style="rounded" url="http://shareasale.com/r.cfm?b=725671&u=821755&m=59099&urllink=www%2Evaporcube%2Ecom%2Fh%2Dslice%2Dhohm%2Dslice%2Dsingle%2D26650%2D101w%2Dtemperature%2Dcontrol%2Dbox%2Dmod%2Dle%2Dlimited%2Dedition%2Ehtml&afftrack=" target="_blank" bg_color="#dd9933″ txt_color="#FFFFFF" icon="" icon_type="" nofollow="1″]
USE COUPON: SLICELIMITED
NOTE: Sale starts 10/17/2017
Hohm Tech became known throughout the vaping market when it first released the Hohm Wrecker. The Hohm Slice is its miniaturized version that's constructed of zinc alloy, features a 0.91″ screen, and houses a single 26650 that's interchangeable. This outstanding mod uses the FSK1 chipset that offers the ability running temperature control with all wire types, including Nickel 200, Stainless Steel, Titanium, Nichrome, Kanthal, and Ceramic Infused coils. With the ability to reach up to 101 watts in all modes, a minimum resistance of 0.1Ω, future firmware upgrades, a 4-button configuration, adapter fast charge technology, and a 500-day warranty, it's hard to resist this marvelous creation by Hohm Tech. Being this is the limited version, there is a baked ceramic symbol layer which displays the Ω symbol all throughout the body of the mod.