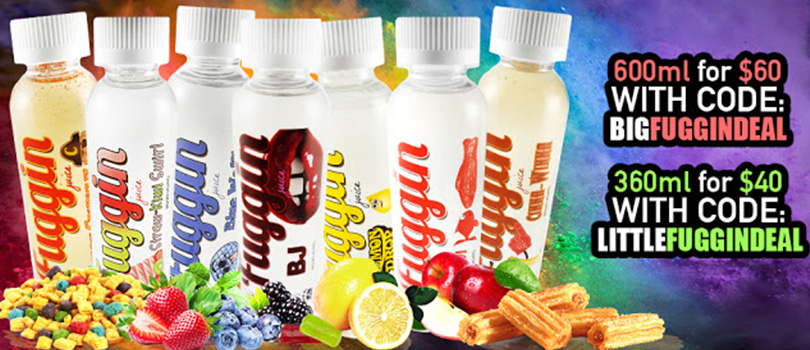 Fuggin Vapor is currently running a big "fuggin" deal where you can get 600ML of e-juice for just $60 with this coupon code. That's five 120ML bottles totaling to 600ML. With this much e-juice, you'll be set for a while!
[mks_button size="large" title="GET 600ML FOR $60 HERE" style="rounded" url="http://shareasale.com/r.cfm?b=749033&u=821755&m=60150&urllink=fugginvapor%2Ecom%2Fcollections%2Ffuggin%2De%2Djuice&afftrack=" target="_blank" bg_color="#000000″ txt_color="#FFFFFF" icon="" icon_type="" nofollow="1″]
USE COUPON: BIGFUGGINDEAL
With over 25 flavors to choose from, an 80/20 ratio and loads of reviews from earlier customers, you'll fall in love with this deal. Experience unique flavors like Cereal Vapist that combines loads of cereal flavors into one, flavors like Money Maker that presents a beautiful trio of green apple, green grapes and kiwi perfectly blended and chilled, or go off the chart with something like Inside Peanut Butter Outside Jelly that features a delicious representation of your mom's classic peanut butter & jelly sandwich… without the crust of course. Comb through more than 25 deliciously perfected flavors and possibly find your next all-day-vape!
---
If you're looking to pay less, there's also a deal where you can get 360ML of e-juice for $40 using coupon "LITTLEFUGGINDEAL".