Today we're calling out James or also known to the community as Pleidus.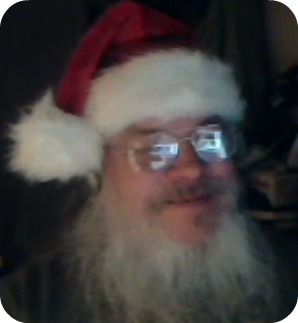 Meet the old fart vaper known as Pleidius (or sometimes: Santa).  I was born and raised in California; I spent eight years in the navy, three years in college, and worked a wide variety of jobs.  Got Married (twice) have two kids and six or eight grandkids (my son says a couple of those are not his).  A couple of years ago I injured my back and pretty well disqualified myself from the work force.
I started smoking at 14, and was well into the habit by the time I was out of high school, smoking up to two packs a day.   In the last few years, as cigarette prices climbed, I went from Name brands to generics to roll-your-own.  I couldn't afford to smoke, but still did.  I tried gum and patches, but still kept smoking.  I was a 60-year-old unemployed smoker.
One day, last March, my daughter stopped by the house. She said, "check this." and striking a pose, took a drag on an electronic cigarette and blew out a long plume of 'smoke'.
I was intrigued.  She let me try it.  The flavor was odd and it was heavy.  I saw a chance to maybe quit smoking.  I jumped on the internet and was soon reading 'free trial; just pay $4.95 for shipping and handling'.  While waiting for my 'free trial' to arrive, I did some more searching and reading and soon realised how badly I was about to screw myself.  I 'smoked' my 'free trial' for five days; going through all the cartridges they sent me and quite a few that were given to me by a friend who had given up on her 'e-cig'. I also smoked a pack or so of 'real' cigarettes while waiting for batteries to charge A flurry of irate phone calls got me out of the purchase agreement and I used the hundred bucks I had set aside to buy an eGo-t and 30ml of 'juice'. I filled one of the little tanks, screwed the atty onto the battery, loaded the tank and was on my way. Better vapor, better flavor, I vaped myself to a nic buzz in just a few minutes.  I gave the last of my tobacco and rolling supplies to my son-in-law and never looked back.
Three months later, I was talking with my daughter and she lit a cigarette.  I tried one puff from her cigarette and it all but gagged me. It was nasty, it was also the same brand I had smoked for years!
My eGo-t had a small problem with leaking, mostly from getting it over heated, but I thought it might be because the PG based juice I had been too thin.  On my next order, I got 'my' juice and a bottle of VG nic in the same strength as the juice to thicken it up. Of course, this thinned down the flavor.  I found some Loranns flavors at a local drug store and added some apple flavor to the juice.  Not bad at all.  I was a DIYer! (probably never be a JD)
I couldn't afford to buy the mods I was seeing, but parts were cheap, I started building simple mods, 3.7V AA boxes, a couple of 5V passthroughs, and a wood box.  I was a modder! (probably never be a DJ-JRock)
It has been eight months since this wild ride began, I spend quite a bit of time in the video chats, build my mods, vape my juice and work at lowering my nic level.  I don't ever want to go back to analogs.  I have a new hobby, new friends, and a new life.  I can't wait to see what new device comes out next.
James' Google+: https://plus.google.com/107352369340985212135/posts