The road to where I am.
Hello everyone. This is JeannieK of www.vapenet.com and here is how I got to where I am today.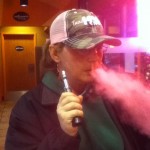 In December of 2009, after smoking for 27 years I suffered a pulmonary embolism in my right lung.
After spending 9 days in the intensive care unit, I knew I needed to stop smoking. The trouble was that I didn't want to. Yes, after all that, I still did not want to stop. I had tried to quit numerous times in that 27 years and failed. This time I knew I had to. My husband (the non smoker) brought up electronic cigarettes and so I Googled it. I started with a Blu which lead me to the forum at www.pecsmokeshop.com for help. That is where I met Terry Brasil, Garry Briggs, Stubear, Arrowit, and so many more great people willing to help a stranger. Within the first month I went to a 510 mini, then an eGo. The switch was instant for me and I never went back. I was very happy with my eGo's for a year.
Then I found Stickam and Mods (maybe I will tell you about them some other time). My friend Gary from www.vaporheads.net sent me a Facebook message about ElixirTV and I was hooked. I have been hosting shows ever since. It is my way of pay it forward. Do not ever think your knowledge or just your willingness to help is unimportant. Just a few words can help save someones life. I ask my vendors to always send me extra business cards so that when I get looks from smokers or questioned about my PV, I just hand them a card and answer the questions. I don't push. I don't tell them they HAVE to switch. I just give them the tools to decide for themselves. It works.
I started into DIY about 3 months into vaping and I have to say my friend Kimmer, from www.onestopdiyshop.com was a blessing to me. I can not even count the time we have been on the phone with each other. She has made vaping a hobby for me. She will always be near and dear to my heart for that.
In the year I have been actively involved in this community I have had the pleasure of meeting some of the best people I have ever known. NurseCin spent hours on Skype with me helping me pick out my first mod, which was a SilverBullet from www.altsmoke.com. She got on cam and showed me what each of her mods did and explained what the differences in them were. Cin has become one of my favorite people on the planet. You will never find someone with a bigger heart IMHO. I will always be grateful to her for just being my friend. My friend and co-host PBDragon falls into that group also. If you watch the show don't be surprised to hear us argue like siblings or an old married couple. I do pick on the man to no end and he gives it right back.
If you are not aware, G+ has a very active number of vapers online just about any hour of the day. I have spent countless hours in hangouts meeting and becoming friends with many vapers. I think it is one of the best tools ever given to us to reach out to people. It gives you the opportunity to meet and become friends with vapers from every forum, and every network. If not for G+ I would not have met Blake, Troop, VW, Mackenzie, Jason, Jamie, Key, and the list just goes on and on. G+ convinced me I needed to get myself to a vapemeet.
If you have not been to a vapemeet, get to one. VaperCon 2011 was my first meet and was so much fun. Having the chance to meet my friends in person was priceless. Add to that the chance to meet vendor after vendor, try all the different juices there, see what is out there and hear about what is coming soon, and you have the most fun you have had in a while.
Recently we have come under attack by the FDA. Now more than ever, we need to be a community. It's time for us to step up and put aside personal likes and dislikes. If we have any chance of winning this, we must be a group. Linc (aka baldgroove) has taken on the massive undertaking of making a full feature-length documentary to show the world why we do this. If you haven't been to www.wearevapers.com, you should stop by and see what he started. There are many ways we each can help, including telling your vaping story. I would like to personally thank him for what he is doing. To anyone out there that does not believe this is a community, I say I think you are wrong. We can agree to disagree.
So, let me ask you this: What got you where you're at?