Today, we're going to take a look at the Coil Master DIY Kit in both written and video format.  If you're unfamiliar with Coil Master, they're highly known for their Coil Master coiling kit, which allows you to easily build perfect coils for your rebuildable atomizer.  Their most recent product is the Coil Master DIY Kit, which is an all-in-one tool kit dedicated to the building of coils.
Appearance
This Coil Master DIY Kit looks outstanding, to say the least.  The tools come in this medium-sized black case, a red zipper to connect both sides of the case together and the top middle of the case says "Coil Master" that has been debossed.
The inside of the zipper case looks great and gives you that urge to want to build something.  There's a form board on each side of the case and there are precise cutouts to hold all the tools so that they don't move.  I couldn't ask for anything more out of this kit.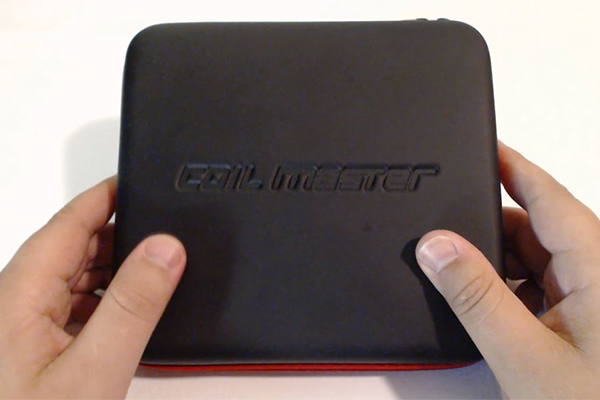 Features
Coil Master really studied what all is needed when it comes to building coils, because they surely hit the nail on the head with this DIY Kit.  Everything you could need or want is here, and it makes everything much easier to quickly and precisely build when you have these tools.  It makes it even better that everything is organized also.  One cool feature that really stood out to me is the plastic parts box, which gives this kit a big thumbs up.  The plastic box will be great for spare screws, o-rings and different coil configurations saved up.
In this kit there's also an ohm meter, which is a big plus since every atty builder needs an ohm meter.  The ohm meter is not only great for finding out the resistance of your coils, but it's also great for holding your atomizer while you build on it.  The hot item of the kit is the Coil Master Coiling Kit, which allows you to build perfect coils.  It's so easy building coils with this tool, and they come out perfect each and every time.  I'm honestly surprised that the coiling kit doesn't cost more than it does by itself.  Even if you don't pick up this complete kit, I would highly recommend picking up the coiling kit.
Even if you're experience and have most of these tools in this kit, it's worth having this kit because of everything being organized and neatly placed in a stationary spot.  Just watch the video portion of this review, you'll see what I mean.
Contents Include
1 x PU/EVA ZIP Tool Case
1 x Needle-Nose Pliers
1 x Flush Cutter Pliers
1 x Ceramic Tweezer (T1)
1 x Pen Style Screwdriver Kit
1 x Elbow Tweezer (T3)
1 x Plastic Parts Box
1 x Ohm Meter
1 x Stainless Steel Scissors
1 x Coil Master Coiling Kit Pouch
1 x Coil Master Coiling Kit