Ever so often Vapor Beast will update its clearance page, adding many of the latest and greatest products to make room for more.  Let me explain how this works to help you understand better.  Vapor Beast is a large online retailer of vaping products, so they buy in bulk.  Sometimes they've purchased too much and other times they're just making room for a more updated selection.  Either way, you're the one to benefit from it because they're slashing prices on products you've been wanting.  You save money and you get what you want – win-win, right?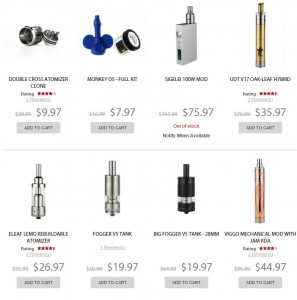 Vapor Beast has updated the clearance page with some outstanding products at great prices, including:
Poseidon RDA – $3.97
Explorer RDA – $8.97
Panzer Mod Clone – $15.97
Monkey O's Full Kit – $7.97
Eleaf Lemo RTA – $26.97
Zero Style 50w Box Mod – $78.97
Surric Gravity Mod – $94.97
AND MORE!
Give them a visit and take advantage of these unbelievable prices!
Where: GET IT HERE