Council Of Vapor fans are in for a treat with the release of the Tempest 200 watt temperature control behemoth currently sliding off the assembly lines.  Known throughout the vaping community for sharp design in each one of its products,  whether they are tank systems, RDA's or mods one thing is for sure, this company lives by the mantra: we forge only the best.
If you've never owned one of the California-based companies offerings, you don't know what you are missing.  Our very own Blake Brown swears by the C.O.V mini Volt 40W and I have to admit I'm partial to a couple of their products myself.  Let's take a couple of minutes to get to know the Tempest a little better, take a look at what it has to offer and see if we can find a place to grab one.
Council Of Vapor Tempest: 200 Watt Temperature Control Mod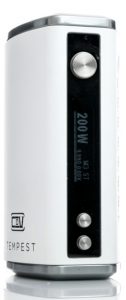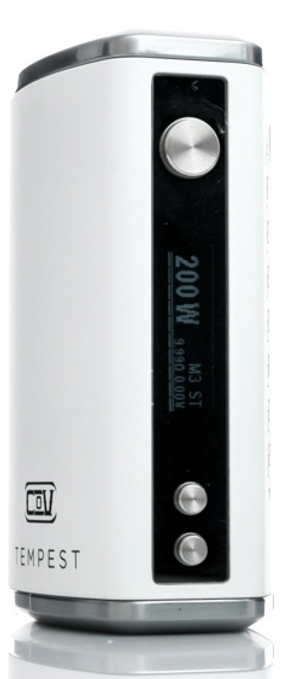 The Tempest is C.O.V's first venture into the 200 watt device market and our first impression is a solid one.  Available in every color under the sun, as long as you are color blind, the monochromatic tone on either the black or white box blends beautifully with the brushed effect of the zinc alloy body and the carbon fiber inlays.  To look at the Tempest is to look at a piece of modern art for the first time. Its curved shell and the appearance that no 2 faces are parallel, save the top and base, give this mod a unique look in a world of where conformity has become key.
200 watts of vaping power are provided by 3 high-drain 18650 batteries (sold separately) that can be quickly and easily changed by taking advantage of a removable battery bay operated by a single, locking,  spring-loaded switch on the base.  From a safety stand-point, hitting a single switch to dump all the batteries at once is an innovation I wish I had seen in many mods long before now, but this is a great feature.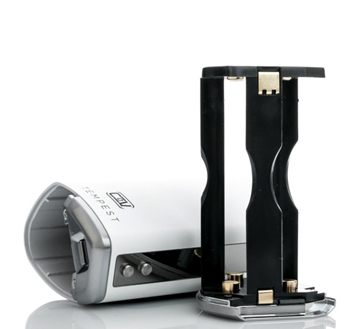 The Tempest has a great 3 line display on a super bright OLED screen, the edges of which travel beyond all 3 of the operational switches to give the device a clean look.  An oversized firing button and 2 adjustment switches sit astride the screen to give it balance.  To finish off our tour of the outside, the 510 connector is integrated seamlessly into the top plate, the spring-loaded, silver plated 510 pin is deep enough to comfortably flush any tank currently on the market without leaving any gaps at its base.
Functionality on this beast is as we would expect from a 200 watt vaping device with a couple of added extras.  Running in regular power mode, you have all the options in the world between 10 and 200 watts along with three selectable output modes:
Soft:Slower Ramp, Ideal for Mouth to Lung Inhales
Standard:Follows Traditional Power Curve
Power:Fastest Ramp Speed
Temperature control settings for the wire types we are used to, Ni200, Titanium and stainless Steel are all supported down to a minimum resistance of 0.05Ω and this beast will operate between 220 and 580°F (104 to 304°C)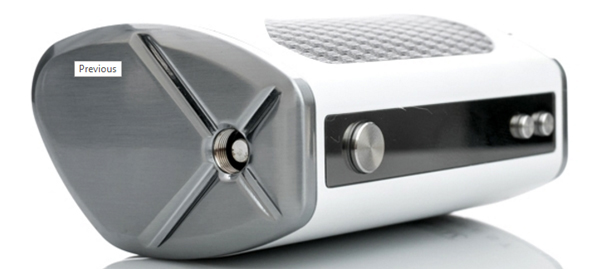 Measuring in at an even 85mm by 58mm by 37mm the Tempest 200w from Council Of Vapor is large enough to make a strong statement yet small enough to be an all day vape.
COV Tempest Mod: GET IT HERE