Funny enough, I've never been a fan of cinnamon flavors, but after discovering Cuttwood's e-liquid, that all changed and I became an immediate fan-boy of Cuttwood's Sugar Bear.  To give you my detailed thoughts on this flavor, feel free to read my Sugar Bear E-Liquid Review.
Quality / Packaging
Much like Cuttwood's other flavors, Sugar Bear has the same great quality and overall taste.  The flavor comes in a clear glass dripper bottle, which is covered by the black label displaying Cuttwood's logo.  Underneath the logo says "Sugar Bear" and just below they boast "Hand Crafted * Los Angeles, CA".  To the left you'll see necessarily warnings, while the right has the big "C" logo that Cuttwood uses and the nicotine strength just above it.  I've become such a huge fan of Cuttwood that I was proud enough to sport some Cuttwood swag, which I absolutely love!  Hey, I'm not the best looking thing, but this Cuttwood swag definitely helps. haha!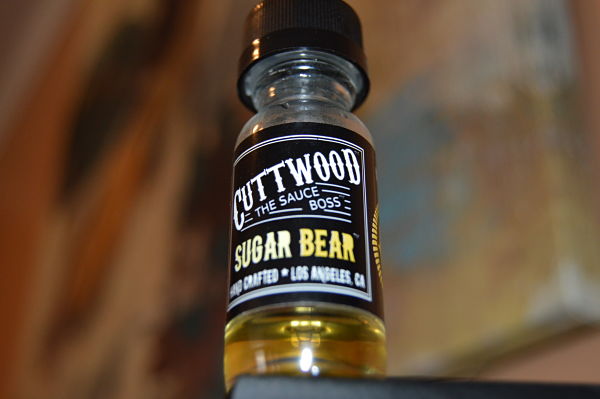 Flavor
Let me start off by saying, this is definitely not like any other cinnamon flavor you've tried before.  It's described as a cinnamon sugar bear flavor with milky cream, and that's exactly what you get.  There's this sweet and subtle taste of cinnamon with a hint of a creamy taste to it.  If you raise the wattage and go for a hot vape, the flavor starts tasting exactly like a hot cinnamon roll, which is super delicious.  Though I know a lot of you aren't fond of cinnamon vapes, if you ever want to venture off, this is definitely one I would recommend that you try if nothing else.
Vapor Production
Cuttwood's e-liquids are mixed at 70% VG, so you'll have no trouble producing big clouds.  With the right build, and maybe even some high wattage, you'll be able to push nice clouds with the rest of 'em.