Expanding its line of vaping products, Delta Extrax has created yet another product in the form of a disposable vape. However, unlike many disposables you'll find on the market, this one is filled with HHC, a hemp-derived extract that can produce similar psychoactive effects to the famed Delta-8 THC cannabinoid. What's great about HHC is that it isn't a THC product, meaning for those of you that are in states where Delta-8 has already been banned, HHC may be a viable alternative.
Delta Extrax, an extract company that creates and develops quality hemp-derived products, has recently reached out to us and asked if we would share a review on the Delta Extrax Purple Punch HHC Disposable Vape, and we could not refuse. As part of its "Hydro" collection, which uses a hydrogenation process to create HHC, we only had "high" hopes since we were already thoroughly pleased as stated in our Cherry Pie HHC Cartridge Review.
Purple Punch HHC Disposable Vape Review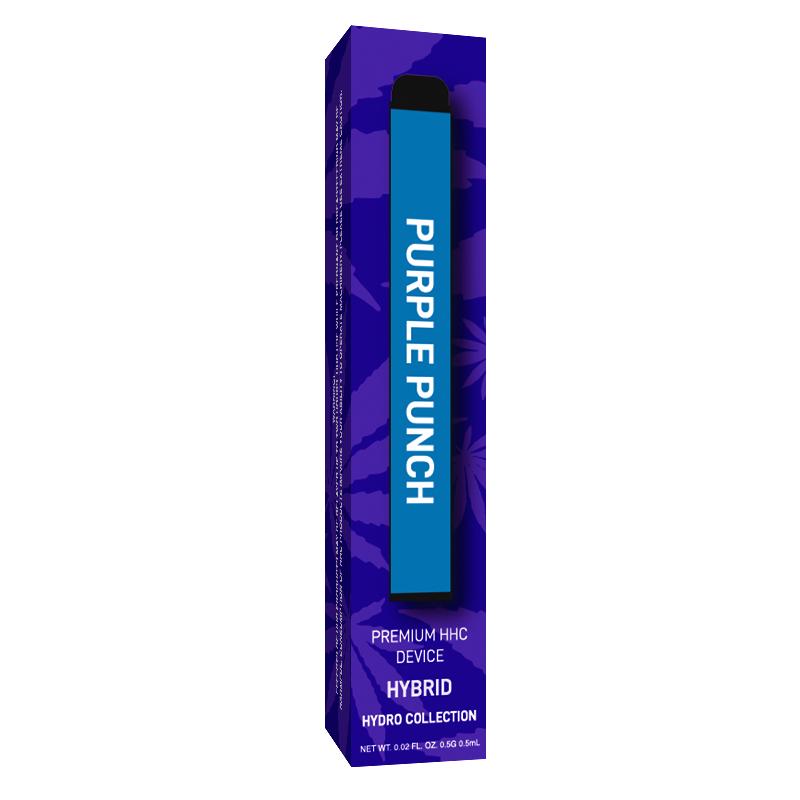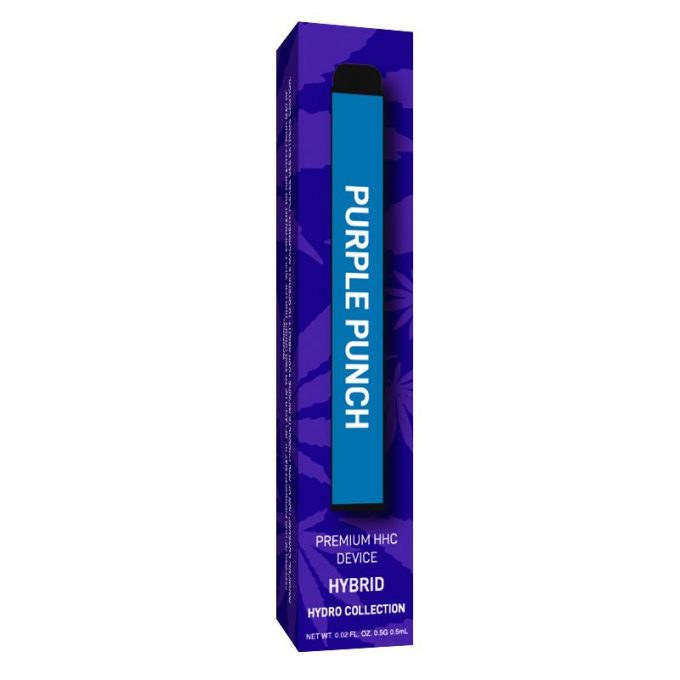 The Purple Punch HHC Disposable Vape by Delta Extrax is one of the more recent products to hit the market, and one of the latest products to make its way to Delta Extrax's growing arsenal of hemp-derived vapes. To compete with the already amazing line of products it has, it has a tall order to fill, and we think it succeeded just fine. The disposable vape is slim, ultra-compact, and has a super portable design that makes it easy to stow away when not in use, and comfortable to use when you need it.
The disposable, while very compact, comes with an integrated 280mAh battery, which happens to be rechargeable, meaning you'll be able to vape every last bit of the contents inside. Each disposable, though not refillable, contains 0.5mL / 0.5g of HHC distillate and strain-specific terpenes, providing the perfect ratio. The terpenes are used to recreate the popular Purple Punch strain, a sweet and sedating classic that brings together Larry OG and Grand Daddy Purple, two Indica-dominant strains that are recognized as classics in the cannabis world. You can expect an aroma of blueberry muffins, grape candy, and the tartiness from punch, making its name spot-on.
Immediately after taking a few puffs, you'll begin to notice its onset effects. HHC delivers a phenomenal sense of euphoria. It presents a full-body experience and a high that does not disappoint. Relax and unwind, mellow out throughout the day, and discover a new vaping experience that will leave you drenched in pleasure.
We're firm believers in the products that Delta Extrax creates. They deliver profound quality, the effects we receive are always enjoyable, and the combination of great-tasting terpene blends and an infusion of cannabinoids certainly leave us raving about its products each time. If you're looking for a quality disposable vaping device that will present nothing short of good vibes, we highly recommend the Purple Punch HHC Disposable Vape.