Today we will be looking at one of the smallest, if not the smallest, rebuildable dripping atomizers on the market.  Originally designed and manufactured by Praxis Vapors, the Derringer RDA was designed to be the smallest possible device with the best possible combination of vapor and flavor production. If the "mini life" is up your ally, you'll become quite fond of this very appealing RDA that is literally smaller than a one cent penny.  Fortunately, we were able to get our hands on the clone version, which offers an outstanding quality and superior performance.  Scroll below to view our Derringer RDA Clone Review.
Appearance
This has to be the smallest 22mm dripper that I have seen.  In fact, it is only 17mm tall (including the drip tip lip) and smaller than an American one cent penny.  The Derringer is stainless steel with a copper center post, and is made up of a base, inner barrel, and outer cap.  If you are looking for a compact stealth dripper, this would be the dripper for you.  Additionally, the Derringer RDA continues to play its theme of being "super small" as it also comes with a really nice shorty drip tip.  Located on the drip tip lip is the Praxis Vapors logo, which is a lightning bolt.  On the top flat portion of the RDA has "Derringer Atomizer" engraved, while "Praxis Vapors" is engraved on the opposite side.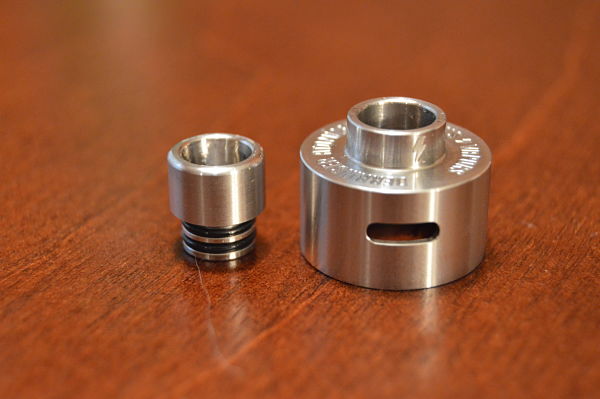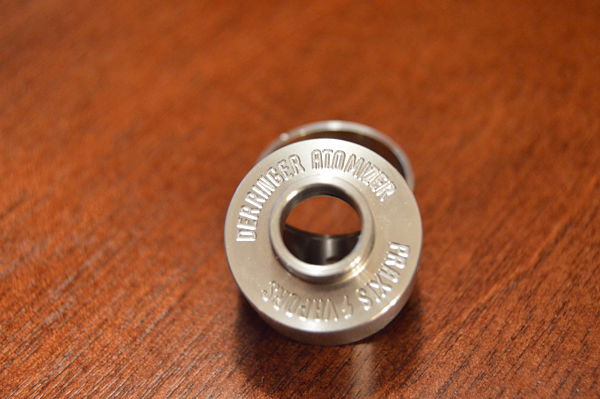 Features
The Derringer has a 3 post design, which is suitable for single and dual coil options.  The center post is composed of copper, while the two negative posts are stainless and milled into the deck.  There are several airflow options on the Derringer; with the inner barrel installed, you have the ability to run single or dual coils with airflow control or you can remove the inner barrel and run dual coils with wide open airflow.  The Derringer is 22mm in diameter and is 17mm tall, minus the drip tip.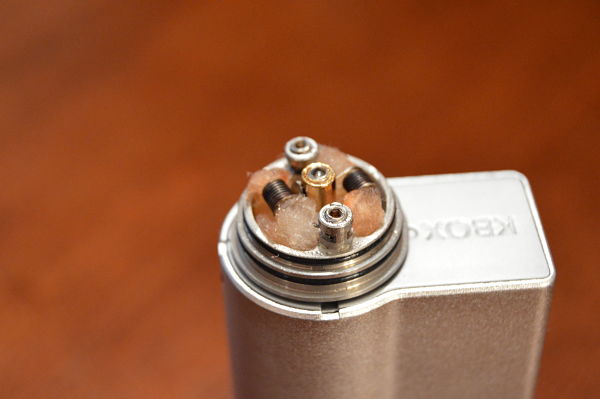 Another thing that I would like to point out is the large well in the bottom of the Derringer.  Though the atomizer is small, a lot of its size is the well on the base of the device.  As a result of this large well, when wicked right, it increases the puffs between having to drip.
I was able to take 16 large, cloud chasing puffs without having to redrip during. This little guy holds some e-liquid!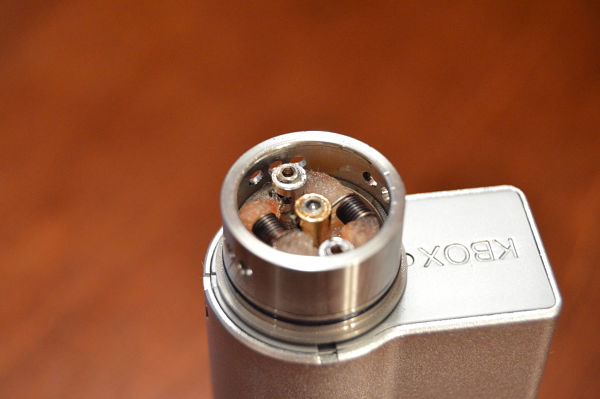 Performance
Upon first using the Derringer, I was immediately blown away by the vapor that can be made with this little atomizer.  I assumed that with the chamber being so small, that it would be hard pressed to produce any real vapor clouds, but I couldn't have been more wrong.  The small size combined with the large airflow design turned this device into a monster of an RDA, and with that same design, the flavor is outstanding.  This is easily one of my best performing dripping atomizers.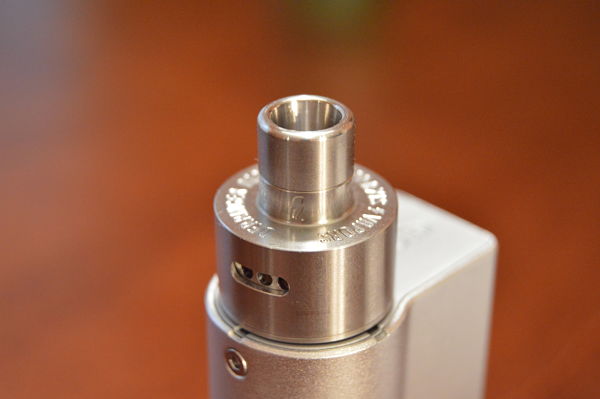 Derringer RDA Clone: GET IT HERE