Remarkably appealing, the new Digiflavor TVCreation Drop RDA appears promising, presenting great looks, a convenient design, and performance that can be compared to that of a Kennedy class RDA. The Vapor Chronicles Channel teamed up with Digiflavor to release this superb revision of the dripping atomizer, creating an all new and easy to use post configuration, bottom style airflow, and the capability of running single, dual, triple, or quad coils with ease. It's truly the RDA you thought would never happen but happened.
Meet The Digiflavor Drop RDA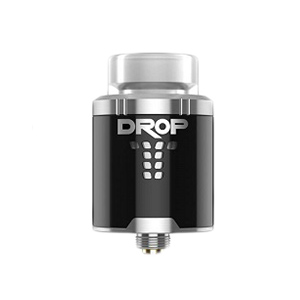 There aren't many rebuildable atomizers that I get excited about anymore due to them all sharing many of the same features and designs. However, that's certainly not the case with the Digiflavor Drop RDA. In fact, it features an outer appearance and internal post design like we've never seen before, and it all comes down to the man behind The Vapor Chronicles knowing what consumers actually want from a product, which is easy of use, convenience, originality, and performance. You'll find all of those traits revealed with the Drop RDA.
The Drop RDA by Digiflavor shares a superb appearance exuding appeal from an advanced design. It features a stainless steel chassis that introduces a locking top cap to guarantee the perfect airflow positioning. From the outset you'll see a stepped airflow design that again plays well to the airflow output, giving precise control while maintaining a smooth and whistle-free experience – something many manufacturers do not make a focal point. The top of the Digiflavor Drop RDA comes equipped with an 810 drip tip that again plays towards superior airflow, with the addition of a 510 drip tip adapter that can be used for your standard 510 drip tips you've used throughout your years of vaping. You'll start to see a trend with the Digiflavor Drop RDA airflow being a priority.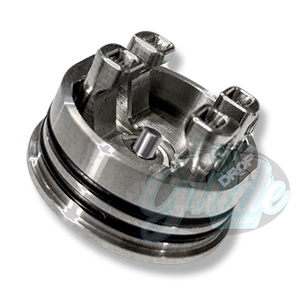 An incredible appeal that's striking nonetheless, and an airflow that was designed perfectly for an enhanced airflow is worthy of getting excited about a new rebuildable dripping atomizer, yet the Digiflavor Drop RDA designed by TVCreation has so much more to offer. This is where this masterful RDA reveals all of its beauty, despite the outside sharing plenty. The TVCreation Drop RDA features a 4 post design using flathead screws and wire sleds underneath to help guide wire for easy cutting. The middle part of the Drop RDA is left completely open, allowing for easy access to wire, the ability of running single, dual, triple, or quad coils, and a deep and a deep juice well that is the result of its large amount of space. Additionally, an internationally raised BF squonk 510 pin is included for those who want to run squonker mods, bottom airflow that travels beneath the coils, and gold-plated positive and negative posts that are removable.