Our friends at VapeSourcing is currently a pre-sell on the Eleaf Invoke Ello T Full Kit that will allow you to get it for as low as $41.90. The product is set to ship on November 20th but taking advantage of this deal will place you at the first of the list to get this incredible new mod kit at the lowest price to hit the market. You'll get the new Eleaf Invoke TC Box Mod and the Eleaf Ello T Tank, along with a triple-cylinder coil head, quad-cylinder coil head, spare parts and a QC USB cable.
---
[mks_button size="large" title="GET THE ELEAF INVOKE KIT HERE" style="rounded" url="https://vapesourcing.com/eleaf-invoke-with-ello-t-full-kit.html" target="_blank" bg_color="#000000″ txt_color="#FFFFFF" icon="" icon_type="" nofollow="1″]
---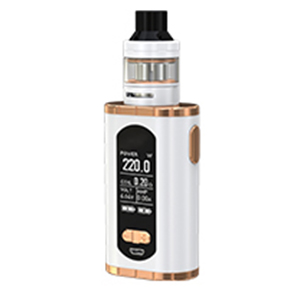 Featuring an ultra-compact and ergonomic design, on top of a remarkable 1.3 inch OLED display with a fresh interface, you're going to go nuts over this new offering from Eleaf. It offers a centered stainless steel 510 connection with a gold-plated spring-loaded pin. It has the capability of accepting many tanks and can handle up to 27mm diameter tanks without any overhang. It's powered by two 18650 batteries that are concealed by a bottom latch. For easy replacement, simply flip open the battery door and you have access to the battery compartment. Along with an aesthetically pleasing firing button that sits to the side of the device and a rocker style adjustment button that rests on its front facing, you'll see that Eleaf designed the new Invoke Mod to look just as well as the device functions. It comes equipped with a micro-USB port for future firmware upgrades and 2A charging with quick charge and battery balancing trickle charge system. While it is compact, it will reach up to 220 watts, fire down to 0.05Ω, and features a temperature control mode supports ni200 nickel, titanium, stainless steel, three memory modes, and TCR functionality.
The Eleaf Ello T Tank, on the other hand, features a 2ML e-liquid capacity that can be extended to a 4ML capacity. It's constructed of stainless steel and glass, has 510 threading, and features a top-fill design. It uses powerful HW coils for intense flavor and clouds, which means you'll get a shot at the HW3 triple-cylinder 0.2Ω coil head and the HW4 quad-cylinder 0.3Ω coil head.