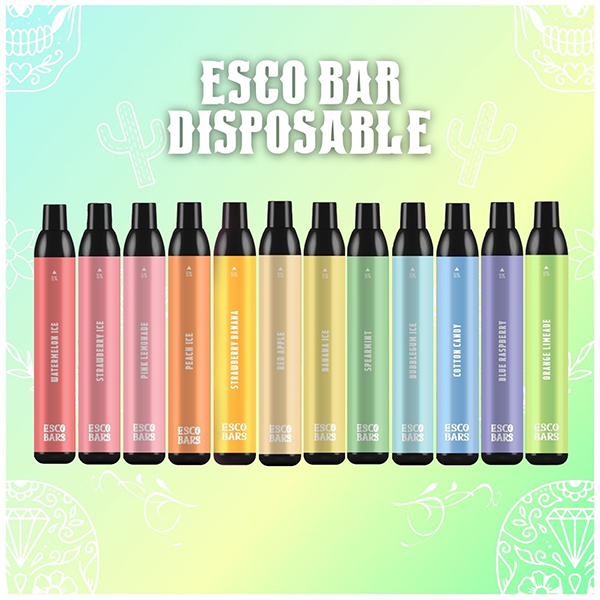 Adding yet another amazing vape to the market, the ESCO Bars Mesh Disposable Vape is one that is sure to please you… and your taste buds. It provides all of the features you would want or expect from a disposable vaping device and offers quite the mix of flavors to keep you coming back for more every time. If you are looking to add another disposable device to your collection or replace your current favorites, we highly recommend the new ESCO Bars Mesh Disposable Vape.
It is a premium vaping device with a disposable design and comes packed with tons of delicious flavors to enjoy. In this article, we plan to tell you all about it, from the top to the bottom. Not only are we telling you about the device but we're also going to give you our thoughts on it. Get all of that and more in this latest addition to our blog, the ESCO Bars Mesh Disposable Vape Review.
The ESCO Bars Mesh Disposable Vape
The ESCO Bars Mesh Disposable Vape is well constructed and built with a solid structure using quality materials. It has a cylindrical shape, a curved design, and can not only provide comfort in the palm of your hand but can also handle those accidental drops that come about. It looks similar to most traditional disposable vaping devices, yet boasts slight differences to give it a unique appearance. The device is compact and very portable, ensuring you can bring it along with you virtually anywhere.
Despite the small size, it makes use of its entire housing. The device has room for a 1100mAh built-in battery, ESCO Bars Vape features a large 6mL vape juice capacity, and uses 50mg of salt nicotine to ensure you are enjoying long battery life, several vape sessions, and each time you take a puff, you are satisfied to the fullest. When you combine these features together, you are able to enjoy as many as 2500 puffs per unit. Taking performance and flavor to the next level, the device features a mesh coil design, which enhances the flavor experience and truly presents the most amazing flavor.
ESCO Bars Mesh Disposable Vape Flavors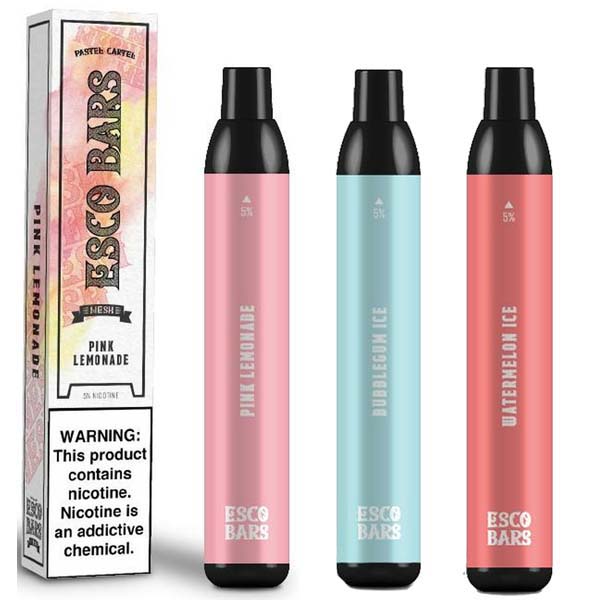 When it comes to the flavor, you won't find another that can perfect these popular tastes quite like the ESCO Bars Mesh Disposable Vape. While the mesh coil surely helps, it is the perfect ratio of flavors that really makes this device worth it. The flavors are phenomenal, and you have a large selection of them to choose from. Enjoy satisfying tastes that include Bubblegum Ice, Blue Raspberry, Strawberry Ice, Red Apple, Peach Ice, Watermelon Ice, Pink Lemonade, Cotton Candy, Banana Ice, Strawberry Banana, Spearmint, and Orange Limeade.
Our Thoughts
The ESCO Bars Mesh Disposable Vape is definitely one we will recommend. It provides tons of delicious tastes to choose from, all of which are some of the most popular flavors on the market. The difference here is that they've been perfected, and of course, the mesh coil really helps enhance those flavors to provide such an incredible flavor experience. To add to it all, the device has a large battery capacity, a 6mL vape juice capacity, the satisfaction of 50mg salt nicotine, and you get to enjoy 2500 puffs per device. There isn't much more you could ask for in a device that is disposable.